Home / Sports / Iowa Prep Sports / Prep Baseball and Prep Softball
Iowa high school state baseball 2021: Live stream, brackets, schedule, scores
1A and 2A games in Carroll, 3A and 4A in Iowa City this week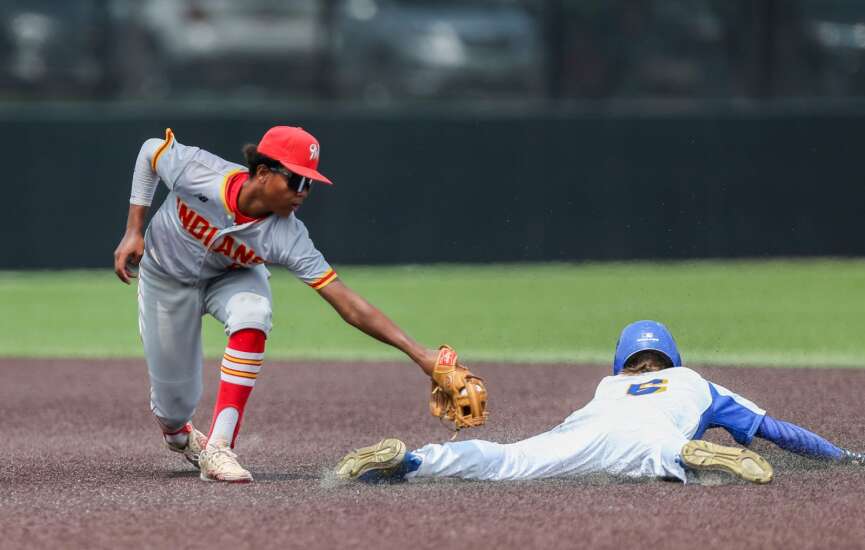 The 2021 Iowa high school state baseball tournament is split between two sites this week: Class 1A and Class 2A at Merchants Park in Carroll and Class 3A and Class 4A at the University of Iowa's Duane Banks Field in Iowa City.
Principal Park in Des Moines held all four class since 2005, but a scheduling conflict between the tournament dates and the Iowa Cubs (Triple-A affiliate of the Chicago Cubs) determined by Major League Baseball forced the one-year change.
Find the IHSAA pairings, schedules, updated scores and complete coverage here throughout the week. Rankings are via the final regular-season coaches poll.
State baseball coverage
» 3A Championship: Marion wins thriller over Dubuque Wahlert for first state title
» Mission accomplished: Owen Puk stayed to help Marion win state baseball title
» Hlas column: Steve Fish and his Marion baseball family finally land the big one
» 4A Semifinals: Another thriller for Cedar Rapids Prairie, but Pleasant Valley wins with a walk-off
» 1A Championship: Council Bluffs St. Albert holds off Lansing Kee for state title
Watch state baseball live
» 1A, 2A: Iowa High School Sports Network
» Mobile 1A, 2A: Download the IHSSN app
» 3A, 4A Quarterfinals: YouTube
» 3A, 4A Semifinals, Finals: Iowa High School Sports Network
» Mobile 3A, 4A Semifinals, Finals: Download the IHSSN app
Class 4A (Iowa City)
Quarterfinals — Thursday, July 29
No. 1 Pleasant Valley 5, Ottumwa 1
No. 7 Cedar Rapids Prairie 8, No. 4 West Des Moines Dowling 4
» Game story | Photos | Box score | Watch replay
No. 2 Ankeny 2, No. 9 Waukee 1
No. 3 Johnston 11, No. 6 Dubuque Hempstead 5
Semifinals — Friday, July 30
No. 1 Pleasant Valley 4, No. 7 Cedar Rapids Prairie 3
» Game story | Photos | Box score | Watch replay
No. 3 Johnston 5, No. 2 Ankeny 0
Final — Saturday, July 31
No. 1 Pleasant Valley 14, No. 3 Johnston 5
Class 3A (Iowa City)
Quarterfinals — Wednesday, July 28
No. 1 Marion 11, Adel ADM 2
» Game story | Photos | Box score | Watch replay
DeWitt Central 11, Waverly-Shell Rock 1 (5 innings)
No. 4 Cedar Rapids Xavier 18, MOC-Floyd Valley 3 (4 innings)
» Game story | Photos | Box score | Watch replay
No. 5 Dubuque Wahlert 4, Winterset 1
Semifinals — Friday, July 30
No. 1 Marion 9, DeWitt Central 2
» Game story | Photos | Box score | Watch replay
No. 5 Dubuque Wahlert 10, No. 4 Cedar Rapids Xavier 7
» Game story | Photos | Box score | Watch replay
Final — Saturday, July 31
No. 1 Marion 7, No. 5 Dubuque Wahlert 6
» Game story | Photos | Box score | Watch replay
Class 2A (Carroll)
Quarterfinals — Tuesday, July 27
No. 2 Van Meter 9, Davis County 6
Unity Christian 6, Clarinda 2
Centerville 10, New Hampton 0 (5 innings)
Camanche 18, Denver 1 (4 innings)
Semifinals — Wednesday, July 28
No. 2 Van Meter 4, Unity Christian 3
Centerville 12, Camanche 11 (8 innings)
Final — Thursday, July 29
No. 2 Van Meter 10, Centerville 2
Class 1A (Carroll)
Quarterfinals — Monday, July 26
No. 3 Remsen St. Mary's 14, Grundy Center 0 (5 innings)
Lansing Kee 4, No. 7 New London 3
» Game story | Photos | Box score | Watch replay
No. 4 Council Bluffs St. Albert 9, Lisbon 3
» Game story | Photos | Box score | Watch replay
Alburnett 8, No. 10 Tri-Center 6
» Game story | Photos | Box score | Watch replay
Semifinals — Wednesday, July 28
Lansing Kee 5, No. 3 Remsen St. Mary's 3 (9 innings)
» Game story | Photos | Box score | Watch replay
No. 4 Council Bluffs St. Albert 10, Alburnett 0 (5 innings)
» Game story | Photos | Box score | Watch replay
Final — Thursday, July 29
No. 4 Council Bluffs St. Albert 7, Lansing Kee 5
» Game story | Photos | Box score | Watch replay