Home / Sports / Iowa Prep Sports / Prep Baseball and Prep Softball
Comeback victory propels Lansing Kee past Remsen St. Mary's, into Class 1A state baseball title game
Kee returns to the final for 1st time since 2011 with 5-3 win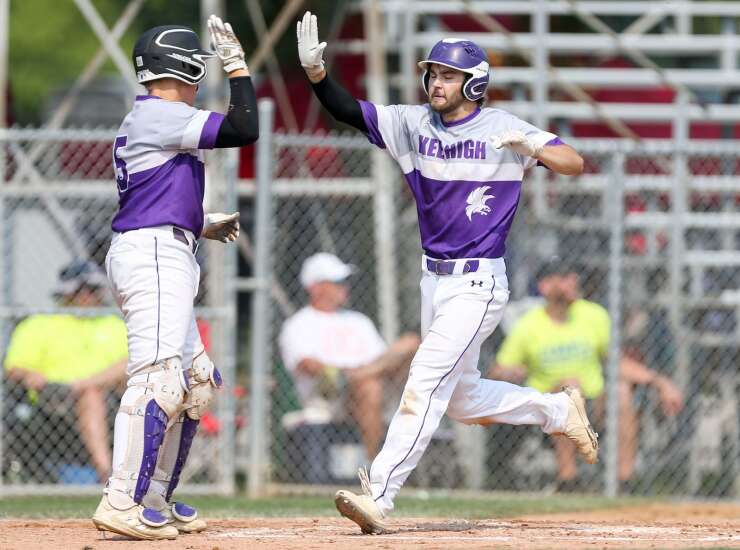 CARROLL — A middle team with a chance to on top.
Lansing Kee has avoided the highs and lows in its first two state baseball tournament games this week, showing composure in a tight one-run quarterfinal win. This time it was determination to come back and gut out another victory.
Obviously, this is a product from a mid-season talk between coaches and players, emphasizing the importance of remaining even-keel throughout games.
"We had a tough time at the beginning of the year," Kee junior Chance Colsch said. "We were one of those teams that got down and went down. Toward the end of June, our coaches sat down with us and told us we have to be a middle team.
"Whether you're winning or losing you have to be in the middle. I think that brought us the win today. We stuck with that and it's what we've been doing in the postseason."
Fourth-seeded Kee manufactured a run in the seventh to force extra innings and produced a three-run ninth to upend top-seeded Remsen St. Mary's, 5-3, in a Class 1A state baseball semifinal at Merchants Park.
Kee (35-9) reached the summer championship game for a 17th time, adding to its state record. Kee (35-9) returns to the finals for the first time since a runner-up finish in 2011 and faces No. 2-seed Council Bluffs St. Albert (34-8) Thursday at noon.
"I can't say enough about this team," Kee Coach Jim Mauss said. "Nobody wanted to rank us. Nobody gave us much of a shot Monday. We just keep playing, keep grinding. We keep doing the little things that put Kee High baseball on the map and we're going to continue to do that."
Kee trailed the first six innings, but rallied in the top of the seventh. Ninth-batter Brayden Mathis swung at the third strike in the dirt and reached with the tying run when it squirted by the catcher to the backstop.
Without a hit, Kee tied the game. Dalton Dibert sacrificed Mathis into scoring position. Landon Reams drew a walk and Tyson Cota received an intentional walk to load the bases with one out.
Buddy Hill followed with a deep drive to right field to chase home Mathis to tie it, 2-2.
"Do the little things right and take advantage of their mistakes," said Cota, who had an RBI triple to score Landon Reams for Kee's first run in the third. "Dropped third strike starts the inning. We take advantage to get a runner on to start the inning. That was huge.
"Just go batter by batter, piece by piece, one by one "
Kee strung a few hits together in the ninth and made its first lead hold up. Cota reached on an error to lead off the rally. Hill used a sacrifice bunt to advance. Colsch hit a shot up the middle that ricocheted off the mound and a diving infield to bounce into center and score Cota.
"In all honesty, the biggest thing was we have one senior on this team and he bats right behind me," Colsch said. "I'm not ending this season without him getting another shot at it.
"If it's close, you've got to swing. That's what I did."
Jonah Reinke, the starting pitcher for Kee, pitched into the third, but returned for the ninth and earned the save. Dibert threw seven innings of relief for his ninth victory.
Kee's defense played solid and kept within reach of St. Mary's (27-4). Reinke picked a runner off third in the second inning. Dibert prevented a run, jumping off the mound to field a squeeze bunt and throwing home in the same motion to throw out the runner in the sixth.
This was a complete team effort.
"The entire game it was somebody different every inning that stepped up for us, whether it was a defensive play, moving a runner or coming up clutch," Mauss said. "It was a great team win."
"The play Dalton Dibert made on the squeeze bunt has to be play of the game, maybe of the tournament," Mauss said. "It was a fantastic play."
Kee will attempt to become just the second school with 10 summer state titles, joining Davenport Assumption, which has 11. Kee is 34-10 overall at state.
"It feels awesome," Cota said. "Come back ready to roll. Get ourselves a state championship."