Home / Sports / Iowa Prep Sports / High School Basketball
Iowa high school girls' basketball 2023 regional pairings for 3A, 2A and 1A
Postseason begins Feb. 9 with 1A first-round games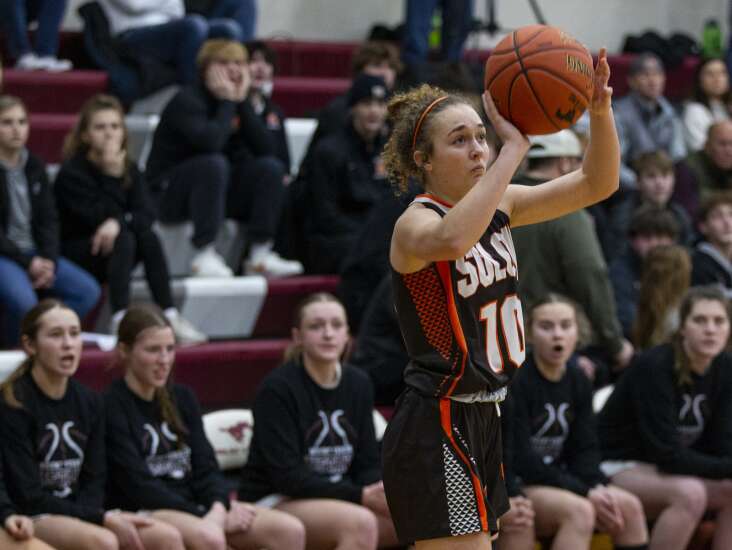 The Iowa Girls High School Athletic Union released girls' basketball regional pairings Tuesday for Class 3A, Class 2A and Class 1A.
Here they are:
(Feb. 11, Feb. 15, Feb. 18)
REGION 2
Fairfield at Solon
Davis County at Central Lee
Tipton at Mount Vernon
Washington at Davenport Assumption
REGION 3
Anamosa at Benton Community
Union Community at Oelwein
Camanche at Center Point-Urbana
Williamsburg at West Liberty
REGION 7
Hampton-Dumont/CAL at Osage
Waukon at North Fayette Valley
Crestwood at Dubuque Wahlert
New Hampton at Monticello
REGION 8
Albia at Grinnell
Centerville at Chariton
South Tama at Vinton-Shellsburg
Monroe PCM at Mid-Prairie
(Feb. 11, Feb. 14, Feb. 17, Feb. 22)
REGION 1
Wapsie Valley at Waterloo Columbus, winner at Dike-New Hartford
Jesup at Alburnett
West Branch at Lisbon, winner at East Buchanan
Northeast at Bellevue
REGION 5
Starmont at Clayton Ridge, winner at Cascade
Dyersville Beckman at MFL MarMac
Postville at South Winneshiek, winner at Aplington-Parkersburg
Denver at Sumner-Fredericksburg
REGION 6
Pekin at Durant, winner at Iowa City Regina
Columbus Community at Wilton
Van Buren County at Louisa-Muscatine, winner at Mediapolis
Danville at West Burlington
(Feb. 9, Feb. 14, Feb. 17, Feb. 22)
REGION 1
Top bracket
Algona Garrigan, bye
Ruthven GTRA at North Iowa
North Butler at Saint Ansgar
Mason City Newman at Northwood-Kensett
Bottom bracket
Riceville, bye
Janesville at Gladbrook-Reinbeck
North Tama at Waterloo Christian
West Bend-Mallard at West Hancock
REGION 2
Top bracket
Newell-Fonda, bye
Storm Lake St. Mary's at Glidden-Ralston
Paton-Churdan at Baxter
Meskwaki at Collins-Maxwell
Bottom bracket
Colo-Nesco at Ackley AGWSR
HLV at Conrad BCLUW
Fort Dodge St. Edmond at Ankeny Christian
BGM at Garwin GMG
REGION 3
Top bracket
North Linn, bye
Belle Plaine at Iowa Valley
Clinton Prince of Peace at Calamus-Wheatland
North Cedar at Bellevue Marquette
Bottom bracket
Hillcrest Academy at Montezuma
Midland at Lone Tree
Easton Valley at Springville
Highland at English Valleys
REGION 6
Top bracket
West Fork, bye
Nashua-Plainfield at Dunkerton
Rockford at Clarksville
Tripoli at Don Bosco
Bottom bracket
Elkader Central, bye
Lansing Kee at Edgewood-Colesburg
West Central at Turkey Valley
Central City at Maquoketa Valley
REGION 8
Top bracket
Winfield-Mount Union, bye
Wapello at Fort Madison Holy Trinity
Keota at WACO
New London at Burlington Notre Dame
Bottom bracket
Tri-County at North Mahaska
Moulton-Udell at Sigourney
Seymour at Twin Cedars
Moravia at Lynnville-Sully
Class 5A and Class 4A regional brackets will be announced later in the week.
Regional champions advance to the state tournament Feb. 27-March 4 at Wells Fargo Arena, Des Moines.
Comments: jeff.linder@thegazette.com