Home / Troubleshooting your online subscription
Troubleshooting your online subscription
We understand that navigating websites can sometimes be a confusing and frustrating experience. This page provides some simple steps that you can do on your own to resolve some of the most common issues experienced with our online products. One of the biggest issues is that browsers save your login for your convenience, and sometimes that leads to mix ups.
Problem: I'm getting blocked from reading articles
Resolution: Check your login
The Gazette offers several different subscription types. Some come with access to different digital products.
If you get an error message saying your password is invalid, you may need to reset your password.
Click the "Don't remember your password?" link on the box that pops up (see image below). This will send you an email to reset your password.
Didn't receive an email? Contact Customer Care to reset your password.

Email: customercare@thegazette.com
Phone: 319-398-8333 (view hours)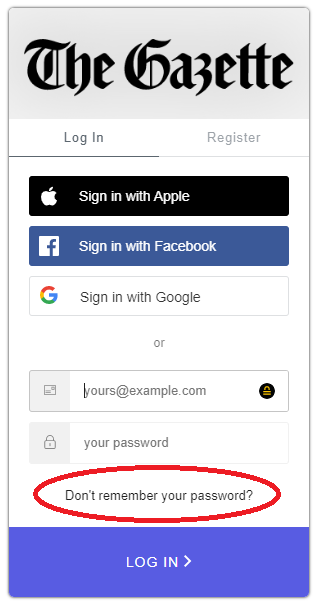 Problem: I can't login to The Gazette
Resolution: How to login to thegazette.com
Your login was setup when you subscribed to The Gazette, or when you activated digital for your print subscription. Use the link in the upper right-hand part of your screen.
Or, if you are blocked from reading an article, click the "Subscriber Login" button. Enter your username/password.
Once you log in, you will be returned to the story you were attempting to read and have access to all the articles on thegazette.com.
Problem: I can't access Green Gazette
Resolution: Log out/Login on device
If you have a Print subscription or our Complete Digital, you have full access to all of our digital products. This includes thegazette.com and the Green Gazette, which is a digital edition of the print paper, thegazette.com and The Gazette Mobile App.
If you purchased a Value Digital subscription, you have access to thegazette.com and The Gazette Mobile App only.
You can access the Digital Edition of the printed paper by clicking here or on the "Green Gazette" link at the bottom of thegazette.com.
The same username and password will allow you to access the Green Gazette if it is part of your subscription.
Problem: I'm still having problems
Resolution: Refresh page, Logout again
If you have successfully logged in above to check your subscription type, but you still are not able to view articles, the issue could be with your browser saving old or outdated information. This is called a "cookie" or "cache". The steps below will reset your system. These steps will also log you out of *every* site you are signed into, so you will have to sign back in to things like Facebook and Google again.
Option 1: Retry and refresh
The first method is simply to logout of thegazette.com and then re-login. You can repeat this multiple times
Next, click the 'refresh' icon in your browser

It usually looks like a circle and appears at the top of your browser either on the left or right side of the search bar.
Option 2: Clear Browser Cache
Determine what browser you are using and follow the links below to clean your system. In each case, be sure for time range to select "All Time", and for what to clear choose, "All cookies and other site data"
Only want to clear Gazette cookies? Try this.
Desktop systems
Clear Cookies in Google Chrome: https://support.google.com/accounts/answer/32050?co=GENIE.Platform%3DDesktop&hl=en
Clear Cookies in Microsoft Edge: https://support.microsoft.com/en-us/help/10607/microsoft-edge-view-delete-browser-history
Clear Cookies in Firefox: https://support.mozilla.org/en-US/kb/how-clear-firefox-cache
Clear Cookies in Safari: https://support.apple.com/guide/safari/clear-your-browsing-history-sfri47acf5d6/mac
Smartphones and Tablets
Apple iPad and iPhone (Safari): https://support.apple.com/en-us/HT201265
Apple iPad and iPhone (Chrome): https://support.google.com/accounts/answer/32050?co=GENIE.Platform%3DiOS&hl=en&oco=0
Android Google Chrome: https://support.google.com/accounts/answer/32050?co=GENIE.Platform%3DAndroid&hl=en&oco=0
Other Issues: My computer doesn't remember me
Potential reasons:
If your computer or device will not remember you, you may have privacy settings that are getting in the way.
Cookies are required for the remember me function to work properly.
Ad Blockers and Private browsing can clear cookies after each browsing session, which will force you to log in every time you come back to the site.
While users can implement an adblocker on thegazette.com or the Green Gazette, our team does not recommend it. If you use this technology, please know that it may cause your subscription login to fail to authenticate, or the login prompt will fail to appear (if pop-ups are blocked). Most Ad Blockers provide a way to "whitelist" a site. Please make sure you add thegazette.com to this whitelist. The instructions for each ad blocker vary.  Digital ads, similar to print ads, support local journalism.
Private Browsing:
Make sure you are not using private browsing or incognito mode to visit thegazette.com. These modes clear cookies when you close your browser so you will have to re-enter your username/password each time you visit our site.
Still having trouble? Our Customer Care team is here to help. Call 319-398-8333 or email customercare@thegazette.com