Home / News / Government & Politics / State Government
Iowa House approves budget that could cut Iowa's water sensors
Party-line vote on natural resources and agriculture budget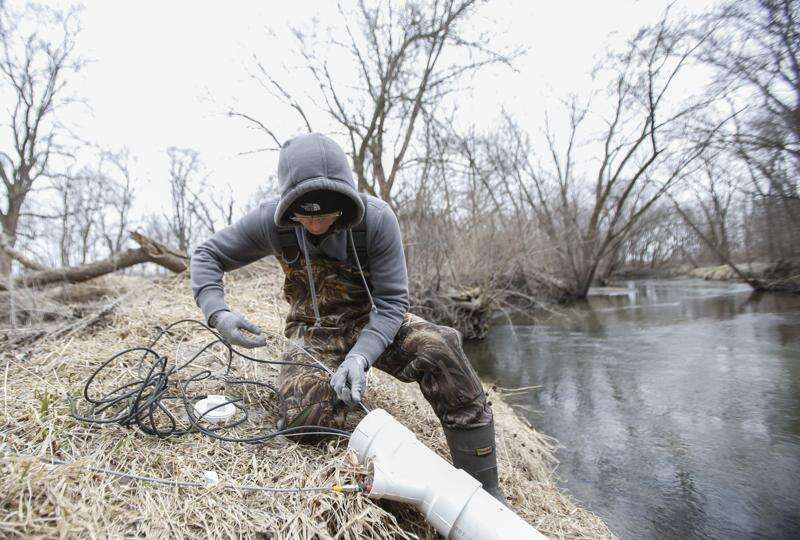 The Iowa House passed — and sent on to Gov. Kim Reynolds — a budget that could eliminate state funding for water quality sensors on Iowa's rivers and streams.
The House voted 62-33 on Tuesday to pass Senate File 558, a budget bill for agriculture, natural resources and environmental protection, despite concerns raised by water quality advocates about reducing funding for water quality monitoring and open space maintenance.
"Defunding progress reporting and monitoring is not the direction we should be going in our approach to nutrient pollution in Iowa," said Alicia Vasto, water program director for the Iowa Environmental Council. "Iowa taxpayers deserve accountability for the funding that is being spent on nutrient reduction practices."
The budget increases funding to the state's Foreign Animal Disease Preparedness Fund and deposits $750,000 in a Dairy Innovation Fund — changes Rep. Sami Scheetz, D-Cedar Rapids, called the "good" of the bill.
The "bad" part of the bill was removing a longstanding goal to have 10 percent of Iowa land as protected open space, Scheetz said. The "ugly" was shifting $500,000 from the Nutrient Research Center at Iowa State University to a water quality program in the Iowa Department of Agriculture and Land Stewardship.
The ISU center, which supports the sensor network at the University of Iowa, had been planning to allocate $500,000 to the UI this year for the network and related projects. The budget also eliminated a requirement the ISU center work with the UI and the University of Northern Iowa.
Rep. Chuck Isenhart, D-Dubuque, asked Rep. Norlin Mommsen, R-DeWitt, whether the bill meant ISU was prohibited from sharing its allocation with the UI.
"Not at all," Mommsen said.
Isenhart asked Mommsen, a farmer, whether he agreed to the language in the bill before it was passed in the Senate last week.
"Yes, I did," Mommsen said.
The 2008 Gulf Hypoxia Action Plan called for Iowa and other Midwest states to cut nitrogen and phosphorus loads in the Mississippi River by 45 percent. To do that, Iowa developed a Nutrient Reduction Strategy that requires water treatment plants to make improvements and asks farmers to implement voluntary conservation practices.
Iowa deploys about 70 sensors each year on streams and rivers across the state that measure nitrate loads and concentration so observers can tell whether water treatment plant upgrades, wetland improvements and agricultural conservation practices are working to reduce pollution.
The sensors send real-time data to the Iowa Water Quality Information System, which has an interactive map online. Two of the system's sensors are on Bloody Run Creek, which runs near the 11,600-head cattle feeding operation owned by Jared Walz, son-in-law of Sen. Dan Zumbach, who proposed the budget in the Senate.
SF 558 also moves $1 million in funding from the Resource Enhancement and Protection, or REAP, fund to park maintenance.
Comments: (319) 339-3157; erin.jordan@thegazette.com