Home / Sports / Columns & Sports Commentary
Iowa State women's basketball coach Bill Fennelly's Tweets are candid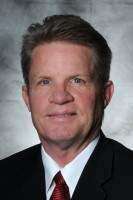 These are trying times at Iowa State. There seems to be a flicker of hope that the 10 remaining Big 12 schools will stay together, but forces from the Pac-10 and SEC are working hard against it.
Losing the Big 12 might torpedo at least parts of ISU's athletic program. Its women's basketball program, Fennelly-coached to 11 NCAA tournaments including the Elite Eight in 2009 and the Sweet 16 this year, will remain intact no matter the league.
Fennelly has a "lifetime contract" at ISU, so perhaps speaking candidly is easier for him than other coaches. Nonetheless, he has had some interesting things to say on Twitter the last few days, much of it about the Big 12 situation. Examples.
I am one of the FEW who have been in the Big 12 since day one--PROUD OF THAT--
Time for someone to be HONEST--this has NOTHING to do with academics or the student-athletes! ALL about MONEY and POWER
College is suppose 2 mean HIGHER education-so can someone explain how u break up the BEST college conference in the nation IF U are smart?
Media and others having fun piling on Iowa State--we have great people-proven winners -THAT does mean something- even though most ignore it
I love how all the schools leaving Big 12 put blame on others-gets more and more selfish with every comment-forgot QUICKLY who helped them!
I have been in college sports my entire adult life--Sad to see it has become like so many businesses who care about only ONE thing
Academics-Facilities-#3 in attendance-WNBA draft picks--and we have WON a ton of games!!!IOWA STATE WBB WILL REMAIN SPECIAL!!!
Nebraska in press conference talking about loyalty? Keeping your word? Being humble?
Sat at Hilton for a few minutes-thought about many wins over Nebraska-Colorado-Texas-A&M-OU-OSUNot about conference it is about the program
Nothing changes for me--in the offices working on getting our program better--some endings lead to new beginnings
Sitting alone in my office reflecting on 15 great years at Iowa State--we have accomplished so much we will continue to represent ISU fans
I thought our mission was to teach kids to compete on and off the floor and help prepare them for life-wrong-it is obviously to make money
To follow Fennelly on Twitter, click here.
To follow me on Twitter,