Home / Sports / Columns & Sports Commentary
BIG 10 EXPANSION: Georgia Tech? Seriously? (And more items)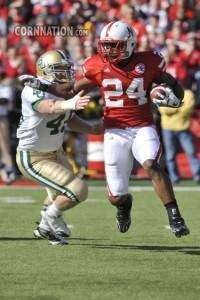 First, the few of you who go haywire with irritation every time I post stuff about Big Ten expansion should do the following:
Relax.
It's a documented fact that "Big Ten expansion" is a hotter topic on the Internet than "oil spill," "Elene Kagan," or "Justin Bieber."
OK, maybe it isn't.
At any rate, I had to share this blog post this week from Chris Boggs of the Atlanta Journal-Constitution. Boggs suggests Georgia Tech would make a good candidate to be included in a possible Big Ten expansion.
Yes, Georgia Tech.
Now, Boggs says this IF the Big Ten needs a 16th member. Which could be unlikely in itself. But he's not saying Georgia Tech is the most-desirable candidate out there. So let's give him that.
Here is his list of reasons why the Big Ten should consider Tech:
1) Georgia Tech just joined the American Association of Universities.  The AAU is an exclusive list of research institutes and
membership is by invite only.  There are only 63 AAU members unless I am mistaken.  All are serious academic schools with real research functions.
2) Every team in the Big Ten is an AAU member.  Membership appears to be predicated by inclusion in the AAU.  Rutgers, Nebraska, and Missouri are AAU members and Notre Dame has an unassailable academic reputation as well.  GT would be a exceptional academic fit for the Big Ten.
3) Georgia Tech would provide an "in" to the Atlanta television market, which would be very attractive to the Big Ten television network.
4) Georgia Tech just won the ACC title and played in a BCS bowl, providing football credentials that could be sold during a bid to pull the Jackets into the Big Ten as a competitor.  (The Jackets would also contribute mightily in basketball and baseball as well…)
His reasons are true, sure.  But Georgia Tech isn't even the most popular university team in Atlanta. That would be Georgia. The SEC's Georgia. Georgia in the heart of SEC country.
Boggs' concern is that the ACC could get picked apart by the Big Ten and SEC, and he doesn't want Georgia Tech to be left in a watered-down conference for football. He is a Tech fan, by the way, not a Journal-Constitution writer.
It's just fantasy, folks. Although it might be a good fantasy for Iowa, given how it silenced Georgia Tech's offense in January's Orange Bowl. On the I Club circuit, Kirk Ferentz jokes that his defensive coordinator, Norm Parker, has become popular with ACC coaches calling him to ask how he muffled Tech's triple option.
Elsewhere ... Notre Dame apparently will play Miami (Fla.) in Chicago's Soldier Field in 2012, and may also play games with each other at both schools in 2014 and 2016.
So, the Fighting Irish don't seem to be scheduling around their future Big Ten schedules with cupcakes, eh?
What future Big Ten schedules would those be? Notre Dame Coach Brian Kelly continues to tell people he prefers the school remain a football independent.
"I know you're hearing all these rumors about the Big Ten and all these other things," Kelly said this week, "but let me tell you one thing, the history ... the tradition of Notre Dame football is steeped in that independence."
Does he know something, is he lobbying for no change, or is he frightened of the possibility of playing eight Big Ten teams a year instead of three?
From a Nebraska point of view, the Omaha World-Herald's Lee Barfknecht raises a lot of sensible points from the understanding of someone entrenched in covering Nebraska and the Big 12 in this online chat he held this week. A passage:
There are a number of issues to consider when changing leagues _ broken traditions, increased travel costs, stress on student-athletes from increased travel, academic factors and on and on and on. These decisions aren't made strictly from what would make a good football schedule.
But Nebraska will listen closely to everything the Big Ten has to say. From a longterm stability standpoint, it could be the best move.
You know I love bringing in all the speculation from different regions, as witnessed by the Atlanta piece atop this post. But Barfknecht offers this as a counter:
The 24-hour news cycle and talk radio has blown this incredibly out of proportion.
Yes, this is big news and big business. But these kinds of talks and negotiations go on behind the scenes regularly and have for 20 to 30 years. It's just that now every Joe Blow with a website can pass himself off as an expert with some tidbit of information that is wrong or out of context.
Like I said before, this is like dumpster diving. You wade through a ton of sludge before finding anything of value.
For something completely different, our friends at Ohio State fan site Eleven Warriors offer their rankings of the Big Ten's running back groups entering the 2010 season.
It's Wisconsin, Ohio State, Penn State, Iowa, and then seven others.
Reading the post is a vivid reminder that the league is loaded with good RBs this year.