Trafficking victim hails awareness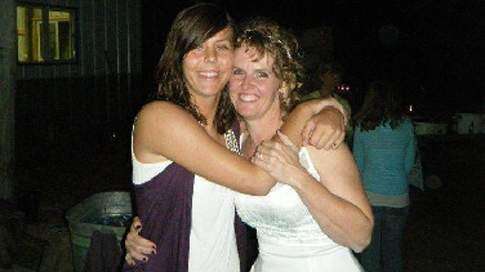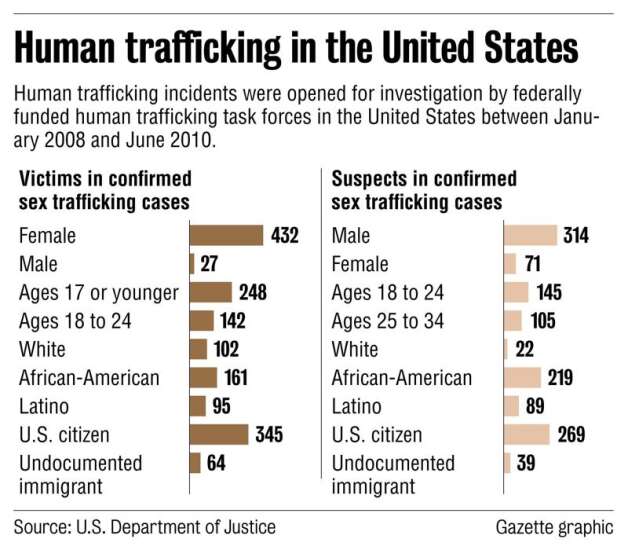 Her words, "I saw many things a 15-year-old girl shouldn't see," provide an unconventionally-wise commentary on the true story of her experience as a victim of human trafficking.
"I saw lots of drug addicts, people walking around with guns," Brittany Phillips, now 20, wrote in an email to The Gazette in which she shared her story and agreed to have her name be used. "I was dropped off with (another girl) at a crack house where we slept on a floor in a house infested with roaches."
Phillips, at age 14, was taken from her mom's home in Des Moines, where she was sexually abused by her mom's boyfriend, and placed in a treatment facility in Iowa City. She ran away with a friend and ended up in Cedar Rapids, where she encountered a series of men who repeatedly tried to sell or trade her for sex.
Hungry, naive and alone, Phillips refused to provide sexual favors but agreed to a false modeling offer, and eventually she was shipped to Chicago, where the sex trade involved coercion and more.
"They forced me to have sex with people for money, took pictures of me and posted them on Craigslist, as well as beat girls who tried running away," Phillips wrote in her email. "I had a gun held to my head at one point, along with some other girls, and was told that if I ran, they'd find me and kill me."
Phillips said she was saved by an undercover officer who discovered her by posing as a customer.
"Not everybody gets the chance to get out of it the way I did," Phillips wrote. "I was lucky. Not many are, and a lot of them are young girls, like I was."
Those young girls - like three teenagers at the heart of an Iowa City-based human trafficking arrest earlier this month - are the reason Phillips has chosen to share her story and to pursue criminal justice as a career.
"I think that now that it is publicly coming up more in Iowa, maybe there will be more done about it," she wrote.
Local problem
Human trafficking, according to Eastern Iowa officials, is not just an international and national problem. It's local, with Iowa's rural landscape, interstate system and connectivity and proximity to urban centers like Chicago, Minneapolis, Kansas City and Omaha making it an appealing place to find young victims.
A National Human Trafficking hotline that helps answer questions and find resources in both emergent and nonemergent situations has taken 217 calls in Iowa so far this year, 28 of which were tip and crisis calls.
Iowa only passed a law fighting human trafficking in 2006, and Johnson County sheriff's Lt. Kevin Kinney said he ran his first prostitution sting in 2007 with the goal of uncovering trafficking victims. Before that, he said, the last prostitution sting in Johnson County happened in the early 1980s.
"(Prostitution) has picked up as a priority among law enforcement because of the human trafficking aspect," he said.
In April, 20 local and federal agencies teamed up for a large sting in Coralville that nabbed 16 people on prostitution-related charges, including one woman who was arrested on suspicion of trafficking her 16-year-old sister as part of her sex trade business.
Earlier this month, a brother and sister were arrested in Iowa City and a third man was arrested in Ohio on suspicion of trafficking three teenage girls - ages 14, 16 and 16 - from Iowa City to Chicago, where investigators say they were forced to have sex for money.
"It's more common than what people want to know and what they want to believe," Kinney told The Gazette.
Lured by deception
Nearly all local human trafficking victims are lured into the business through deception - the promise of a modeling gig, alcohol, drugs, food and companionship, Kinney said.
"They are showing them friendship and being very nice to them at the beginning," he said. "Once they get them in and away from here, they often use drugs to control them."
The victims are forced by violence or threats to stay in the circuit, and their handlers brainwash them into thinking that police are out to harm them, Kinney said.
"They are very reluctant to talk to police," he said.
The criminals have a lot to lose, according to Kinney, who said human trafficking has become the second most-profitable criminal activity.
"It has become more lucrative than running guns at this point," he said.
The victims, even those kids who get out, are usually strapped with a lifetime of emotional and psychological baggage, Kinney said.
Helping others
Ruth Buckels, 47, of Story City. has seen the effects trafficking can have on its victims up close and personal. Buckels took Phillips into her home as a foster child after police discovered her in Chicago.
"She came to me when she was 16," Buckels said, adding that she was stunned by what the child had been through so early in life.
Buckels, committed to helping Phillips heal, adopted the girl when she turned 18.
"As she went through it, we went through it together," Buckels said.
Phillips, currently working on a cruise ship on the East Coast, has used her experiences as motivation to help others, and she has plans to get a criminal justice degree and work with law enforcement to find victims like herself. As for Buckels, she's outraged that her child - that any child - would have to endure such abuse.
Phillips used to "stand behind" her experiences and be the victim, Buckels said. She let it dominate her relationships and her emotions.
"There are still times when Brittany puts herself in high-risk situations because she doesn't realize how valuable she is," Buckels said. "When someone should have been teaching her that, she was being used and abused by human traffickers.
"But, as she ages, she gets stronger," Buckels said. "Each time she tells her story she says, 'Never again.'"
FYI:
National Human Trafficking Hotline: 1-(888) 373-7888
Center to Restore Trafficked and Exploited Children (Hiawatha)
Braking Traffik (Quad Cities)
Network Against Human Trafficking (Ames)
U.S. Attorney General's Office, Northern District
U.S. Attorney General's Office, Southern District