Home / Sports / Columns & Sports Commentary
DJK: His personal story is genuinely rags-to-riches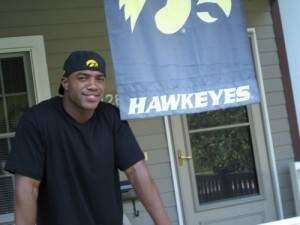 Last weekend, I shared football-related comments with you from Iowa senior wide receiver Derrell Johnson-Koulianos.
To me, the more-interesting aspect of his life isn't football-related. It's how he went from a shaky home situation in Youngstown, Ohio to meeting a family that took him into their home and eventually adopted him, giving him stability in his personal life, and seeing to it that he took education more seriously.
This is in Q&A form. A story that includes comments from Johnson-Koulianos' adoptive mother is in the Gazette's preseason Iowa football magazine, "If the Stars Align," on sale at Cedar Rapids-Marion Hy-Vee supermarkets and drug stores.
IOWA CITY - There's more to Derrell Johnson-Koulianos' story than what the Iowa senior wide receiver has done on football fields.
Johnson-Koulianos grew up in Youngstown, Ohio, a once-booming industrial city that has been plagued by urban decay. Translation: It's a tough town.
For the first 10 years of his life, his life was unstable at best. Then he met the family of Lauren and Dr. Tony Koulianos of suburban Campbell, who took him into their home and eventually became his adoptive parents.
In an interview earlier this summer, Johnson-Koulianos discussed where he comes from and how he got a better chance to become somebody.
Q: What is your background?
DJK: My biological mom had me when she was 14 years old. She kind of got overwhelmed with the process of life and I kind of became a distraction. So my life from a very, very young age - I was raising myself. I was teaching myself about the ways of the world as much as I could growing up where I grew up.
I grew up in the projects. That's how everybody's life was. I never felt like I was at a disadvantage. I just accepted everything going on in my life. I didn't know any different.
I was running the streets, no curfew. I really had nobody to answer to until I met my mom, Lauren, and my dad, Tony.
I've seen drive-bys. I've been shot at. I've seen anything that you see on TV. I just thought that was how the world worked. You were just accustomed to it. That was all I saw, all I knew. Youngstown is rough.
I didn't change clothes for days. I would wake up wherever I was - my buddy's house, my aunt's house, this side of town, that side of town. Really just not knowing what the next day would bring, where I would be. Then my life took a drastic change.
I met my brother Stephen (Koulianos) when I was in the fifth-grade at Campbell Middle School and we hit it off. You talk about two total opposites. He's like a genius with computers, film, electronics, art. I was more of a social athlete, that kind of thing.
"We became best friends and I started going home with him every day. My mom (Lauren) invited me in, made sure I was up for school, that I had new school clothes.
As time went on, I started becoming more and more part of the family with the Koulianos. I moved in.
I didn't know this type of lifestyle existed. The comfort of having somebody who genuinely cares about every aspect of your life. Vacations, family birthdays, little things. It was like a Beaver Cleaver lifestyle. I loved it. I embraced it.
Q: How did life change for you once you moved in with the Koulianos family?
DJK: My mom always asked me what I wanted and I'd tell her I wanted to be an NFL player, be Jerry Rice, be Terrell Owens. She told me you've got to go to school and get your grades.
They discovered that I had ADD (Attention Deficit Disorder). They discovered that I had narcolepsy.
My mom started going to my parent-teacher conferences when she wasn't my mom, asking 'How's Derrell doing?' Teachers would tell her he's a sweet guy, comes to class, great spirit, but he's late, and when he is here he's sleeping.
She would stress to me 'You can't sleep in class.' OK, Mom, I won't. I'd still sleep in class. Always. She thought 'Let's get him a sleep test.' Sure enough, I went to this facility where they had me sleep with all these wires for three days. It's a miserable experience. You'd stay up, go to sleep for 20 minutes, on and off for three days.
Sure enough, the test result came back and I had mid-level narcolepsy. I was put on medication, cured that.
I was a wired-for-sound kid. I had a hard time concentrating on anything. Homework was impossible. Completing any task was impossible. I was diagnosed with ADD. Some of my best friends don't even know that. I take medication every morning. I'm thankful. My whole life, I could have still been suffering from that, not ever knowing.
At the right time, I caught a blessing, before it went sour. I see some of my best friends from my youth now - it's sad. Those guys are just going nowhere real fast. I don't understand why God chose me out of everybody to meet my family. I wouldn't be here without them.
I stay on the grind every day. I try to stop and think as often as I can about how fortunate I am, and where I'd be today if I hadn't met my mom and dad.
Q: Has school been difficult for you over the years?
DJK: It's been a bit of a struggle.
I was behind in school. Those early school years set me back from an educational standpoint.
My parents opened my eyes in so many ways. I had to get up to speed with school.
To be a college student was something I never dreamed of. College? I didn't even hear the word 'college' until I met my parents.
It's been a challenge to keep everything in perspective when you're here (in college). It's real easy to think you should start to get a sense of entitlement. I play on the football team, I don't have to do my homework. Or, I don't have to be nice to people because I'm on the football team.
But when you get more blessings, the more you should become a better person and the more you should expect more of yourself.
Q: How far back do you go with football?
DJK: I played quarterback from the time I was 6 years old until I was a senior in high school. Every summer I was out there on the field and I was having fun. I enjoyed what I was doing and I was making plays.
I would bring a football to school when I was a little kid. I would set it under my desk. Everywhere I went, I had it. I loved the idea of running with the rock. It was my talent, my gift that God gave me.
I wanted to be good at this. I wanted to work hard at it. As my life moved forward, at each level of football people took notice of my success and it kind of gave me a role in life. Kids started looking up to me just as I used to look up to older guys I was watching on Saturdays.
Football is a means of - my success is going to allow me to have opportunities, and those opportunities can allow me to give back. Hopefully, I'll be able to give someone else the same life my parents gave me. I'm going to do that no matter what I'm doing with my life. I will do that. Because this sense that I have somebody I can count on for anything, that's an amazing feeling.
Q: Do you think a lot about possibly playing in the NFL?
DJK: It's hard not to think about it when you know you might have the opportunity. Regardless of what (college) players say, that's really the ultimate goal. I know it is for me. It definitely is for me.
The NFL is a means of income, a means to show who you are, to get your name in the national spotlight. And it's a means to give back.
Why is it bad to say you want to play in the NFL? Is it bad to say you want to be a doctor? Doctors get paid. My dad's a doctor. When we go out and people see him, they go bonkers over him. Before they say hello to me, they say hello to him. He's excited about what he does. I want to be good at what I'm doing.
So I think about the NFL every day. But in order to make it there you have to be good at the college level, so my focus is to be good at the college level. I can't get to my dreams unless I take the proper steps.