Home / Sports / Iowa Prep Sports / Iowa High School Wrestling
Oh, brother: Logan and Jadyn Peyton post consecutive state wrestling wins on same mat for first-place West Delaware
Hawks advance 7 into the quarterfinals; Vinton-Shellsburg is 3rd with all 6 wrestlers alive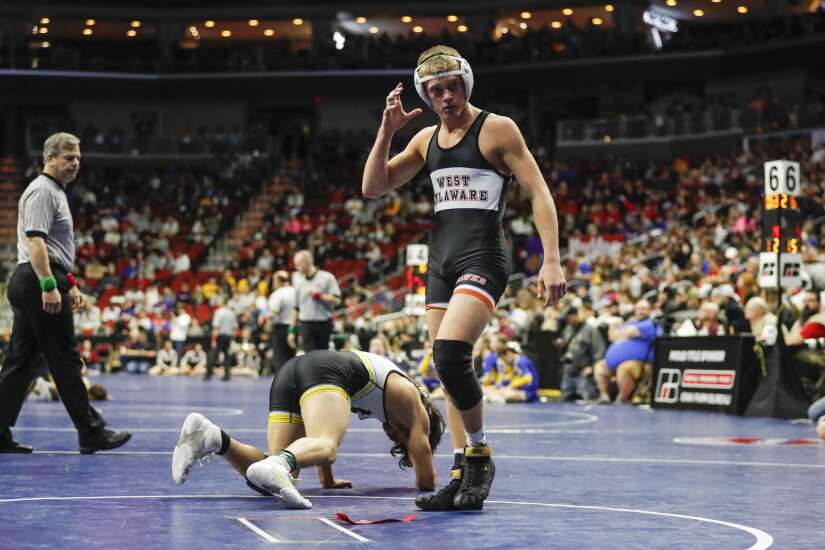 DES MOINES — Logan and Jadyn Peyton are not strangers in taking the mat after each other.
The West Delaware brothers have wrestled together for years and fill consecutive weights in the dual lineup. Thursday morning was a little different.
Immediately after Logan finished his first-round bout, Jadyn was called to the exact same mat for his opener. Hawks assistant and their father, Mitch, didn't even have to leave the corner.
Logan survived and Jadyn thrived, helping top-ranked West Delaware share the team lead after the first day of the Class 2A state wrestling tournament at Wells Fargo Arena. The Hawks advanced seven into the quarterfinals and matched Burlington Notre Dame with 25 points.
Logan scored a takedown 11 seconds into sudden victory to edge Winterset's Eduardo Garcia, 6-4, at 152. Jadyn, ranked first at 160, scored one of the Hawks' five pins in the first session, decking Clarinda's Karson Downey in 1:42.
"There are sometimes I have to watch myself so I don't get caught up in his match and focus on myself," said Jadyn, a top-ranked senior. "There are some benefits and cons to it. It was pretty cool to have that right after he won and getting a pin."
» Photos: Day 1 of the Class 2A state wrestling tournament
Logan, a junior, said he noticed his brother ran right by him after he stepped off the mat. He was still focused on his overtime victory.
"It's fun. I enjoy doing it with him. He's a really good leader for me. He's done a ton for me, helping me learn. He's a really good brother and wrestling partner."
Neither likes to concede to the other, making for some sibling competition. Battles between the two have caused West Delaware Coach Jeff Voss to limit how much they wrestle each other in practice. They can try to one-up each other by taking it out on their opponents.
"They are totally different people, but the one thing they have in common is they are competitive," Voss said. "I think that's what is special about those two. They are good, hard-nosed kids."
West Delaware went 7-2 in the opening round and has one alive in consolation rounds. The Hawks didn't have much of a hangover after winning the state duals title Wednesday night and having to turnaround again for the morning session.
Carson Less (120), Brent Yonkovic (138), Will Ward at 182, state champion and top-ranked 195-pounder Wyatt Voelker and heavyweight Cam Geuther also advanced.
"We've kind of trained for this," Voss said. "I think we learned over the years that we have to do some things so the guys can recover. They did well with that and performed well this morning."
» Results: State wrestling updates and team scores from day 1
Vinton-Shellsburg was right behind the Hawks and Nikes, sitting in third with 19 points. The Vikings moved four into the quarterfinals and still have two in consolation bouts. Aidin Swanson (113), Cooper Sanders (145), Gabe Sanders (152) and Brady Ortner (170) won their first-round matches. Carter Lamont (120) and 220-pounder Curtis Erickson added pins in consolations.
Swanson and undefeated Gabe Sanders won by fall. Ortner, a two-time state medalist, scored a major decision.
Union Community won its first five matches of the tournament and still has all six qualifiers alive. Second-seeded freshman Jace Hedeman sparked the round with a second-period fall over Monticello's Ethan Long at 106.
"The butterflies were gone," Hedeman said. "It felt good, actually."
Union four-time state champion and Northern Iowa All-American Max Thomsen helps with the Knights. He is in Hedeman's corner. Hedeman admits he wants to match Thomsen's title haul.
"I want to be a four-timer and he knows that," Hedeman said. "He pushes us."
They have some similarities. Union Coach Bart Mehlert said Hedeman is the first one to practice and the last to leave. Mehlert complimented Hedeman for his work ethic and letting his wrestling do the talking, which includes a pace few can match.
"We joke around the room that he has a lot more weapons than Max," Mehlert said with a laugh. "Their attitude and pace are similar, I guess. He's got a god arsenal, too."
Hedeman was joined in the quarterfinals by teammates Brayden Bohnsack (113), Caleb Olson (132), Hunter Worthen (152) and 160-pounder Stone Schmitz, putting Union in a tie for sixth with 15 points.
Mount Vernon's top-seeded 220-pounder Clark Younggreen was dominant in his state tournament debut. He pinned West Delaware's Sawyer Falck in 3:09. Younggreen admitted he worked through some first-match jitters.
"There were some, but I just put my headphones on and just worried about what I can do and control," Younggreen said. "I went out there and dominated."
Younggreen was in a logjam of talented wrestlers in qualifying tournaments the last two seasons. Last year's district include the eventual state champion, another medalist and a medalist from the previous year. He attended state to watch his friends and teammates compete but vowed he'd return as a participant.
"I said to myself that it was time to work hard. I used it to fire myself up and tell myself that I have to work harder and get down here," Younggreen said. "Everything happens for a reason. I was saying that can be me, if I work hard."
Independence's three-time state finalist and returning state champion Isaiah Weber suffered a disappointing finish to his career. Weber injury defaulted from the tournament. His match with Saydel's Austin Chally ended in the second period and he didn't take the mat in the consolation round.
Mustangs Coach Michael Doyle confirmed Weber suffered a rib injury.
"It's disappointing and unfortunate way to end your career when you're not 100-percent healthy," Doyle said. "It's hard to believe."
Weber won the 138-pound title last season. He was a runner-up to Centerville four-time state champion Matthew Lewis at 126 and 113 his first two seasons. He finished with a 178-18 career record.
"He's awesome," Doyle said. "He's been great. This year has been tough. There have been a lot of things he's had to deal with this year that has been difficult, but the last three years he's been lights out for us.
"He has been a good example of what Independence needs to be like and what it is like. I am proud of him and his hard work and effort."