Home / Sports / Iowa Prep Sports / Iowa High School Wrestling
Legendary coach Brad Smith will add another accolade: State wrestling Grand March leader
Lisbon coach is approaching 700 career dual wins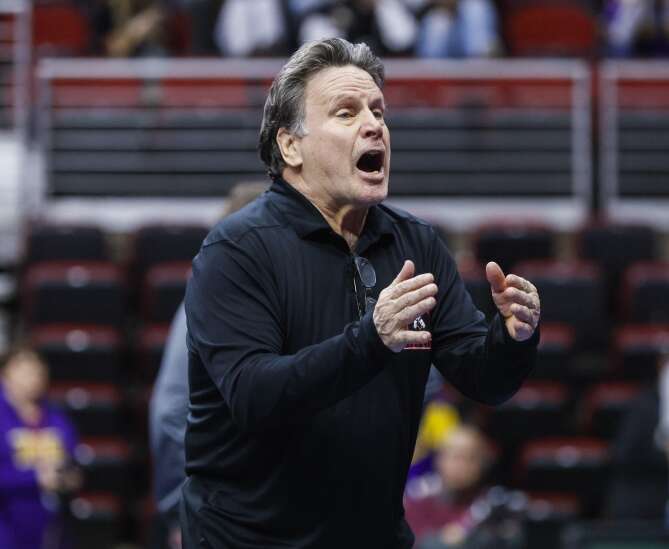 LISBON — Brad Smith has experienced almost everything as a wrestling coach and competitor.
He's won championships, led athletes to titles of their own and claimed space in multiple Halls of Fame at the state and national levels. Smith owns records and has become Iowa's most successful high school wrestling coach.
In a little more than a month, the longtime Lisbon and Iowa City High head coach will add one more accolade to the list. Smith will lead the famed Grand March, escorting the 336 medalists to be recognized by the crowd before the finals of the 2023 traditional boys' state wrestling tournament at Wells Fargo Arena in Des Moines.
"It's a neat situation for me because I've been doing this for a long time," said Smith, who is in his 45th season of coaching. "That is a really neat experience just to be able to lead those kids in that parade of champions. I'm looking forward to it."
This serves as a cherry on top of a wrestling career that included two undefeated state title seasons as an Illinois prep and a Junior Olympic championship. He won the 142-pound NCAA title for Iowa and legendary coach Dan Gable in 1976. Smith followed it with an unprecedented coaching career.
"I've worked hard at the sport and put a lot of time on it," said Smith, who praised the support of his wife, Connie, and coached his sons, Jacob, Cody and Colton at City High. "It's good to get rewarded for it. All the time, effort and kids I feel like I helped make better people."
The Iowa High School Athletic Association's Lewie Curtis, who serves as administrator to wrestling, called Smith three or four weeks ago with the news. IHSAA members scoured over past Grand March honorees. He noted they represented many facets of the sport, including wrestlers, administrators, IHSAA members, officials, media members and even police officers. Lewis said not many were coaches and Smith was a perfect fit.
"We looked at it and the history of who had led the Grand March," Curtis said. "We've had a wide variety but not much in the way of coaches.
"He's very deserving. He was tickled to receive the call."
Smith's coaching marks are unmatched, serving 24 seasons at Lisbon over two stints that bracket 21 years at City High. He is the all-time dual wins leader in Iowa history with 698 and has the chance to become the first to reach 700 dual wins during a Tri-Rivers Conference triangular Thursday with Alburnett and North Linn.
Smith also ranks first among all Iowa high school coaches with 19 total state team titles, including 12 traditional state tournament team championships. Lisbon won Class 1A tradition tournament crowns in 1980, 1982, 1983, 1986, 1988, 1989, 1990, 2017 and 2020, adding state dual titles in 1987, 1988, 1991, 2017 and 2020.
While at City High, Smith guided the Little Hawks to 3A team gold in 1992, 1999 and 2002, sweeping both state tournaments in 1999 and 2002.
Smith, 68, has coached countless individual state champions, medalists and qualifiers. Most notably, Smith has had a hand in coaching five of Iowa's 29 four-time state champions. He coached Lisbon's Scott Morningstar and City High's Jeff McGinness to two of their four and led the Lions' Shane Light and brothers, Cael and Carter Happel, each championship season. Smith was inducted into the Illinois Wrestling Hall of Fame in 1991, Lisbon's Athletics Hall of Fame in 2002, Glen Brand Hall of Fame in 2004 and IHSAA Hall of Fame in 2011.
"I learned a lot from Gable, going through his program and being around him at camps," the 1990 National Coach of the Year said. "I learned how to handle kids and different ways to motivate them, which he was really good at. I felt I learned that straight from him and do that as a coach, too. You don't treat all your wrestlers the same. They're all individuals, so you have to make sure to do that well."
The night could be even more special, if one of his wrestlers makes the finals. Lisbon's Brandon Paez is unbeaten and is a two-time state champion and three-time finalist. Heavyweight Wyatt Smith is also unbeaten and a returning state medalist. Tiernan Boots, a sophomore at 138, placed fifth last season.
"Paez has been in a class of his own," Smith said. "Things are looking good (for those three). I feel pretty confident I'll have some work to do after the Grand March."
Comments: kj.pilcher@thegazette.com