Home / Sports / Iowa Prep Sports / Iowa High School Wrestling
Iowa wrestling expects hostile environment at South Dakota State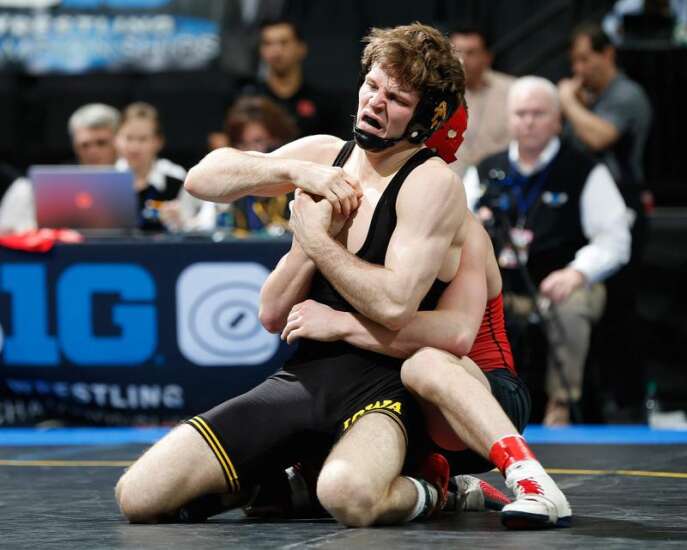 The buzz is starting to get a little louder for Iowa's dual against South Dakota State.
So, it's understandable that Hawkeyes Coach Tom Brands expects a 'beehive' type atmosphere for their matchup.
'I said we weren't looking ahead past Purdue, but had one eye on this dual meet,' Brands said. 'The environment is going to be fun. We have competitors here that are about that anyway, going into enemy arenas.'
Third-ranked Iowa will travel to Brookings, S.D., for the first time to take on No. 20 South Dakota State on Friday, beginning at 7:30 p.m. The Hawkeyes lead the series, 5-0.
The Jackrabbits are 1-1 overall, owning a victory over Big 12 foe Iowa State. Former Cyclone Chris Bono is in his fifth season at the SDSU helm, leading them to a 36-34 dual record over that time and consecutive winning seasons.
'They're excited, of course,' Brands said. 'They have a coach who is a fiery guy. Probably someone more my style than maybe some other coaches out there, so I would say this guy here is fond of that guy. It's hard to be fond of somebody when you take things so personal. It's competition.'
Brands compared the situation to a dual at a then-15th ranked Edinboro in 2013. The Hawkeyes faced a raucous crowd and a feisty team, but escaped with a 22-19 victory.
Iowa's Sammy Brooks was a freshman and moved up to 197 pounds, recording a key major decision. Brooks said the Hawkeyes weren't ready for that dual, but they know what to expect now.
'They are going to get up,' Brooks said. 'They're going to have a lot of people in a small gym, so anything South Dakota State does it is going to get loud. You have to silence that.'
Some wrestlers thrive on being the bad guy and hearing the jeers from the crowd. Others tune it out and focus on the task at hand.
'Once I'm there and once the whistle blows all that stuff kind of just goes away,' top-ranked 133-pounder Cory Clark said. 'It doesn't really matter who is rooting for or against me.
'Once the whistle blows it's just another match. That is how I approach it.'
Brooks shares the same attitude, but he will have time to soak it all in while he waits to compete at 184.
'Once the wrestling starts it's wrestling,' Brooks said. 'I do feed off of it. If I'm watching the first half of the dual and the crowd is getting into it or we're shutting them up that'll light a little fire under me. That stuff is exciting.'
SDSU has six wrestlers ranked in the top 25 by trackwrestling.com but just three in the top 20. Brands said the Hawkeyes need to be ready to avoid getting stung.
'It's going to come down to bonus points,' Brands said. 'It always comes down to bonus points. You want to get those bonus points when you can. If it is lopsided, it makes it more lopsided, and if you need them you need them.'
FAMILIAR FOE FOR CLARK
Top-ranked 133-pounder Cory Clark will have a top-10 contest against a familiar foe. The three-time All-American and two-time NCAA finalist will take on former Hawkeye and South Dakota State's sixth-ranked Seth Gross.
'I wrestled him times here and there,' Clark said. 'I know he's a competitor. I know he's coming out to wrestle and whatever he has to do to win that's what he's going to be doing.'
Gross was a redshirt for Iowa two years ago. He transferred to SDSU after and was an NCAA qualifier and Big 12 runner-up at 141, going 26-14 last season. Clark said he isn't going to base the upcoming bout off of practice-room wrestling from two years ago.
'I'm not really worried about what he's going to do,' Clark said. 'More or less, just get to my stuff and I should be fine.'
Iowa Coach Tom Brands addressed a media report about the upcoming meet and the circumstances surrounding the dismissal of Gross. Brands took exception of a dual preview by FloWrestling.com that mentioned that Gross and two teammates were dismissed after an arrest in March of 2015. The article noted the charges were reduced to misdemeanors and deferred, but the dismissal was permanent.
'They said he was released because of an alcohol charge and there was more to it,' Brands said. 'If you're going to report things, you better report them accurately. Or, leave it alone. Just call him a transfer. If you're going to report why he left, it was a little bit more than the alcohol charge and we're not going to go there.'
Gross won a match against Logan Ryan in last year's dual at Carver-Hawkeye Arena. Ryan was dismissed in the same incident, but earned his way back on the team.
'We've wished Seth Gross the best and we continue to wish him the best as much as you can,' Brands said. 'He's an opponent now.'
BRANDS GOES FOR 200
If Iowa defeats South Dakota State on Friday, the victory would be the 200th career dual win for Tom Brands. He is 3-0 this season and 182-17-1 in his 11th season as Iowa's head coach, notching 17 victories in two seasons leading the Virginia Tech program.
l Comments: (319) 368-8679; kj.pilcher@thegazette.com