Home / Sports / Iowa Prep Sports / Iowa High School Wrestling
Derick Ball named Cedar Rapids Prairie head wrestling coach
Ball previously coached at Highland, replaces Kane Thompson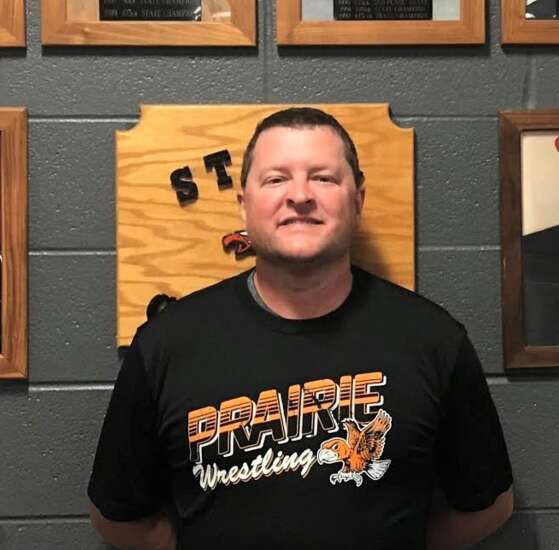 CEDAR RAPIDS — Cedar Rapids Prairie's search for a new head wrestling coach is complete.
Former Highland head coach Derick Ball has been entrusted with the Hawks program and its rich tradition.
Prairie Athletics Director Rocky Bennett announced in a news release Thursday that Ball will replace Kane Thompson, who stepped down after his sixth season to take an administration position at Prairie Delta within the College Community School District.
"Derick is a high energy and a high integrity guy with 17 years of experience," Bennett said in the release. "He has tremendous knowledge in the sport of wrestling that will serve our program well. He has the passion, dedication and commitment to lead our program as we continue to compete for individual and team championships."
Ball spent the last four seasons at Highland, guiding nine state qualifiers and three state medalists.
Easton Schlabaugh and Bryce Thompson placed fifth in the 2021 Class 1A state meet at 106 and 113, respectively. Brady Hahn placed sixth at 145 in 2019. The Huskies won sectional and district team titles in 2019.
"I am excited and honored to get to be a Prairie Hawk and lead the wrestling program," Ball said. "The goal that I have for my student athletes goes beyond wrestling. I am interested in developing each athlete to be the best they can be on and off the mat and help them maximize their potential."
Thompson continued Prairie's success after taking over for Blake Williams in 2015. The Hawks won two Mississippi Valley Conference Super Meet titles and never finished lower than second.
Prairie has made 17 state duals apperances, including two under Thompson. The Hawks had two top-10 team finishes at the traditional state meet. He also coached 36 state qualifiers and 18 medalists. Four were state runners-up, including Class 3A 106-pound silver medalist Blake Gioimo in February.
"It's on the verge on being on the rise," Thompson said about the program at the time of his resignation. "This team is going to have some serious contenders in the MVC and state tournament. The ninth and 10th graders are really solid and more good kids not far behind."
Prairie was 5-6 in a shortened 2020-21 season and reached the regional dual finals. The Hawks had two state qualifiers, including Gioimo, who was a sophomore.