Home / Sports / Iowa Prep Sports / Iowa High School Wrestling
Cedar Rapids Kennedy tallies 5 pins in 44-31 season-opening boys' wrestling dual win over Iowa City West
New faces help Cougars claim 8 weights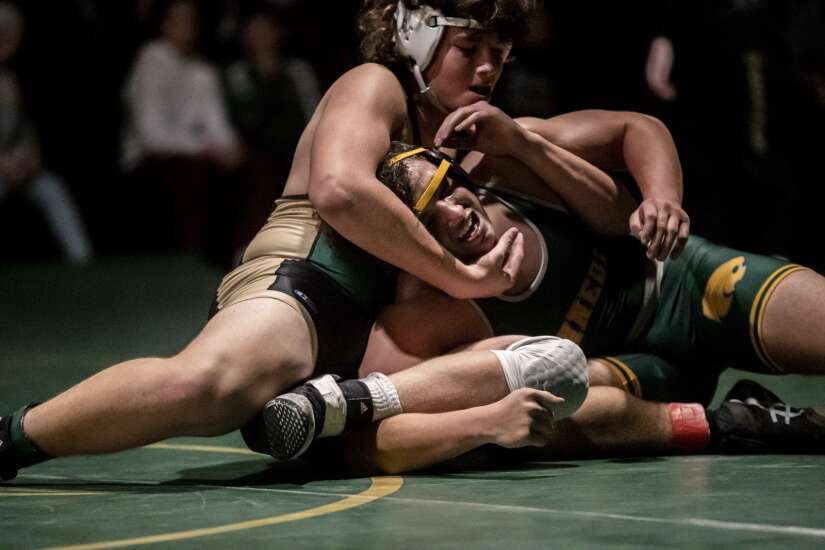 IOWA CITY — Cedar Rapids Kennedy Coach Nick LeClere couldn't single out a specific performance.
He was impressed by the cumulative effort, especially the young and inexperienced wrestlers, stepping into varsity spots.
"I think that's what stood out to me the most," LeClere said. "It wasn't one individual. The new faces in the lineup just fought and fought."
Kennedy won eight weights, including bonus points in seven, and defeated Iowa City West, 44-31, in a Mississippi Valley Conference boys' wrestling dual Thursday night at West High School.
"I thought we definitely gave some good fight," LeClere said. "We came out ready to go in about every match."
The Cougars (1-0) started to pull away about the midway point, stringing together four straight victories to take the lead for good.
Senior Caleb Eaton is one of the older wrestlers, getting his varsity shot. He put Kennedy on the board with a pin at 152. Logan Miller added a first-period pin a few matches later and sparked the key streak. He was an example of underclassmen that made an impact.
"Logan Miller is a sophomore at 182," LeClere said. "First time in the lineup and goes out and does the same thing, getting a pin."
Kennedy's Austin Raue (195) notched a 9-6 decision over Serafim Surguladze to tie the meet, 15-15. Asher Smith (220) and heavyweight Logan Johnson posted consecutive falls to propel the Cougars to a 27-15 lead.
Caleb Ralston notched Kennedy's fifth fall at 126 and 138-pounder Cael Smithhart capped the dual with a technical fall. Even in matches that were lost, LeClere appreciated the battle.
"Whatever we're doing in our program to prepare the (junior varsity) kids for their chance at varsity is working," said LeClere, noting Kennedy has 65 to 70 boys out. "Even where we got beat, those kids didn't know when to quit trying. We kept fighting."
The Cougars capitalized on pinning situations when the opportunities were presented. A product of practice, fighting to keep wrestlers on their back during live wrestling instead of letting them roll off or release them on their feet.
"We work on turns and pinning a lot in our room," LeClere said. "They have to earn it. Both guys.
"It's kind of natural in our room. They've really responded to it."
West (0-1) received pins from Justin Avila (160) and Kyler Scranton at 170, building an early 15-6 lead before Miller's fall. Freshman 106-pounder Alexander Pierce and Braden Doyle add falls for the Trojans.