Home / Sports / Iowa Prep Sports / Iowa High School Wrestling
Cael Happel's second crown secures Lisbon's team title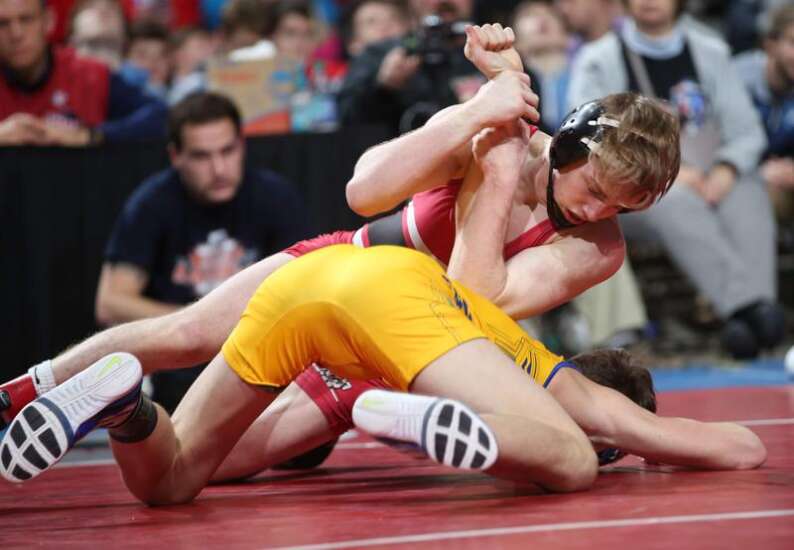 DES MOINES — Cael Happel cracked open a can of Mountain Dew.
The Lisbon sophomore hadn't consumed soda in about eight months, but he earned this one.
'I haven't had pop since June of last year, so that's the first one in a while,' Happel said. 'It tastes pretty good.'
Happel likely savored the sweet beverage, but not as much as the moment that led to it. The top-ranked Lion captured his second consecutive title, throttling Wapello's No. 4 Daniel Meeker, 27-12, in the 120-pound final of the Class 1A state wrestling tournament Saturday at Wells Fargo Arena.
The bonus-point victory was enough to clinch the second straight team title for Lisbon and the 16th traditional team title in school history. Happel was the first of four Lisbon finalists and knew what was at stake.
'The coaches told me before I went out there,' Happel said. 'They're always telling me we have to have you getting pins, bonus points. It was nice to go out there and do what I can do for once and that's tech fall. It took a lot of pressure off my back and I took a lot of pressure off the other (teammates') backs to go out and perform the way they can without pressure.'
Happel (52-2) attacked from the start, notching his first takedown just nine seconds into the match and building a 10-4 lead at the first break. He added five more takedowns in the second, ending the match by technical fall in 4:45. The performance was indicative of his relentless style.
'It's big to take the other kid out the match as fast as you can,' said Happel, who beat Meeker in the 113 final last year. 'I think I did that right away.'
Happel continued the family's dominance in state wrestling competition, winning the 48th straight match between traditional state and duals competition. It includes 12 from his father, Dean, a three-time titlist from 1982-84, and 22 from brother, Carter, who was Iowa's 25th four-time state champion.
The Happels have had someone on top of the podium for six straight years.
'It's big to keep it going,' Happel said. 'It's cool to go out and wrestle and wrestle for something like that. Forty-eight straight wins in state tournaments is pretty crazy.'
Lisbon entered the finals with a five-point lead over Don Bosco. The Lions claimed their 16th traditional state tournament team title with 127 1/2 points, topping the rival Dons by six.
The championship vaulted head coach Brad Smith into first place on the state's all-time list with 12 traditional team titles, breaking a tie with Waterloo West's legendary coach Bob Siddens.
'It's in great company,' said Smith, calling Siddens a great friend and motivator who taught him a lot. 'It's a thrill, especially with thins team, bouncing back. We didn't wrestle the way we were capable in the duals. The kids were excited to redeem ourselves in this tournament and they did that.
'The seniors on this team and the coaching staff around me has made my job a lot easier.'
Cooper Siebrecht (51-5) added some icing to the Lions' championship cake. He topped Woodbury Central's Wade Mitchell, 3-2, for the 145-pound crown. Siebrecht added gold to his previous three state medals.
'It's been a dream of mine ever since I was a kid,' said Siebrecht, who will wrestle at Minnesota State-Mankato. 'That moment was one of the highlights so far. I can't wait to continue to wrestle in college, too.'
Siebrecht and Mitchell exchanged escapes before Siebrecht converted on a single-leg shot for the go-ahead takedown with 58 seconds left.
'I was getting a bunch of shots off the whole match, but I wasn't getting deep and executing,' Siebrecht said. 'Once I hit that shot in the third, I got super deep on it and I knew that was my opportunity to score.'
He was sporting a large knot on his left eye, using his head to stop a late takedown attempt by Mitchell.
'I felt that one at the end,' Siebrecht said with a laugh.
Younger brother, Cobe Siebrecht, finished runner-up for the second straight season. Cobe (51-2) fell to Underwood's Alex Thomsen, 18-6, in the 126 championship match. Thomsen and Fort Dodge's Brody Teske joined elite company Saturday, becoming the 26th and 27th wrestlers to win four Iowa state titles.
Lisbon's Bryce Werderman (48-6) also placed second, dropping a 6-5 decision on a late escape to Avoca AHSTW's Gabe Pauly at 170.
Alburnett brought two wrestlers to the state tournament and senior Tanner Sloan and junior Jaymus Wilson both reached the finals.
Sloan (48-1) continued his blitz of the 195-pound bracket, pinning Sibley-Ocheyedan's Hunter DeJong in 3:18 for his third fall of the tournament and second state title.
'It feels great,' said Sloan, who won as a sophomore but finished third a year ago. 'I worked so hard in the offseason and in season. It was worth all the work, being back on top.'
The match was scoreless with Sloan delivering a punishing ride. He cinched up a cradle, turning DeJong, and it didn't take long to finish him.
'I could picture myself this whole week just locking up a deep-ass cradle and pinning him,' Sloan said. 'I ride tough. I like to be on top. Once I got that I knew it was going to be tight. It was a matter of when the ref was going to slap the mat.'
Wilson (41-5) reached the championship match for the first time. The 106-pound junior faced Don Bosco's Daniel Kimball in a rematch of last week's district final. Kimball won again, using a second-period reversal and two nearfall in the third for a 6-2 victory.
North Linn's Brady Henderson (33-5) also made his first appearance in the state finals. The Lynx junior lost by fall to Wapsie Valley's Donny Schmit in 1:59 of the 132-pound title bout.
'Obviously, it didn't come out how I wanted,' Henderson said. 'I've got to learn to wrestle loose. All that out there is in your head. You have to go out there and wrestle how you can.
'This will be in my head all next year and the summer. All practices, I'll be thinking about this.'
Iowa Valley junior Garet Sims gave the Tigers a finalist for the third straight year. Sims gave up a second-period takedown, falling to Martensdale-St. Marys' top-ranked Logan Schumacher, 2-0, in the 182 final. Sims (55-2) improved his fifth-place finish last season.
Jesup heavyweight Brian Sadler capped a perfect season. Sadler (44-0) pinned Dike New-Hartford's Chase Arends in 52 seconds. Sadler earned the school's sixth title and the first since Austin Even in 2011.
l Comments: (319) 368-8679; kj.pilcher@thegazette.com