Home / Sports / Iowa Prep Sports / Iowa High School Wrestling
1A state wrestling finals: Lisbon's Brandon Paez is back on top
Teammate Cade Siebrecht joins him as state champion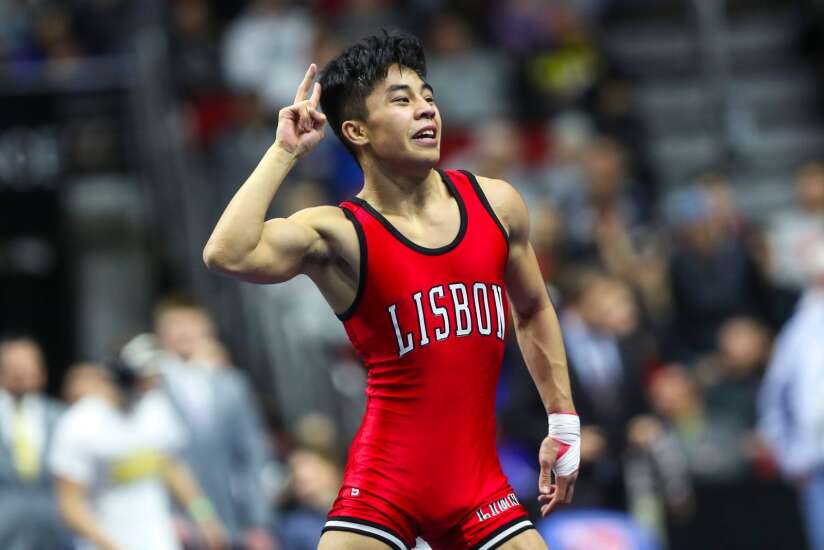 DES MOINES — Revenge and redemption.
Both accompanied Lisbon's Brandon Paez back to the top of the awards stand.
Second-ranked Paez avenged his only loss of the season, defeating Nashua-Plainfield's No. 1 Garret Rinken, 7-3, to claim the 120-pound title of the Class 1A state wrestling tournament Saturday night at Wells Fargo Arena. He was one of two Lisbon titlists, joining 138-pounder Cade Siebrecht.
Paez was a state champion as a freshman but lost in last year's final to New London's Marcel Lopez, who became Iowa's 30th four-time champion Saturday night.
After a late takedown to secure his second title, he put his head in his hands while on his knees for a brief moment. When his hand was raised, he used his fingers to count two to the appreciative crowd, signifying the number of titles.
"I can't even articulate it," Paez said. "So much has been put in for this moment. All the work. All the work off the mat. I'm so happy.
"I believe I could have done so many more things in that match. I'm satisfied but a lot more work has to be done."
» Photos: 2022 Iowa high school boys' state wrestling finals
Paez used two takedowns for a 4-1 edge at the end of the first. His lead shrunk to 4-3 in the third. Up by two, he fended off a late shot and turned it into a takedown of his own to seal it. Paez did not want to experience the same feeling as last year.
"I couldn't get it (winning takedown)," Paez said. "Now the tables were turned. I wanted to secure that win. I didn't want to feel what I felt last year."
At the Tripoli Invitational in January, Rinken built a 6-2 lead before a first-period pin.
"I focused on the little things," Paez said. "Match by match. See what I could improve (and) what I need to work on. Also, a lot of things off the mat. Made some adjustments. Bettered my surroundings. I made them a big difference."
Twitter
Paez gave Siebrecht a congratulatory hug after his a sudden-victory thriller. Siebrecht admitted he received a boost from Paez.
"He killed him," Siebrecht said. "He took him down two times in the first 30 seconds. I was really pumped."
Siebrecht scored a takedown with 12 seconds remaining to top West Hancock's fourth-ranked Kellen Smith.
"The way we work so hard in the room is for times like this," Siebrecht said. "I wasn't even tired out there. I was just like the first period. I was fully there. He let out a little bit, so I took advantage of it."
Siebrecht capped a stellar career that also included last year's 126-pound crown and a fifth-place finish as a sophomore.
"That was the goal to finish on top and that's what happened," Siebrecht said. "It feels amazing."
Twitter
Lisbon earned its seventh consecutive top-two finish with a runner-up performance behind Don Bosco, which won its fourth straight title.
The Lions placed eight wrestlers on the awards stand, scoring 123 points. The Dons crowned four champions and ended with 161.5 points.
"It was the best we could do in the situation we were in," Smith said. "We had a good round this morning and won some good matches.
"Overall, it was a really good performance all weekend."
Senior Max Kohl was the top finisher after Paez and Siebrecht. He pinned North Tama's Aiden Zook in the final round to get third for the second straight season. It was his second win against Zook this tournament, winning by a point in the quarterfinal.
"I knew I had short time left," Kohl said. "I looked over at the clock and there was about 13 seconds left. I had double underhooks and a bear hug. I inside tripped him to his back and that was it."
The Lions mixed business with pleasure. They did work on the mat and bonded in the time off of it, including fierce euchre tournaments. Kohl said he and 126-pounder Quincy Happel reigned in the card battles.
"The team chemistry has only gotten better since we've come here," Kohl said. "There was a lot of joking around. Always had a euchre tournament at night."
"Me and Quincy Happel are unstoppable. The coaches try every once in a while, but the old dogs don't have all the tricks."
Happel and Lincoln Holub (152) placed fourth. Holub placed for the second time. It was Happel's first medal in four appearances. Junior heavyweight Wyatt Smith finished sixth, while Jamien Moore was eighth at 182.
Don't expect the Lions to go anywhere.
"We have had a lot of underclassmen step up to the plate this year," Kohl said. "I'm looking forward to see how they compete in the years to come."
Tri-Rivers Conference rival Alburnett placed ninth with 49 points. The Pirates started the tournament with five qualifiers and ended with four medalists.
Eighth-ranked junior Carson Klostermann (145) avenged his quarterfinal loss by beating Central Springs' fourth-ranked Bryce McDonough, 9-8, for third place. Alburnett's Brody Neighbor produced a strong performance over the three-day event. He finished fourth, posting wins over Pleasantville's No. 4 Kitt Lundy and Denver's No. 5 Joe Ebaugh in the first two rounds to reach the podium.
"They really brought it this weekend," Alburnett Coach Clayton Rush said. "They faced adversity at times and overcame it. Coming in, I would say we weren't pegged to finish how we did and I think they put their names on the radar of a lot of people."
All five return next season and have the potential for bigger achievements.
"I think we have a bright future with these guys," Rush said. "They will be great leaders and examples for those coming into our program in the future."
Preston Klostermann placed sixth at 120 and 106-pound freshman Rowdy Neighbor was eighth.
North Tama is just four years removed from its 25-year sharing agreement with Gladbrook-Reinbeck. Former North Tama prep and Wartburg wrestler Andrew Knaack returned to guide the newly independent program.
In its fourth season after the separation, the Redhawks have their first state medalist from Traer since Knaack placed fifth in 2001. North Tama was 22nd with 25 points before the championship matches.
"It took a little bit for people to buy in," Knaack said. "We're getting there."
Three Redhawks qualified for the tournament and two reached the awards stand. Zook led the way, getting fourth in his senior season. Case Monat (106) finished sixth. Kolt Knaack, the coach's son, competed at 132. Monat is a sophomore, while the younger Knaack is a freshman.
Support and enthusiasm has grown with some athletes wrestling more in the offseason.
"I'm happy with where we're going," Knaack said. "We have a lot of young kids. Hopefully, more get on board.
"The community is behind it."
Dyersville Beckman and Sigourney-Keota also had two medalists. Owen Huehnergarth pinned South Winneshiek's Logan Hageman in 4:40 of the placing round to get fifth for the second straight season. The Blazers' Nick Schmidt finished seventh at 126.
Sigourney-Keota's Cade Molyneux (160) and Connor Reed (220) each placed sixth.
Cascade freshman Brock Morris reached the 106 semifinals and ended fourth. Iowa City Regina's Aidan Udell finished sixth at 170 and became a two-time medalist.
West Branch's Logan Wright finished eighth at 220. He became the Bears' first medalist since Drew Finnegan was fourth at the same weight in 2016.
Class 1A team scores
Final
1. Don Bosco 161.5
2. Lisbon 123
3. Logan-Magnolia 92
4. Underwood 90.5
5. West Sioux 81
6. Nashua-Plainfield 68.5
7. North Butler-Clarksville 65
8. New London 60.5
9. Alburnett 49
10. West Hancock 48
Class 1A finals
106: Caleb Coffin (Don Bosco) dec. Cael Morrow (Akron-Westfield), 3-1
113: Eli Becerra (Missouri Valley) pinned Kolton Munson (Ogden), 3:05
120: Brandon Paez (Lisbon) dec. Garret Rinken (Nashua-Plainfield), 7-3
126: Marcel Lopez (New London) dec. Jace Rose (Oakland Riverside), 5-3
132: Gable Porter (Underwood) major dec. Garrett Funk (Don Bosco), 9-0
138: Cade Siebrecht (Lisbon) won in SV-1 over Kellen Smith (West Hancock), 7-5
145: Hagen Heistand (Underwood) dec. Karter Krapfl (Hudson), 3-1
152: Wyatt Reisz (Logan-Magnolia) won in SV-1 over Gabe McGeough (MFL MarMac), 3-1
160: Maximus Magayna (Waterloo Columbus) dec. Lawson Losee (Riceville), 3-0
170: Cade Tenold (Don Bosco) dec. Blake McAlister (South Central Calhoun), 2-1
182: Tate Entriken (Hudson) dec. Jackson Dewald (Westwood), 3-2
195: Carson Tenold (Don Bosco) pinned Cayden Miller (Midland), 2:00
220: Jared Thiry (Don Bosco) dec. Jonah Cark (WACO), 8-1
Hwt.: Chet Buss (North Butler-Clarksville) pinned Rex Johnsen (Logan-Magnolia), 3:45
Comments: kj.pilcher@thegazette.com