'Worst case scenario' weather conditions could cause major Mississippi River flooding
River communities could enter flood action stages as soon as this weekend, cresting toward end of April and beginning of May.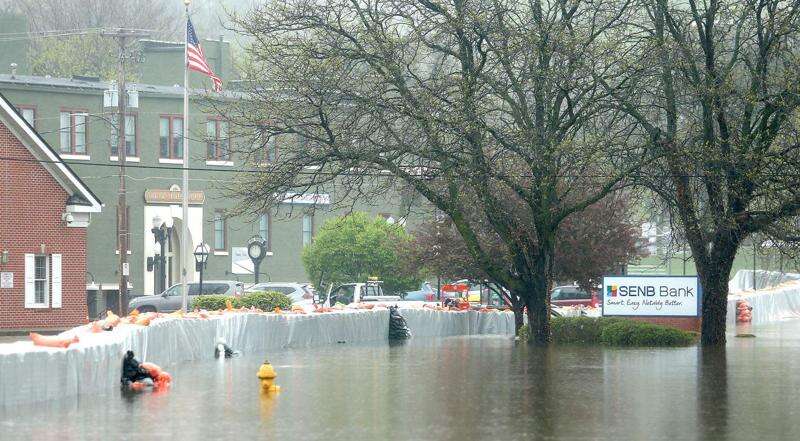 The next two weeks are projected to bring above normal temperatures and precipitation to the upper Mississippi River basin, causing snowpacks in Minnesota and Wisconsin to melt.
Those conditions have created a 50 percent or higher chance that communities along the Mississippi River — from Dubuque to Burlington — will experience major flooding, according to the latest river flood risk briefing from the National Weather Service's Quad Cities bureau.
"This is a little bit of that worst-case scenario that I've been warning about since February," said senior service hydrologist Matt Wilson. "We could see this being the start of a more severe spring flood season than we would have otherwise hoped for."
In Minnesota and Wisconsin, wetter than average conditions caused snowpacks to swell this winter to between 4 and 10-plus inches of snow water equivalent. They rank in the top 10 percent of snow events on historical record for the area — potentially even the top three, Wilson said.
Colder than normal temperatures have allowed those snowpacks to persist longer into the spring.
"We don't normally have this much snow leftover that far north — or even, we don't have that much snow leftover by this point in the year," he said.
The anticipated unseasonably warm temperatures will cause the snowpacks to melt fast, sending that water into northern tributaries that dump into the Mississippi River.
The main stem is projected to crest along its breadth in Iowa toward the end of April and the beginning of May. River communities could enter flood action stages as soon as this weekend. Above normal precipitation throughout the season could impact river levels, too.
"That tells us that, once the snow melts … (and) once we have crested here, our recession will probably be slowed due to the presence of spring rains that will continue to feed the channels as they move through and keep that flood elevated for possibly an extended period of time," Wilson said.
Tributaries in the Iowa are still at near-average flood risks, for the most part.
The upper part of the Cedar River watershed, which stretches into Minnesota, is currently at above normal stream flows due to snow melt. Thanks to smaller snowpacks in the area, though, there is no current forecast for significant flooding down in Cedar Rapids.
"That does not preclude the threat of strong spring thunderstorm rains that could lead to severe flooding later in the season," Wilson said. "But we aren't expecting any from the snow melt."
NWS Quad Cities River Flood Risk Briefing (4/6) by Gazetteonline on Scribd
Brittney J. Miller is the Energy & Environment Reporter for The Gazette and a corps member with Report for America, a national service program that places journalists in local newsrooms to report on under-covered issues.
Comments: (319) 398-8370; brittney.miller@thegazette.com