Strong tornadoes, large hail possible in Friday storms
The National Weather Service's Quad Cities bureau expanded 'moderate' risk of severe storms to as far west as Des Moines, including Linn and Johnson counties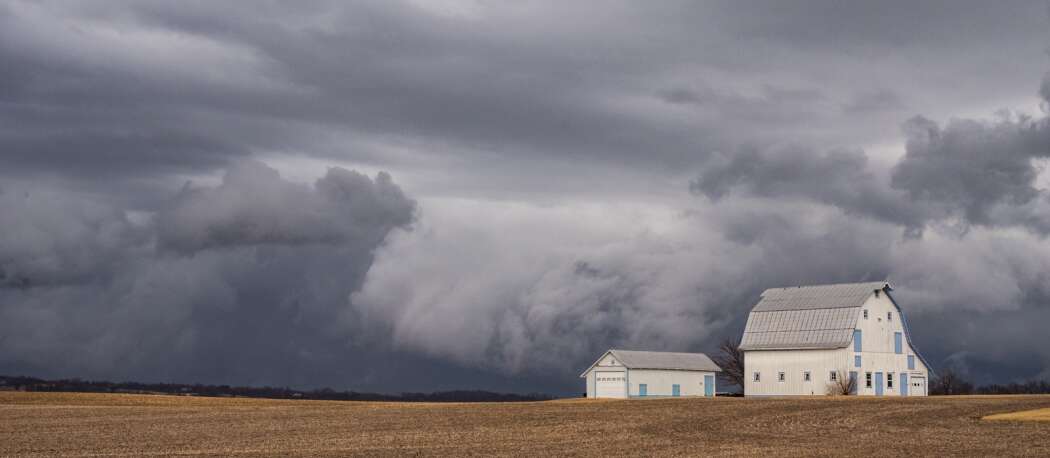 The risk for severe storms — including tornadoes — was upgraded for a portion of southeastern Iowa late Friday morning.
According to an outlook from the National Weather Service's Quad Cities bureau, there is now a high risk of severe weather over a swath of southeast Iowa that includes Iowa City, Davenport, Mount Pleasant, Moline and a portion of southern Linn County.
The outlook assigns the area as being at "high" risk of severe storms — the highest level from the Storm Prediction Center.
The first wave of severe weather will start around noon, potentially bringing strong winds and large hail — up to golf ball size — to southeastern Iowa. The second round of fast-moving storms is projected to hit Eastern Iowa starting at 3 p.m. and lasting until 8.
The severe weather outlook shows a "moderate" risk of severe storms — the second highest level from the Storm Prediction Center — to as far west as Des Moines and north to Waterloo.
A tornado watch was issued for the eastern half of Iowa, as well as parts of Illinois, Missouri and Wisconsin until 8 p.m. Friday.
Thursday's forecast said the extreme weather will travel at more than 50 miles per hour from southwest to northeast; Friday's update said it could reach 60 miles per hour.
The morning report also upped its projections of strong winds later Friday night to up to 50 miles per hour. They will follow a cold front sweeping through the area, making temperatures fall into the 30s and 40s overnight.
The National Weather Service's briefing includes storm planning advice. Residents are advised to ensure they have multiple ways to receive weather alerts and make sure their shelter is clean and accessible.
If a tornado warning is issued, seek the best available refuge area. Go to a basement or an interior room in a well-constructed home or building. Stay in place until the storm has passed.
NWS Severe Weather Packet March 31, 2023 at 11:42 a.m. by Gazetteonline on Scribd
Brittney J. Miller is the Energy & Environment Reporter for The Gazette and a corps member with Report for America, a national service program that places journalists in local newsrooms to report on under-covered issues.
Comments: (319) 398-8370; brittney.miller@thegazette.com