4 of 7 killed in Iowa tornadoes from same family
5 tornadoes, ranging from EF-1 to EF-4, struck the state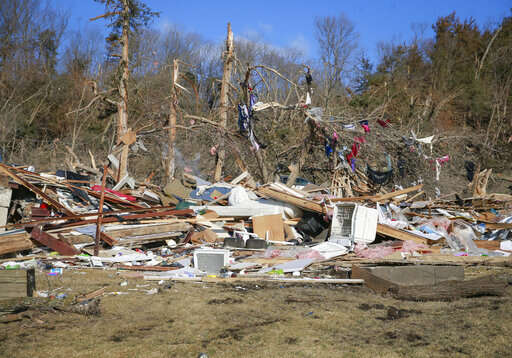 WINTERSET — Four of the seven people killed in devastating storms that tore this weekend across Iowa were members of the same family who were huddled together in the pantry of a home that was razed by a powerful tornado, authorities said.
Two children, their father and their grandmother all died Saturday when a tornado hit the grandparents' home near rural Winterset that didn't have a basement. Family members said the children's mother, 8-year-old brother, grandfather and uncle survived the storm, but were injured.
The children and their parents, from Blue Springs, Mo., were visiting their grandmother, Melissa Bazley, 63, when the tornado hit. The storm killed Bazley, Michael Bolger, 37, and two of his three young children, Kinlee, 5, and Owen, 2.
A GoFundMe page for the family says Kuri Bolger, who is the children's mother and Bazley's daughter, was hospitalized after being seriously injured. Lynn Larson said Kuri Bolger, her daughter-in-law, underwent surgery on her leg Monday and faces another surgery on her arm to repair broken bones. Her oldest grandson was treated at the hospital and released.
Larson said she and the rest of her family are "just devastated."
"I just can't describe how wonderful Mike was. Everybody loved him," Larson said. "It just rips your heart out. My grandchildren were wonderful. They were just the light of my life."
Two others killed in the tornado — Rodney Clark, 64, and Cecilia Lloyd, 72 — lived in homes just down the street from Bazley that were also hit by the tornado.
The weather service announced Monday that it was a EF-4 tornado, with peak winds of 170 mph. The tornado was on the ground for nearly 70 miles, leaving the longest path of destruction since a 1984 tornado that carved a path 117 miles long.
The seventh death came from Lucas County, about 54 miles southeast of Des Moines, when a separate tornado struck less than an hour later, injuring several other people.
Officials there said Monday that Jesse Theron Fisher, 40, of Chariton, died and a resident remained hospitalized. The Iowa Department of Natural Resources said the person who died was in an camper at Red Haw State Park in Chariton.
The park only had one camping reservation Saturday, and that was for two people, Iowa DNR spokeswoman Tammie Krausman said. The park does not have a storm shelter, but a concrete pit toilet was available for shelter at the campground, Krausman said.
The state park is one of 23 that have had live-in park staff until recently. The Iowa DNR gave these employees until Nov. 30 to move out of state-owned houses, in part because the agency does not want to pay up to $1 million on repairs. Some staff already have moved out or are finding new homes, rangers said.
Former rangers who have lived in state parks told The Gazette helping campers during storms is one way they improve safety in Iowa state parks, visited by nearly 17 million people in 2021.
But the Iowa DNR said the changes will not affect public safety because staff scheduled as being on call will respond to emergencies at the park. Red Haw Park Manager Bonnie Friend was not at the park when the tornado hit.
"The park manager was not scheduled to work at that time and was not on site," Krausman said. "This was an unfortunate accident."
The storms that raked Iowa on Saturday were the deadliest to occur in the state since May 2008, when one tornado destroyed nearly 300 homes and killed nine people in the northern Iowa cities of Parkersburg and New Hartford. Another tornado a month later killed four boys at the Little Sioux Boy Scout ranch in western Iowa.
The tornadoes were followed by winter storms overnight Sunday into Monday that dropped about 5 inches of snow in Central Iowa and 6.5 inches in Mount Vernon in Eastern Iowa.
The snow prompted officials to cancel Monday's planned storm cleanup efforts after hundreds of volunteers helped out on Sunday. The cleanup was expected to resume Tuesday, but more snow is in the forecast for Thursday.
Gov. Kim Reynolds on Sunday issued a disaster proclamation for Madison County, allowing state resources to be used to respond to and recover from the effects of the severe weather. Monday, she added nine more counties: Adair, Benton, Decatur, Jasper, Lucas, Polk, Tama, Warren and Wayne counties.
The National Weather Service provided these preliminary details about the four other tornadoes that also struck Saturday:
An EF-3 tornado with estimated peak wind gusts of 138 mph touched down south of Chariton, carving a path through Red Haw State Park, where it killed one camper and injured another. The tornado stayed on the ground for 16.5 miles.
An EF-2 tornado struck near Leon in Decatur County, grazing Garden Grove and Humeston. The tornado, with peak winds estimated at 122 mph, stayed on the ground for 19.1 miles into Lucas County, but no injuries were reported.
An EF-2 tornado with peak winds estimated at 118 mph touched down in Wayne County, first southwest of Allerton and then carving a 7.5 mile path to east of Corydon. No injuries were reported.
An EF-1 with peak winds of 110 mph developed south of Vinton in Benton County, and stayed on the ground for 11 minutes, covering 8.5 miles, before lifting northeast of town. No injuries were reported.
Erin Jordan of The Gazette contributed to this report.