Central City prepares for 'undiscovered places' with flooding
N/A
Jun. 26, 2013 3:15 pm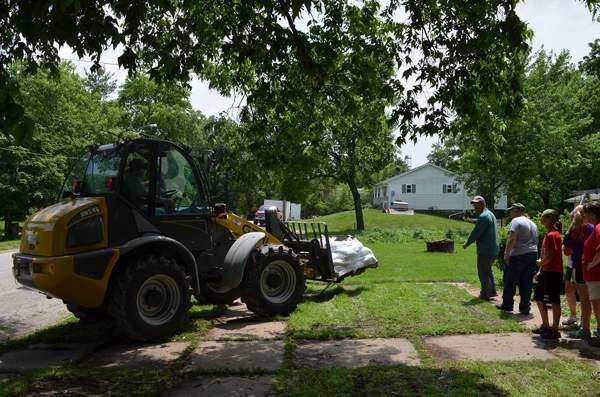 UPDATE: Central City Fire Chief James O'Leary said the city is prepared to go to "undiscovered places," with the Wapsinicon River expected to reach never before seen levels in the Linn County community.
O'Leary said the river has previously reached a record level of 22.1 feet. However, he said Wednesday morning that the Linn County Emergency Management Agency has warned him that the river could go one to three feet above that level.
"If we get above that number, now we're in a territory where we don't know (what's going to happen)," he said. "We've never been to this level before."
[naviga:ul]
[naviga:li]Storify: Eastern Iowa prepares for record flooding[/naviga:li]
[/naviga:ul]
O'Leary said the city has not had any flooding problems yet, but reinforcements are being lined up to prepare for flooding. Additionally, 320 pallets of filled sandbags are on their way to Central City. O'Leary said residents have not had to fill any sandbags, but residents from Coggon did come to Central City to fill sandbags in order to protect their water treatment plant.
"Right now, we're just kind of at a standstill," he said.
Southern Central City is most prone to flooding, O'Leary said. Flooding typically occurs when the river hits 18 feet. The city is not considering mandatory evacuations at this time.
"Right now, we're not moving anybody until we know what's going to happen," he said.
With rising flood waters mere feet away from their home on E. Maple Street in Central City, Hank Helton and Crystal Beauregard went to work on sandbagging before noon Wednesday morning. By 2 p.m., they had a four foot wall built around the residence, but they didn't do it alone.
The couple said friends, family and even perfect strangers chipped in to help protect the home.
"It's shocking," Helton said of the turnout.
Added Beauregard, "Some of them I don't know, some of them just came up and started helping."
Though they've made significant progress, Beauregard said they have a long way to go before they'll feel fully protected from the flood waters. Beauregard estimated they'd work all night inside and outside of the house.
The timing of the flood couldn't be any worse for Linn County Fair participants. The threatening waters led organizers to cancel the fair, with the exception of the 4-H shows, BBQ and fair queen coronation. Those events have been moved from the grandstand to the free entertainment tent.
At this point, O'Leary has resigned to the fact that if the river does flood, there is little that can be done. His focus is now protecting the citizens of Central City.
"Our biggest concern, as a fire department, is the citizens of Central City; making sure they're safe," he said. "That's our ultimate goal. You're not going to stop it, it's already coming."
Elsewhere in Eastern Iowa:
[naviga:ul]
[naviga:li]Delaware County Emergency Management advises people avoid all county roads. Mike Ryan, with Delaware County EMA, said many roads and bridges have been washed out in the county and water has topped roadways. The roads south of Highway 20 are of "greatest concern," Ryan said.[/naviga:li]
[naviga:li]Johnson County Emergency Management has asked Solon residents to limit their water usage until 6 p.m. to reduce the strain on the community's waste water system, which is at 100 percent capacity.[/naviga:li]
[/naviga:ul]