Home / Sports / Iowa Prep Sports / Iowa High School Volleyball
Cedar Rapids Xavier holds off host Marion for volleyball tournament title
Maya Karl collects 16 kills in the final match to help carry the new-look Saints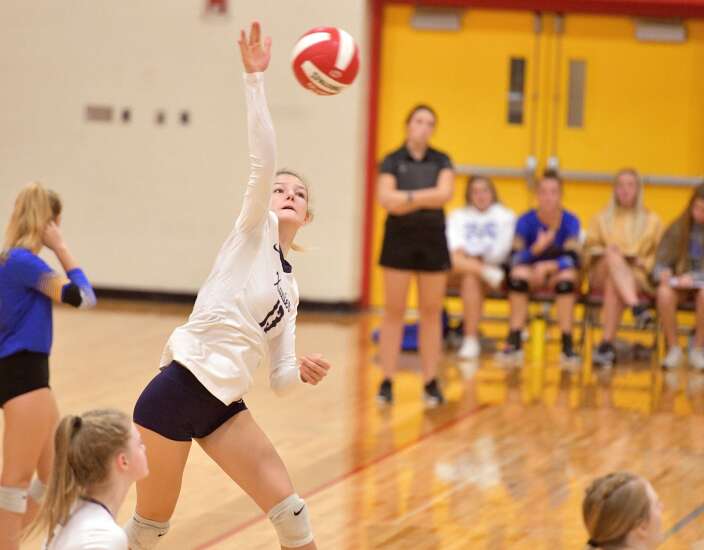 MARION — The expectations are down. The pressure is off.
Right?
Uh, no.
"Maybe there's more pressure now," Cedar Rapids Xavier's Maya Karl said. "We're fighting to prove ourselves again. We have to prove that we're still out there."
Yeah, they're still out there. An elite core has departed, but the Saints haven't gone anywhere.
Karl collected 16 kills, including a pair late after Marion had rallied to tie the final set, and Class 4A third-ranked Xavier held off the No. 5 Wolves, 21-13, 19-21, 16-14 to capture the Marion Invitational volleyball tournament championship Saturday at Marion High School.
The Saints lost a lot to graduation from their 2020 state-championship squad. But they returned their middle hitters in Karl and Anika Ivester. And they welcomed back their libero in Brooklyn Miller.
That's not a bad place to start.
"I still think we can go all the way again if we keep working," Miller said. "We don't have the big hitters that we had last year, so I, for one, have to do more in the back row."
Karl said, "We don't have as much height, so we have to be more smart."
Xavier (18-2) rolled through the first set behind Karl's seven kills and two blocks, then built a 9-5 advantage in Game 2. But the Wolves (19-4) turned the match on a dime, scoring 11 of 12 points for a 16-10 lead.
"They have a really good team, and we're not going to hit it over them," Marion Coach Roxanne Paulsen said. "We've got to move the ball around."
Xavier pulled even at 19-19, then the Wolves won the set on a kill by Elise Mehaffy and a block by Avery Van Hook.
Marion rallied from a 10-5 deficit to pull even in the finale at 12, 13 and 14. But Karl knocked down a pair of kills, then Ivester closed it out with a block.
Both teams swept their way through pool play and through the semifinals.
Xavier advanced with a victory over Union Community, 21-13, 21-13. The Saints scored the first 10 points on Miller's serve and were never threatened.
Marion rallied from a 13-9 deficit in the first set to defeat Benton Community, 23-21, 21-14.
Marion Invitational volleyball tournament
At Marion
Pool A
Teams — 1. Marion 3-0, 2. Union Community 2-1, 3. Iowa City Regina 1-2, 4. Durant 0-3.
Marion def. Durant, 21-12, 21-8
Union def. Iowa City Regina, 21-14, 21-14
Union def. Durant, 21-11, 21-8
Marion def. Iowa City Regina, 21-5, 21-9
Iowa City Regina def. Durant, 21-8, 21-18
Marion def. Union, 21-6, 21-15
Pool B
Teams — 1. C.R. Xavier 3-0, 2. Benton Community 2-1, 3. Grundy Center 1-2, 4. Maquoketa 0-3.
C.R. Xavier def. Benton, 21-15, 21-13
Grundy Center def. Maquoketa, 21-14, 17-21, 15-6
Benton def. Grundy Center, 21-15, 21-18
C.R. Xavier def. Maquoketa, 21-13, 21-11
Benton def. Maquoketa, 21-11, 21-7
C.R. Xavier def. Grundy Center, 21-10, 21-8
Consolation Semifinals
Grundy Center def. Durant
Maquoketa def. Iowa City Regina
Consolation Final
Grundy Center def. Maquoketa
Semifinals
Marion def. Benton Community, 23-21, 21-14
C.R. Xavier def. Union Community, 21-13, 21-13
Championship
C.R. Xavier def. Marion, 21-13, 19-21, 16-14
Comments: jeff.linder@thegazette.com