Home / Sports / Iowa Prep Sports / Iowa High School Volleyball
West sets up title defense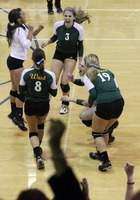 By Mike Condon
Correspondent
CEDAR RAPIDS - It was a "Sweet Caroline" night for top-ranked Iowa City West.
Moments after the Women of Troy finished a dominating 25-11, 25-10, 25-16 victory over Cedar Rapids Washington in a Class 4A regional volleyball final Wednesday night at Cedar Rapids Jefferson, the team's 2011 theme song was played over the speaker system.
The classic Neil Diamond song has spurred West throughout the season after the death of senior setter Caroline Found in a moped accident in August. The song is played after each home win, so hearing it after the state-clinching victory caught the West players off guard as they celebrated with fans.
"We had no idea it was going to be played," senior hitter Olivia Fairfield said. "We all got a little emotional, but Caroline has been our guardian angel all season and this is so special."
Found would have been proud of her teammates and their work against a young Warriors team. West dominated from start to finish in the first two games, then rallied from an early deficit in the third game, advancing to state for the fourth straight season.
The defending 4A state champions (36-6) open their title defense Wednesday at the Cedar Rapids Ice Arena against Council Bluffs Abraham Lincoln, which advanced last night by defeating Urbandale.
"If you would have told me on Aug. 12 that we would be in this position tonight, I would have said you were crazy," West Coach Kathy Bresnahan said. "These kids hung together and worked through all the tough parts of the season."
West took control with a 7-0 run in the middle of the first game. Shelly Stumpff keyed the run with three of her match-high 12 kills. Game 2 saw West jump out to a 5-0 lead. Washington pulled to within 6-4, only to see West reel off the next eight points.
The Warriors (20-18) built a 6-4 lead in Game 3 as Shanay Gonder had a pair of kills. The game was tied 9-9 before two Fairchild kills put West ahead for good.
Washington Coach Kari Lombardi was hoping for a better showing from her squad that had just two seniors in the regular rotation but was quick to credit West.
"West has been to state four straight years, so they know what this is like," she said. "On top of that, they had the emotional part, though it was for a very unfortunate reason, going for them."
Lombardi believes the future looks good for Warrior volleyball.
"This was an awesome group to coach," she said. "I was excited to see their progress from where they started to where they finished."
Fairchild had 11 kills and three blocks for West. Kelley Fliehler had 30 assists.
For Washington, sophomore Danielle Franklin had eight kills and sophomore Kelli Walters added seven. Senior Jessica Erb set a school season record for digs and finished with 11 in her final high school match.
[gallery columns="2"]