Home / Sports / Iowa Prep Sports / Iowa High School Volleyball
West Des Moines Valley turns the tables on Ankeny in 5A state volleyball quarterfinals
Tigers avenge 3 regular-season losses to upset 2nd-ranked Hawkettes in 3 straight games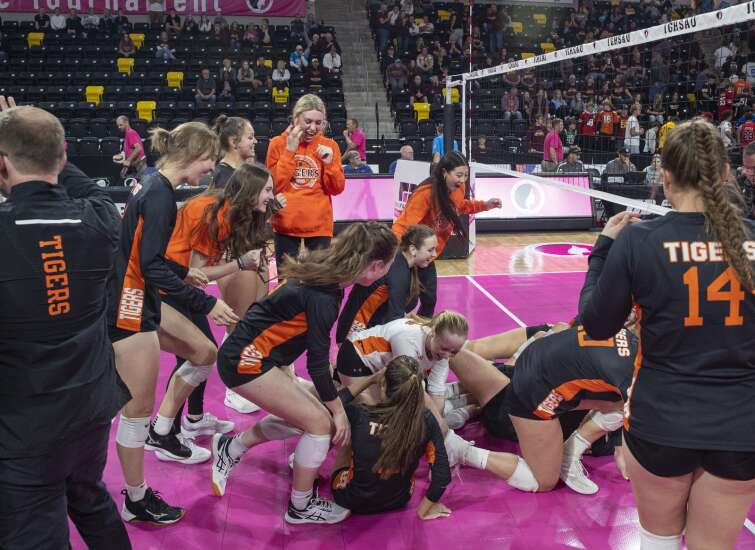 CORALVILLE — They could have just as easily not been here as been here, so, in a sense, the West Des Moines Valley Tigers are playing with stereotypical house money.
They rallied from two sets down in their Class 5A regional final to topple Johnston and qualify for the state volleyball tournament. Now they have elongated their stay here after upsetting Ankeny in three straight games, 25-13, 26-24, 25-21, in a state quarterfinal at Xtream Arena.
"We just came out with a bunch of energy," said Valley middle hitter Elise Jaeger. "We knew 'Hey, we're the underdogs, but that's not going to hold us back.' We just had so much energy, and it paid off in the end."
The 10th-ranked Tigers (22-20) lost three matches to second-ranked Ankeny (35-5) in the regular season, dropping six of seven games overall. But this was way different.
⧉ Related article: Photos: Ankeny vs. West Des Moines Valley in Class 5A state volleyball quarterfinals
Valley took advantage of its mistake-prone opponent to go up early, 13-3. A kill by freshman Thia Raridon ended the set.
The second set was tight the entire way, the teams never separated by more than three points. It was a 19-19 match in the third game, with Jaeger finishing things off with a tip kill over a pair of Ankeny defenders at the net.
She led Valley with 13 kills and 16 match points. Junior setter Finley McAndrew played a wonderful all-around game, with six kills, 17 assists, two aces and nine digs.
"Obviously, lots of nervous, lots of pressure going into this," McAndrew said. "I mean, we just really left it all out there. They had a lot of pressure on them, and we were able to go in and play relaxed and just play as a team. I think that really helped us in the end."
"I think that was our mindset the entire (match). The first to five, the first to 10," Jaeger said. "We were the first to five points, and that paid off. Match point, you just have to be calm, cool and collected and know that if you get that ball, you're going to put it away."
Valley plays third-ranked Pleasant Valley (28-6) in a 5A semifinal Wednesday morning at 10.
Comments: (319)-398-8258, jeff.johnson@thegazette.com