Home / Sports / Iowa Prep Sports / Iowa High School Volleyball
This time, it's Ed-Co over North Linn in 5 in regional volleyball tournament
Vikings outlast Lynx in a Class 1A volleyball regional quarterfinal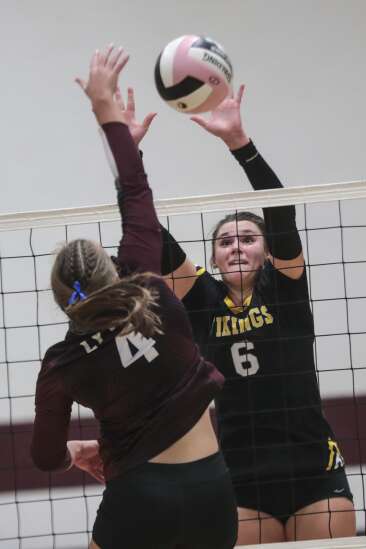 TROY MILLS — They went the distance again.
And this time, it was Edgewood-Colesburg with the final, decisive kick.
Ed-Co diversified its attack and outlasted North Linn in a five-set Class 1A volleyball regional quarterfinal Wednesday night at North Linn High School.
Scores were 22-25, 28-26, 25-16, 15-25 and 15-13.
"It could have fallen either way," Ed-Co Coach Eileen Bergan said. "Our side, their side, who knows?"
These evenly-matched squads played a pair of five-setters this season. North Linn won in the regular season. The Vikings got this one.
An 11-8 lead in Game 5 had vanished, and Ed-Co (21-12) trailed 13-12. But the Vikings scored the final three points, on kills by Marin Gaul and Reagan Stelken and a block by Annie Hoffman, and went home winners.
Twitter
The Vikings advance to face No. 3 Springville in a regional semifinal Monday at Springville. The Orioles (31-4) swept Don Bosco on Wednesday.
"I'm excited," said Kelsey Hansel, who slammed a match-high 28 kills. "We beat them the other day (last Thursday in the Tri-Rivers Conference tournament). I hope we can beat them again."
Hansel had 23 kills through the first three sets as Ed-Co took a 2-1 lead. She managed just two in the fourth and three in the fifth, but the Vikings became a lot more balanced in the finale.
"That helped a lot," Hansel said. "We became a lot less predictable, used more hitters, and they didn't know where we were going to go all the time."
North Linn concluded its winningest season in school history at 21-9. The Lynx rallied from a two-set deficit to tip the Vikings on Sept. 21, but Ed-Co had a little more at the end this time.
The Vikings finished with 70 kills, compared to 45 for the Lynx. Hoffman added 12 for the winners; Gaul and Helmrichs collected 11 apiece. Ella Aulwes dished out 60 assists.
Chloe Van Etten led North Linn with 21 kills; Caitlin Benesh added 13.
EDGEWOOD-COLESBURG 3, NORTH LINN 2 (22-25, 28-26, 25-16, 15-25, 15-13)
Class 1A Regional Quarterfinal, at Troy Mills
Serving: Ed-Co 95-106 (.896), North Linn 99-105 (.943)
Aces: Ed-Co 6 (Audrie Helmrichs 2), North Linn 4 (four with 1)
Kills: Ed-Co 70 (Kelsey Hansel 28), North Linn 45 (Chloe Van Etten 21)
Assists: Ed-Co 65 (Ella Aulwes 60), North Linn 38 (Jill Smith 35)
Blocks: Ed-Co 4 (Helmrichs 2), North Linn 5 (Macy Boge 3)
Comments: jeff.linder@thegazette.com