Home / Sports / Iowa Prep Sports / Iowa High School Volleyball
No. 1 Davenport Assumption fights back to beat Des Moines Christian in 3A state volleyball quarterfinals
Knights rally from 2-0 down to win in 5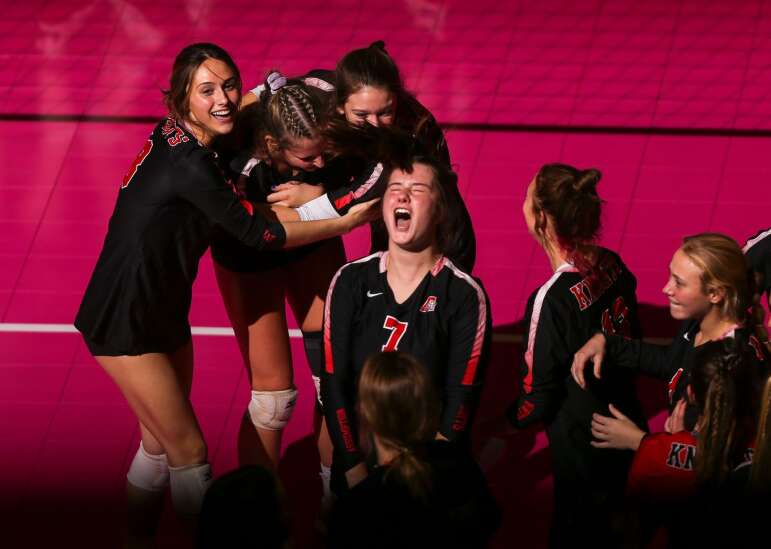 CEDAR RAPIDS — Sometimes a team needs a coach to raise their voice and get after them a bit.
After her team lost the first two sets to Des Moines Christian in Tuesday's Class 3A state quarterfinal, Bre Scherler had to let her Davenport Assumption team have it.
"We did get yelled at," junior Lily VanSeveren said. "Sometimes people just need to get yelled at to know they have to get up and play.
"She yelled at us in a good way, not a bad way,. It gave us so much motivation. We came out with more energy in the third set and after we won that set, it helped us to win the next two."
Whatever Scherler said worked. The top-ranked Knights fought back to post a 20-25, 19-25, 25-18, 25-19, 15-12 victory at the Alliant Energy PowerHouse.
» Photo gallery: Davenport Assumption vs. Des Moines Christian in state volleyball tournament
The Knights (35-4) advance to a 2 p.m. semifinal match on Wednesday. Des Moines Christian finishes 36-7.
So what was Scherler's message to the team?
"I just took them aside and told them they had to get over what had just happened," Scherler said. "I told them we wanted a repeat of a couple of years ago when we won the first two then Union took the last three.
"We needed to be that team that comes back and fights for it. I'm so proud. We took a deep breath, sort of relaxed and played more comfortable volleyball after that."
Assumption's turnaround, according to Scherler, was keyed by improved hitting efficiency and much crisper passing.
It also helped that junior Ava Schubert began to find the range. An all-state selection last season, Schubert led the way with 20 kills.
"We got the momentum in the third game and momentum is such a big part of volleyball," Schubert said. "Des Moines Christian is a really strong team and they have some great players."
Anna Strajack added 10 kills for the Knights. Brianna Gartner had 24 digs for Assumption.
Gabby Lombardi, whose mom Kari is an assistant coach for the Lions and was the former head coach at Cedar Rapids Washington, had 10 kills and 18 assists. Maren Miller also had 10 kills for Des Moines Christian.
Twitter