Home / Sports / Iowa Prep Sports / Iowa High School Volleyball
Mount Vernon Mustangs are going for state volleyball championship, again
Youthful Mount Vernon proved itself as a Class 3A state-title contender in Wamac tournament title run; next up, regionals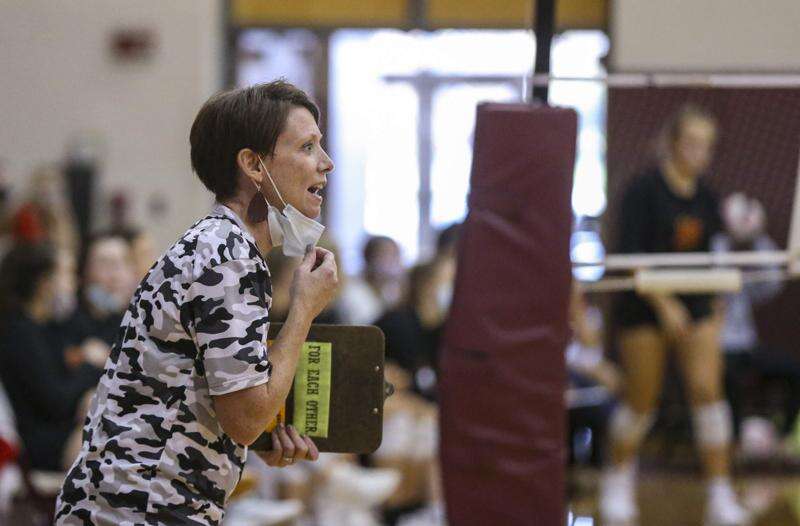 She had the faith.
Now, Mount Vernon volleyball coach Maggie Willems has the proof.
"Even when we lost to West Delaware (in the regular season), I thought that loss taught us that we had a chance to win a (Class) 3A state championship," Willems said.
And after the Mustangs knocked off the top-ranked Hawks for the Wamac Conference tournament championship Thursday?
"That championship ... that's what we're going after," Willems said.
The pursuit begins Monday.
Regionals open in full force in Class 3A, nearly full force in 1A and with a trickle of 2A matches.
Among the area's high-hopefuls are No. 1 West Delaware (37-5), No. 6 Mount Vernon (31-12) and No. 7 West Liberty (34-4), all of which can be considered top seeds in their respective regions.
Willems is accustomed to deep tournament runs; the Mustangs were 3A state champions in 2019, runners-up in 2020. They're back among the elite with a young, talented crew that features one of the top freshman hitters in the state in Chloe Meester.
The Mustangs open with South Tama (14-20) at home.
West Delaware shared the Wamac East Division title (with Marion and Dyersville Beckman) and is down a class after reaching the 4A state final last year.
Coach Brett Mather was unhappy with his team's serve reception in the loss to Mount Vernon on Thursday.
"It will add fuel to our fire," he said.
West Delaware welcomes Oelwein (2-23) for its first-rounder. West Liberty (34-4), led by Drake recruit Macy Daufeldt, hosts Washington (7-22)
The top area teams in the smaller two classes — Dyersville Beckman in 2A, Springville and Lisbon in 1A — earned first-round byes and begin their tournament voyages Wednesday.
Among the top area teams in action are Iowa Star Conference South Division champion North Tama (26-10), which hosts Meskwaki (0-18), and South Iowa Cedar League champion Montezuma (20-9), which welcomes Twin Cedars (9-15).
The postseason opens Tuesday for a few 4A and 5A teams. Two Metro teams were assigned quarterfinal matches: Linn-Mar (14-19) hosts Waterloo West (8-25), and Cedar Rapids Washington (5-28) welcomes Davenport North (0-21).
Monday's volleyball regional quarterfinals
CLASS 3A (All matches, 7 p.m.)
Region 5
South Tama (14-20) at Mount Vernon (31-12)
Williamsburg (11-22) at West Marshall (17-16)
Monroe PCM (12-21) at Eddyville EBF (29-4)
Chariton (13-14) at Albia (19-18)
Region 6
Washington (7-22) at West Liberty (34-4)
Tipton (9-23) at Mid-Prairie (15-13)
Central Lee (16-10) at West Burlington (28-3)
Centerville (5-25) at Davis County (30-10)
Region 7
Camanche (2-31) at Davenport Assumption (31-4)
Northeast (9-28) at Anamosa (13-18)
Center Point-Urbana (5-29) at Independence (27-12)
Dubuque Wahlert (8-17) at Monticello (18-8)
Region 8
Oelwein (2-23) at West Delaware (37-5)
Crestwood (7-23) at Waukon (14-19)
Vinton-Shellsburg (17-17) at Union Community (19-20)
North Fayette Valley (16-13) at New Hampton (23-10)
CLASS 2A (All matches, 7 p.m.)
Region 6
Postville (1-19) at Clayton Ridge (11-13)
West Fork (9-16) at South Winneshiek (10-19)
Region 7
Bellevue (11-16) at North Cedar (17-15)
Alburnett (4-23) at Waterloo Columbus (20-20)
Region 8
Columbus Community (4-20) at Durant (10-24)
Cardinal (4-25) at Van Buren County (11-17)
CLASS 1A (All matches, 7 p.m.)
Region 5
East Buchanan (15-16) at Don Bosco (12-17)
Elkader Central (10-28) at North Linn (20-8)
Waterloo Christian (15-13) at Edgewood-Colesburg (19-12)
Northwood-Kensett (4-18) at Saint Ansgar (16-9)
Lansing Kee (1-17) at Turkey Valley (16-15)
Riceville (4-19) at Nashua-Plainfield (11-14)
West Central (8-16) at Tripoli (9-20)
Region 6
Hillcrest Academy (10-21) at HLV (11-17)
Tri-County (3-23) at Sigourney (15-13)
BGM (1-22) at Iowa Valley (12-25)
Meskwaki (0-18) at North Tama (26-10)
Lynnville-Sully (6-25) at Belle Plaine (10-20)
Twin Cedars (9-15) at Montezuma (20-9)
Melcher-Dallas (5-16) at North Mahaska (17-13)
Region 7
English Valleys (5-21) at Lone Tree (6-20)
Morningstar Academy (0-0) at Wapello (25-10)
Highland (11-14) at Winfield-Mount Union (20-10)
Maquoketa Valley (4-21) at Easton Valley (18-8)
Cedar Valley Christian (10-13) at Calamus-Wheatland (10-23)
Midland (4-30) at Central City (18-13)
Bellevue Marquette (0-27) at Clinton Prince of Peace (13-20)
Tuesday's volleyball regional quarterfinals
CLASS 5A (All matches, 7 p.m.)
Region 3
Des Moines East (5-19) at Des Moines Roosevelt (11-20)
Region 4
Waukee (6-26) at Ottumwa (8-22)
Region 5
Fort Dodge (5-20) at Ames (10-20)
Region 6
Davenport North (0-21) at Cedar Rapids Washington (5-28)
Region 7
Davenport West (3-25) at Davenport Central (10-23)
Region 8
Waterloo West (8-25) at Linn-Mar (14-19)
CLASS 4A (All matches, 7 p.m.)
Region 4
Des Moines Hoover (5-17) at Newton (6-24)
Carlisle (9-15) at Norwalk (20-17)
Region 5
Gilbert (5-26) at Boone (11-21)
Grinnell (17-18) at Benton Community (23-14)
Region 7
Maquoketa (12-21) at Clinton (12-19)
Charles City (12-22) at Mason City (10-20)
Region 8
Burlington (5-28) at Keokuk (13-12)
Fort Madison (8-25) at Solon (13-22)
Comments: jeff.linder@thegazette.com