Coralville's Kevin Burt sings praises of singing the blues
Career rose after 2018 awards sweep, fell during pandemic, but rising again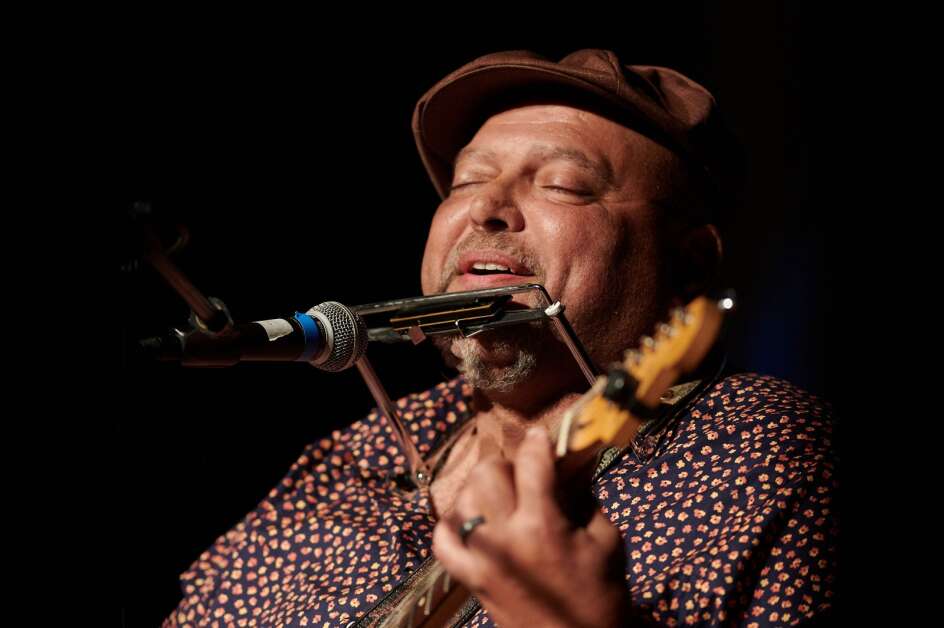 Background
CEDAR RAPIDS — On Jan. 20, 2018, Kevin "B.F." Burt of Coralville was crowned the world's top unsigned blues player, sweeping all three solo categories in the International Blues Challenge in Memphis.
Competing against 160 acts from around the world, he earned a first-place finish for best solo/duo act, the Lee Oskar Award for best harmonica player and the Cigar Box Guitar Award for best solo/duo guitarist.
Not only was Burt the first contestant to do that, he also was the first solo artist to get a perfect score from a judge — "and I got two," he told The Gazette afterward.
Industry and interview requests and emails began pouring in, record labels came courting and he realized he needed to hire a manager.
Who: Kevin "B.F." Burt of Coralville
Nickname: Burt attributes his "B.F." nickname to his former Instigators bandmates, explaining that when people would ask which one of them was the singer, they'd point and say, "The big fellow over there."
Video: See excerpts from The Gazette's interview at thegazette.com
Information: kevinburtmusic.net/ or facebook.com/kevinbfburt
"One of the things that I've learned … is that I'm remarkably unprepared for now," said Burt, 55, a self-taught musician who didn't pick up a guitar until he was 27.
"You go to contests like this with the mindset of, 'I would like to win.' But I forgot to ask myself the question, 'Well, what if you do?' God bless my father-in-law, (reggae/world musician) Tony Brown. Tony told me, 'Kev, you need to have this in place, and this in place, and this in place.'"
What's happened since
The wins launched his career "like a rocket," he told The Gazette earlier this month.
"I went from a guy that played 350 to 400 shows a year right here within the state of Iowa for the most part, to getting my first European tours, to getting the opportunity to become a recording artist. I went into a studio for the first time, signed my first record deal. It got me nominated for (the 2019 Blues Music Award's) best recording by an emerging artist in blues.
"It only took me 27 years to be an overnight sensation in the blues world," Burt said with a hearty laugh. "Went from that to COVID."
And everything came to a screeching halt.
He was performing in San Diego when the shutdowns began in 2020. He started at 6 p.m., but at 7, the owner informed him the governor said the venue had to close at 7:30, and by the way, he wasn't going to pay Burt and was canceling his hotel room. Patrons who heard the exchange stepped in and insisted the owner honor the agreement.
"So luckily, I was taken care of," Burt said, "but I got on a plane the next day, flew home, and as soon as I turned my phone back on, I had close to $70,000 worth of shows canceled. I went from (what was going to be) the best year financially that I'd ever had as a musician, to unemployed for the next two years."
Being a registered business owner in Iowa, with just himself on the payroll, he said he wasn't eligible for unemployment or the Paycheck Protection Program.
"Luckily, people were surprisingly generous with online shows," he said. "My wife took a job as a personal shopper, like to go grocery shopping for folks, and we were able to keep the lights on, eat and pay our house payment."
Emerging from the pandemic, live gigs are picking up for the Iowa Blues Hall of Fame inductee who is working on regaining his stamina after four bouts with COVID-19.
Burt performed for The Gazette's Excellence in the Arts high school student recognition event April 22 at CSPS Hall in Cedar Rapids; at the Blues Night in the Park on May 19 in Cedar Rapids' Greene Square; and right now, this weekend he's playing in blues festivals in Belgium and Germany.
Back home, he'll be at various sites, including the My Waterloo Days Brunch, Blues & Car Show on June 11; a jazz festival in Aspen, Colo., in late June; and Iowa City's Summer of the Arts Music on the Move July 11 in Mercer Park.
Connecting from Coralville
He's also planning to perform during Coralville's 150th birthday celebrations, in the city he's happy to call home.
"The thing that I like most about Coralville is that it's accessible," the Waterloo native said. "You have access to the interstate as a touring artist, (affording) the ability to get onto the interstate, the ability to find opportunities to perform around, the ability to make it to the airport, but in the same sense, be able to be quiet and kind of low key. When I have downtime, I like it to be down. And Coralville is excellent for that."
He and his wife, Nicole, raised their two daughters there, and he really has had no desire to move to Chicago, Memphis or Louisiana, with their big blues scenes.
"I go to all those places — I'm halfway there already," he said. "And that's the thing that I love about here. In a four-hour radius, I'm in St. Louis, I'm in Chicago, I'm in Kansas City, I'm in Omaha, I'm in Sioux Falls, I'm in Minneapolis, I'm in Madison. A little bit (farther), I'm in Milwaukee."
Iowa's blues, rock seeds
When he goes to far-flung places, are people are surprised that he's from Iowa?
"All the time. All the time," he said. "I get the obligatory, 'There's Black people in Iowa?' And my response to that is always: 'Well, there was one, but I'm here now,' " he said with a laugh. "I mean, if you're going to be absurd, I'll be absurd right back.
"But bottom line is, people don't expect quality from here. And there's a lot of quality, a lot of talented souls. I didn't learn how to do this just on my own, I learned how to do this by being around a bunch of talented souls that are in the whole state. There's a surprisingly high concentration of very high-caliber talent right here in Cedar Rapids. It's amazing to me."
And yet, he's not surprised, since all the acts had to travel through Iowa to get to the major cities, and if they went by train, they went through major hubs like Oelwein, Clinton, Burlington, Waterloo and Cedar Rapids, he noted.
"There is lore that rock 'n' roll had a part of its transformation inside the city of Cedar Rapids. There's lore — there's nothing that's written down. The oral history exists of Louis Jordan and his band being snowed-in here in Cedar Rapids.
"Cedar Rapids was, at that time, a sundown town, so Black folks couldn't be out after sundown. (Jordan's band) would spend every night in their rehearsal hall, and when they were finally able to leave Cedar Rapids, the sound was different.
"They said that change in their sound was that swing that started pushing things toward what eventually became rock 'n' roll. That's the story. I don't know if it's written in any of the annals of any of the music halls — but that's a story that I was told."
Blues' influences
The blues are woven through so many musical genres, from rock and country to hip-hop and rap, he said, even if it's not recognized that way.
"There's always a debate about appreciation versus appropriation. There's the argument that brown culture makes things cool and white culture makes them profitable. That's the appropriations part," he said.
"Personally, music is one of those things that evolves, and everybody has a story that connects with music. Inside of the world of the segregation of genres, the same stories that get told in blues songs, get told in what we call country songs. The love for, the pining for, the whatever — the hard work that it takes to just be. Those are the same stories. We call one blues, and we value it this way. We call one country and we value it this (other) way.
"This is just my observation," he said, "but no matter how you slice it, blues didn't exist anyplace else on the planet before it existed in the U.S., before it was born. But because it was born during slavery — not because of it, but in spite of it — It was a music that started to heal as the wounds were being created. …
"People can say, 'I'm not a fan of blues, but I like what you do.' I get that a lot. Then you're a fan of blues — you just hadn't heard my blues before. My blues speaks to your soul."
Comments: (319) 368-8508; diana.nollen@thegazette.com