Travel: Lake Charles, La., is an epicenter of history
Marion and Rich Patterson, correspondents
Mar. 5, 2017 2:56 pm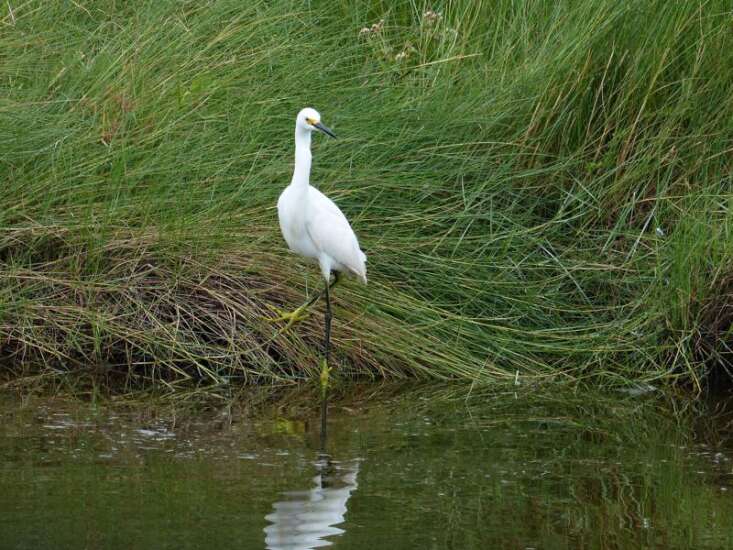 A sand berm in front of the car signaled the end of our journey and also blocked our view. After parking and clambering over the sand we were treated to a serendipitous sight. A surf fisherman was battling a fish that sprayed salt water geysers as it resisted capture. The vast Gulf of Mexico, with an occasional oil platform punctuating the horizon, loomed past the angler.
The redfish looked immense to us, but the fisherman claimed was just average size. After clicking photos he released the fish as we walked down the beach marveling at a diversity of shells cast onto the sand by recent heavy winds.
Our mid-November trip was a journey penetrating autumn. Fall progresses about 15 miles a day, so we predicted we'd catch up with gorgeous leaves as we drove almost due south from our Cedar Rapids home where trees had already shed their once colorful leaves. In southern Missouri and eastern Oklahoma, we enjoyed oaks in full color, and by the time we reached southern Louisiana leaves still were summery green, although the temperature was cool. In three days and 1,000 miles, we had driven from late fall into early fall.
Most Corridor travelers trekking to Louisiana head for New Orleans, the state's best known destination. We chose to skip The Big Easy and immerse ourselves in one of America's most fascinating places - the bayou country of Southwestern Louisiana. We headquartered in Lake Charles, a town of about 70,000 people in the state's southwestern corner about 150 miles east of Houston. It is the epicenter of fascinating natural and human history.
Much of Louisiana is wooded with southern pines and oaks, but forest ends where the elevation ducks down to only a few feet above sea level approximately where Interstate 10 crosses the state. South of Lake Charles is a vast flatland of commercial rice fields, grassy coastal meadows, crab and fish filled waterways, and wetlands studded with alligators, nutria and other animals unknown in frigid Iowa and dozens of bird species, including ibis, egrets, herons, and spoonbills.
Lake Charles is one of America's premiere energy cities with refineries and oil wells in the area and massive tankers coming and going. Despite its oil footprint, the area is an outstanding tourist destination. Visitors enjoy classic southern architecture with grand homes set low beneath spreading live oaks, some of the world's best birding, shelling, fishing, and hunting, and immersing themselves in the distinctive Cajun/Creole cultures. Casinos welcome gamblers, while World War II buffs can tour a Navy destroyer turned museum ship. Unlike many destinations with crowded tourist seasons during certain times of the year, visitation is relatively steady throughout the year in the Lake Charles area. Except during festivals crowds are rare.
When we mentioned we were planning a trip to Louisiana to our Iowa friends all predicted that we'd enjoy its distinctive foods. We weren't disappointed. On our first day we slurped gumbo and shrimp bisque at the Pujo Street Cafe. That evening we ordered a pound of boiled shrimp, fried okra, and stuffed crab at the Seafood Palace in Lake Charles. The waitress delivered a dish heaped with large shrimp and an empty plate to put the shells on. Other patrons were enjoying steamed blue craw crabs and a host of other foods fresh from the nearby Gulf of Mexico.
Although seafood is pervasive in southern Louisiana the cuisine is dominated by Cajun and Creole foods. As northerners we didn't have a clear understanding of the difference but soon learned.
Creole comes from the Portuguese word crioulu, which means homegrown. In Southwest Louisiana Creole means the language and traditions that derive from African, French, and Spanish heritage.
Creole food is elaborate and uses many ingredients often consisting of several courses that feature sauces, herbs, and varied spices. Zydeco music is strongly associated with Creole with lyrics sung in French.
Cajuns were originally French colonists displaced from Eastern Canada in the late 18th Century. French Canadian customs, language, and Catholicism came with them. Cajun cuisine is more robust than Creole and is usually made in just one pot. Traditional Cajun music is waltz-like and produced by fiddles and accordions.
Creole and Cajun foods today are influenced by Native American, African, Spanish, and German cooks and often include onions, bell peppers, and celery in their dishes. Variety is the rule.
We spent our first day in Lake Charles simply enjoying the town. A large civic center, upscale and distinctively southern homes, and casinos line the large lake that gives the town its name. At first we thought it contained fresh water, but while walking the promenade we saw people catching crabs and soon learned that it, like many southern Louisiana waters, is brackish. Because the water is a mixture of saline and fresh both salt and freshwater fish call it home. It's possible to catch a flounder and largemouth bass from the same spot.
Chain motels line Interstate 10's frontage road, and many people stay in area casinos but we chose to spend two nights at Aunt Ruby's Bed and Breakfast near downtown. A superb way to learn about a new area is from bed and breakfast owners, and Daniel Schaad, Aunt Ruby's owner, was no exception. He brimmed with area knowledge and helped us use our time efficiently to visit the places that most interested us. And he shared about the still present, gentle spirit of Aunt Ruby who lived and died there.
There is a close connection between Iowa and Southwest Louisiana. Lake Charles and Sioux City are sister cities, and both states have towns named 'Vinton". Just east of Lake Charles is the town of Iowa, named for people who moved there from our state decades ago. Locals pronounce it 'Ioway."
A highlight of our trip was touring the Creole Nature Trail, an All American Road. Although called a trail it's actually a driving loop of just over 100 miles that starts in the town of Sulfur just west of Lake Charles, drops south to the Gulf of Mexico, skirts the beach as it passes through the towns of Cameron and Creole, and then turns north to Lake Charles. Although it can be driven in about three hours we spent all day stopping at two national wildlife refuges along the road, walking short trails to observe wildlife, and strolling both Rutherford and Holly Beaches. Both offered excellent shelling and views of the Gulf. We lunched on seafood at an open air cafe in Cameron.
The Trail is a wildlife paradise rich in bird diversity. Especially plentiful are tall wading birds easily viewed from the car. They included ibis, egrets, herons, and roseate spoonbills. Swarms of neotropical migrants visit in late April and many are the same species that move through Iowa a week or two later. So diverse is the bird population that even experienced and well-traveled birders are likely to spot at least one or two new species. We spotted several we'd never seen before. Wildlife isn't limited to birds. Alligators, deer, nutria, otters, and many other animals are often sighted. While driving a small spur road called the Pintail Drive a bobcat darted in front of the car. During various stops we were 'chatted up" by friendly locals and anglers catching redfish, flounders, and crabs.
The next day we enjoyed an even more intimate encounter with wildlife during a two hour eco tour at Grosse Savanne. Our guide, Bobby Jorden, met us at his office near Bell City, about a half hour drive from Lake Charles. He started our tour with a short drive through harvested rice fields filled with wintering white fronted-geese. Soon we emerged at the edge of a 500 acre restored wetland and climbed aboard a comfortable boat. As Bobby slowly motored us along we spotted dozens of birds and turtles.
'The big attraction here is alligator viewing, but today it's cool and the gaters will mostly be out of sight," he said.
He was right. We saw a few small ones but the best viewing of these huge reptiles is during the warm months. Our most exciting sighting was a group of roseate spoonbills perched in a scraggly tree.
Time didn't allow us to spend more time in Southwest Louisiana but if we could have, we might have played golf at one of six public courses, fished, hunted waterfowl, visited casinos, or toured the USS ORLECK Naval Museum. The Gearing Class destroyer was launched in the final days of World War II and earned battle stars during the Korean and Vietnam Wars. The Mardi Gras and Children's Museums are also located nearby.
Mention Mardi Gras and nearly everyone thinks New Orleans, but these fun festivals are held in many towns along the Gulf of Mexico. 'The New Orleans Mardi Gras can be a wild celebration, which is great, but not always family friendly. Our Mardi Gras includes events that people of all ages enjoy, and includes a family day with alcohol and tobacco free zones. Mardi Gras were once celebrated in small towns where people would walk in costume gathering ingredients for communal gumbo.
'The town of Iowa is known for The Iowa Chicken Run. Released birds were captured for gumbo, but today chicken chasing is symbolic without slaughter," said Will Precht of the Lake Charles Southwest Louisiana Convention and Visitors Bureau.
On our next visit we'll drive the Boudin Trail, which winds through several towns with stops at shops and restaurants that feature this unique food. Sausage- like Boudin, pronounced boo-dan, varies greatly depending on ingredients but usually includes rice and meat that can range from pork to crawfish or even alligator. It can be hot, mild, smoked, or spicy. Few foods are as diverse and many of the mom and pop markets and restaurants that sell it have their own recipes.
Although we enjoyed picture perfect weather during our November visit, rain is common along Louisiana's Gulf Coast. Summers are hot and sticky and most local people told us the best times to visit are in spring and fall. Frost is rare, even in midwinter. Be sure to bring binoculars, a raincoat and an appetite.
After a few pleasant days in Cajun Country, we reluctantly drove 1000 miles almost due north to our home in Cedar Rapids. Along the way we left green leaves, passed through a region with fall colored foliage, and emerged in leafless, chilly Iowa three days later.