Coloring outside the lines: Crayola Experience a unique, engaging attraction
By Anne Kapler, correspondent
Sep. 18, 2016 4:00 am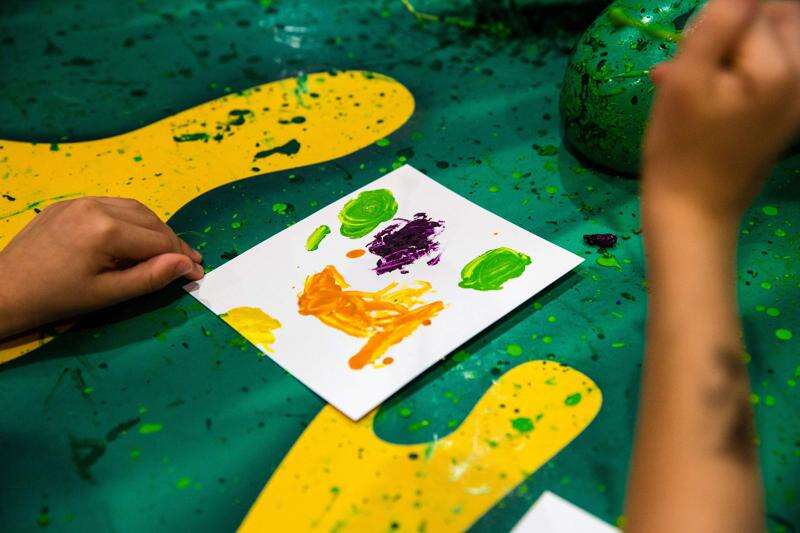 BLOOMINGTON, MINN. — Forget the shopping. Walk right on by Nickelodeon Universe and Sea Life Aquarium. On your next family trip to the Mall of America, proceed directly to the megamall's newest attraction: Crayola Experience.
Located on the southeast corner of the mall's third floor, Crayola Experience is a unique, engaging attraction for artists of all ages and abilities. Its 25 attractions blend classic materials, like crayons, modeling clay and paint, with interactive technology that captivates a generation growing up with iPads and YouTube.
Even better? This isn't place where parents watch kids play and create. This is place where parents jump right into activities with their kids — and have as much fun as they do.
My family — my husband, our five-year-old twin sons and I — spent nearly five hours at Crayola Experience and the adjacent Crayola Store in late August. It was, we all agreed, the highlight of a long weekend in the Twin Cities that included visits to the science museum, zoo and a kiddie amusement park.
Walking into Crayola Experience feels like opening a brand-new box of the classic, vibrant crayons the company is famous for. The attractions' walls, floors and tables are bold, bright and welcoming. Its flowing, open layout invites visitors to roam, explore and create.
Just inside the entrance are two of Crayola Experience's most popular activities — Wrap It Up, where visitors can create a custom crayon label and wrap it around a crayon, and Be a Star, which snaps your photo and then turns it into a one-of-a-kind coloring page.
Other 'fan favorites,' according Kelly-Anne Suarez, assistant manager of communications for Crayola Experience, are the Crayon Factory Show, where a 'crayonologist' is joined on stage by two animated crayons to demonstrate how crayons are made, and melted wax activities that allow guests to paint with wax, create spin art and use molds to make souvenirs like crayon rings.
My kids were awed by Art Alive! and You Design, which projected their creations into larger-than-life digital art displays. In Art Alive!, they colored digital sea creatures and divers on a tablet, and then eagerly watched for them to appear on a video scene that took up the room's entire wall. In You Design, we colored, scanned and digitally accessorized cars and paper doll-like people. Cars were then projected onto a racecourse and people joined a virtual fashion show.
(With both of these attractions, an attendant unobtrusively screened the art before it appeared on screen to ensure family-friendliness.)
At other stations, kids (and adults) can paint, sculpt with modeling clay, color and machine-cut an original puzzle, doodle on 3-D statues, and more. Two playgrounds — one especially for toddlers — offer spaces to run, climb and jump.
The Crayola Store offers fun keepsakes, like plush crayons, Crayola-themed apparel, and a 'Pick Your Pack' wall, where you can choose from 99 of the company's most popular colors to create a custom bundle of crayons.
Crayola Experience opened in Mall of America as a permanent attraction in May. You'll also find Crayola Experiences in Easton, Pennsylvania (the home of Crayola since 1903) and Orlando, Florida.
The Midwest was a natural location for the attraction's third location, Suarez says. 'The Midwest is American's heartland, and Crayola is at the heart of American creativity. It was a perfect fit!' she said in an email. 'As for Mall of America, specifically, it is a dynamic destination for families, and we have loved bringing our brand of color magic to both locals and visitors.'
DETAILS
Crayola Experience is open daily. Admission is $19.99 per person at the door or $15.99 when purchased in advance online. Save $5 on admission by downloading a coupon from the Bloomington Convention & Visitors Bureau (www.bloomingtonmn.org).
To learn more, visit www.crayolaexperience.com/minneapolis