A Day Away: Wind down Snake Alley on a day trip to Burlington
Mississippi River city home to history, Snake Alley, verdant parks, recreation and a nearby grotto
BURLINGTON — You can leave a pile of cash and your heart in San Francisco to slither down serpentine Lombard Street. Or you can drive two hours south of Cedar Rapids and twist your way by vehicle, foot or bicycle down a rival crooked street, Burlington's Snake Alley.
This Mississippi River city was the go-to place for weekend fun in my youth, and I still get just as big of a kick inching my way down its landmark twisty brick street.
It was a rite of passage for us newly licensed drivers to beg for the keys from Dad, then fill up the four-door with as many friends as possible, squeal our way down Snake Alley, then head to Pizza Hut.
Believe it or not, according to burlingtoniowa.org, Ripley's has designated Snake Alley as "unbelievably crooked" and the No. 1 Odd Spot in Ripley's "Guide to the Curious Corners of America." The site was listed in the National Register of Historic Places in 1975.
Built in 1894 as way to get from Heritage Hill to the business district, motorized vehicles are allowed to drive down the road whenever the chain isn't blocking access.
If uphill is more your speed, you can walk up the road or join in the uphill Snake Alley Criterium bike race held over Memorial Day weekend, and the Snake Alley Art Fair held on Father's Day.
Greaterburlington.com says the alley, a segment of North Sixth Street between Columbia and Washington streets, was designed by three German immigrants who based the winding way on French and German vineyard paths.
One of those visionaries, architect and landscape engineer Charles Starker, also developed the city's vast Crapo (CRAY-po) Park, which includes Lake Starker, where my mom used to ice skate as a kid.
For you numbers people, Snake Alley is lined with limestone, and the road is made from blue clay bricks, set on their side. It covers 275 feet, rising 58.3 feet on a 21 percent grade, and has five half-curves and two quarter-curves, with 1,100 degrees of turns. (Lombard Street has 1,440 degrees of turns in a quarter-mile stretch.)
For me, Snake Alley is just really steep and really fun, and I always marvel at the stair steps and driveways leading to the homes and Airbnbs that line it. The trees are especially pretty when they bud in the spring and don their fall colors.
Parks
Snake Alley is on the North Hill side of the city, and on the South Hill side lies a pair of parks, each offering their own charms.
Dankwardt Park, with its main entrance off Madison Avenue, is home to the city's swimming pool, disc golf course, tennis courts, a skate park, large shelter houses and archery targets.
Adjacent to this 72-acre park is the 85-acre Crapo (repeat after me: CRAY-po) Park, also accessed via Madison Avenue, and stretching all the way to the Mississippi River. According to burlingtoniowa.org, it's reportedly where Zebulon Pike planted the first American flag in Iowa, back in 1805.
The park has four shelter houses, a main playground, and a throwback to my childhood with a giant, red curly-q slide standing as the lone sentinel where a huge playground once kept generations of kids swinging, sliding and building sand castles.
The park also has hiking trails, beautiful flower beds and lots of towering trees.
The best part of Crapo Park looms high above the river, offering a scenic overlook with two vintage anti-aircraft guns that beckon kids and grown-ups to climb aboard and imagine all sorts of scenarios as they peer over the river to Illinois. Dankwardt has one of these guns, too.
The river overlook also has a replica log cabin that is open on Sunday afternoons. Strangely, I've never been inside, and missed my chance by one day on July 31. However, that was the night the Southeast Iowa Symphony was performing its Symphonic Blast 25 concert, rain-delayed from the Fourth of July. I spotted some Orchestra Iowa folks onstage, along with one of my brother's college friends — and the music and fireworks finale were dazzling.
The Burlington Municipal Band plays free concerts in the band shell at 7:30 p.m. Sundays from the second week of June to the second week of August.
Next to the park is another blast from my past: Kenny's Roller Ranch, 8989 Koestner St., which on a recent drive-by, sported cars with license plates from Colorado and Florida, as well as Iowa. The entertainment complex also has a retro miniature golf course, batting cages and basketball bank shot. If you want to check it out, drive slowly, or you'll miss the narrow road leading back there.
If you didn't pack a picnic to enjoy in Crapo or Dankwardt parks, our favorite pizza stop is Parkside Brewing Co., 2601 Madison Ave., between the entrances to the parks and across the street. Parkside's spent-grain pizza crust is among the best in town, and diners can see the craft beer brewing operation behind huge windows. Side note: This site used to house a bowling alley, and it's where my dad proposed to my mom in 1950.
Another favorite park is tiny Mosquito Park, at the corner of Franklin and North Third streets. High atop a bluff, visitors can see for miles over the river, and in the winter, view eagles soaring above the waters.
City park details: burlingtoniowa.org/2305/City-Parks
Pzazz complex
In the middle of the city lies the gigantic Pzazz! Entertainment Complex, featuring the Catfish Bend Casino and the Catfish Bend Inn & Spa. The Pzazz! Resort Hotel is closed for renovations, but this part of town offers many lodging options. The complex also boasts varied dining options and a convention and event center with live entertainment.
Fun City is bouncing with family fun opportunities through more than 100 interactive arcade game, kids' Go-Karts with double-seated carts, laser tag, bowling, climbing mazes of ropes and bridges, and a party room.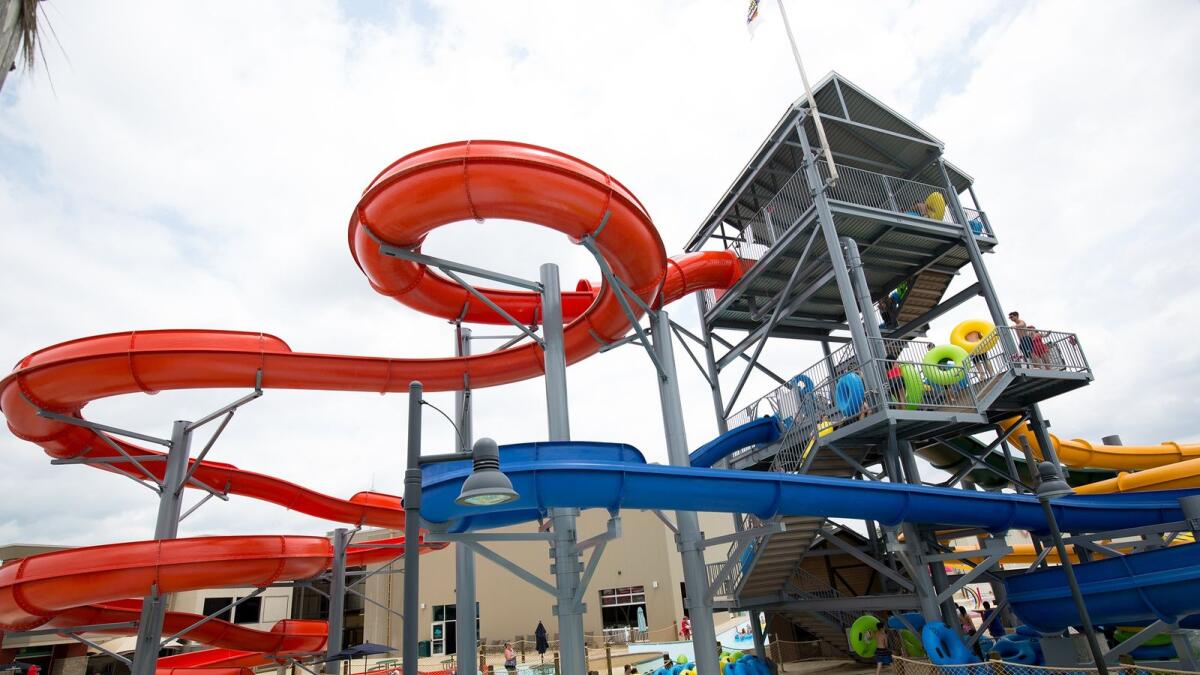 Huck's Harbor outdoor water park features Huck's River Ruckus slide with 429 feet of twisting turns, a lazy river, splash pad and more slides. Admission is $10, and the complex is open through Aug. 22, Aug. 28 and 29, and Sept. 4 to 6. Details: thepzazz.com/water-parks-home/outdoor-water-park
The indoor water park is closed for renovation.
Pzazz details: thepzazz.com
Community Field
Community Field, 2712 Mount Pleasant St., is home to the Burlington Bees baseball team, which has finished its season, but is a fun place to catch a summer game. Details: gobees.com/view/burlingtonbees/home
Starr's Cave
This 184-acre state nature preserve and park is tucked down a tree-lined gravel road. The site features a nature center in a renovated barn with an outdoor climbing wall, two miles of hiking trails, a segment of the Flint River Trail, beautiful limestone bluffs with fossils, and of course, caves.
The main Starr's Cave is closed to protect the resident bats from White-Nose Syndrome. But two human-made caves, blasted in the 1920s by prospectors looking for zinc, are open for exploration.
Details: desmoinescounty.iowa.gov/545/Starrs-Cave-Park-and-Preserve
Grotto
Adjacent to Burlington lies West Burlington, which offers a haven for peaceful reflection at the historic Our Lady of Grace Grotto at SS. Mary & Patrick Catholic Church, 502 W. Mount Pleasant St.
Construction began in the spring of 1929, led by two Benedictine priests, and continued through the Depression. Built entirely of rocks donated from every U.S. state and several foreign countries, including the Holy Land, many of the stones are Iowa's state rock, the geode, with its sparkling crystal cores. Inside the grotto, the statue of Mary is flanked by two seashells, one from the Atlantic and the other from the Pacific oceans. Geodes glisten all around the statue.
The grotto was obliterated by trees in the 1950s and '60s, and fell into disrepair. In 1973, parishioners and volunteers reclaimed the space and its gardens, and the site was rededicated in 1974. Adding to the tranquil setting are a pond and waterfall, and a Stations of the Cross walkway.
Iowa has just two other grottoes — the Mother of Sorrows Grotto at Mount Mercy University in Cedar Rapids, and the Grotto of the Redemption in West Bend — so add Our Lady of Grace Grotto to your must-see list after you're done hiking and exploring this corner of southeast Iowa.
Comments: (319) 368-8508; diana.nollen@thegazette.com