Home / Business News / Transportation
Eastern Iowa Airport to halt health screenings July 1
Airport sees passenger traffic jump more than 2,000% in April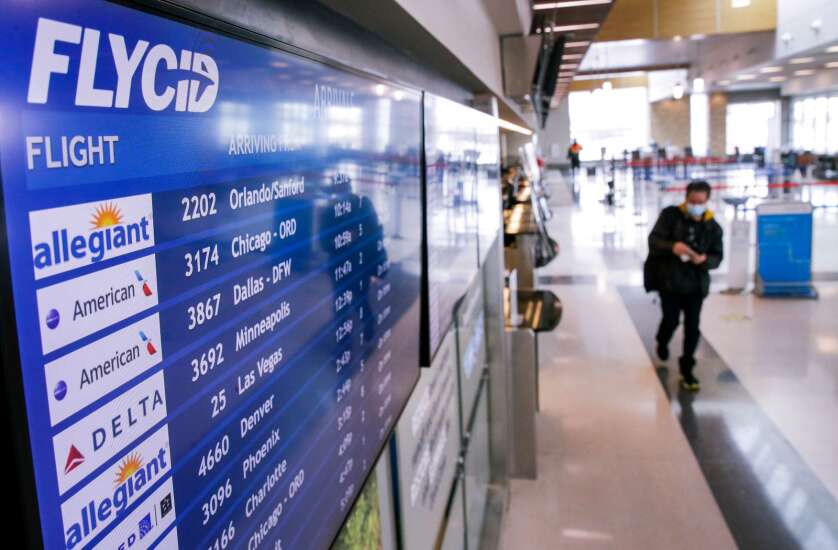 CEDAR RAPIDS — Eastern Iowa Airport will stop its mandatory health screening program July 1, the airport commission decided Monday, as COVID-19 cases drop and passenger numbers rise.
Airport Director Marty Lenss said the decision to stop the program came after "a lot of communication with the Mercy Medical Center team" and a review of data from Linn County and the broader region.
"The data suggests now would be the time to suspend the Travel Well program," Lenss said. "We're really following the lead of the Mercy Medical Center staff."
The seven-day average for new COVID-19 cases are down to 11 in Linn County and five in Johnson County, according to Iowa Department of Public Health data analyzed by The Gazette Monday.
The contract with Mercy Medical requires 30-day notice before termination, preventing the airport from immediately stopping the program.
Should coronavirus cases rise, the airport and Mercy Medical have the option to reenter the contract. The airport plans to keep the health screening infrastructure in place until at least the end of the calendar year in case screenings need to resume.
There is not a specific threshold for the number of COVID-19 cases necessary to reinstate health screenings, Lenss said. Instead, the airport is "really leaning on local medical professionals to help us make that decision."
"One sign if we're going to get back into it would be if the hospital starts screening again for family and folks coming into the hospital facility," Lenss said.
The Travel Well program used a two-step process to screen passengers. If a traveler passed the temperature check and basic health questions, they would proceed to the security checkpoint.
If someone did not pass the primary screening, Travel Well included a secondary screening with Mercy Medical staff to determine if there was another cause for the fever or health concerns.
Airport staff initially unveiled the program last July with hopes of implementing the program by early September, becoming one of the first airports to champion a health screening process during the pandemic.
But the Federal Aviation Administration blocked the airport from funding it until this past December.
The program has been operational since Jan. 25.
No passenger who has gone through the health screenings has been forced to rebook the flight, Lenss said, despite almost 120,000 passengers crossing the checkpoint in the first four months of 2021.
Two travelers did approach the health screening and voluntarily decide to rebook.
About 60 people had to go through the secondary screening process.
"We never approached health screening as being a mechanism to catch a lot of people," Lenss said. "Health screening is another layered approach to find that needle in the haystack, really.
"In the nature of a pandemic, one person that probably shouldn't travel can make the difference of 100 people getting sick real quick."
Mask mandate remains in effect
While health screenings soon will end, other COVID-19 mitigation efforts remain in place. Masks, for example, still are required at the airport through Sept. 13, airport officials said, to mirror the Transportation Security Administration's nationwide mandate.
The airport is continuing to use electrostatic sprayers to clean surfaces and make hand sanitizer available as well.
Looking ahead, the airport is considering implementing technology to reduce the number of surfaces passengers need to touch, Lenss said.
Collins Aerospace, Cedar Rapids' largest employer, is among the companies to sell those products.
Passenger traffic up more than 2,000 percent
In his two-plus decades of airport management experience, Lenss never expected to see passenger traffic up 2,055 percent. But that happened this past month when measured against April 2020.
"It's not hard when you're comparing it to April of 2020," Lenss said. "The bar was pretty low."
In April 2020, there were 1,483 enplaned passengers. In April 2021, that rose to 31,964. That remains below the 48,626 passengers who boarded planes in April 2019, though.
Cedar Rapids is not the only Midwest airport to see resurgent passenger numbers. Des Moines had a 1,210 percent increase in passengers from April 2020 to April 2021, and Fargo, N.D., had a 1,644 percent increase.
On May 23, almost 1.9 million people crossed through security checkpoints across the country, according to TSA data. That's below the nearly 2.1 million from the comparable Sunday from 2019, though.
As the summer travel season begins, Cedar Rapids is "routinely" seeing about 1,400 passengers per day.
"In one day now, we're doing better than April" 2020, Lenss said.
That leaves Lenss feeling "cautiously optimistic" for the future of the airport.
Plans for the fourth phase of the terminal renovation project remain on hold until fall to check on where business travel stands then.
American Airlines will resume its daily nonstop flight to Phoenix and Allegiant will restart its seasonal service to Los Angeles next month, bumping Cedar Rapids up to 15 active nonstop flights.
Lenss said there is "always opportunity" for new routes as well, although there is "nothing that's public at this point."
"We've got some meetings (with airlines) coming up here later this month, so we'll see how that goes," Lenss said.
Comments: (319) 398-8394; john.steppe@thegazette.com