Home / Sports / Iowa Prep Sports / High School Track and Field
Iowa state track 2A boys' results: Jesup's Carson Lienau sweeps throws
J-Hawks enter final day in 5th place; Tipton is in 4th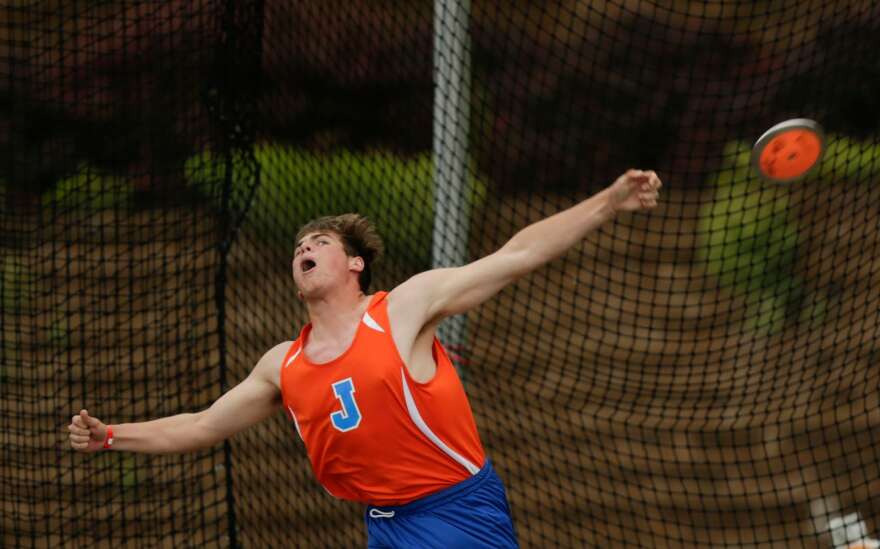 DES MOINES — After the Class 2A boys' discus at the state track and field meet, Jesup's Carson Lienau fielded hugs from his young nieces and nephews.
"Uncle Carsey," as his nieces and nephews called him, had just secured the throw double on Friday after winning the shot put on Thursday.
"It feels really good," Lienau said. "I put a lot of work into this. My family and teammates have supported me, and for all the support they've given me throughout my whole career, this really pays off to get the double."
Lienau won with a throw of 165 feet, 5 inches at Drake Stadium.
That winning throw was his first throw of the afternoon.
"I knew I really wanted to get one out there to see if I could get everyone to chase me and put the pressure on," Lienau said.
That's what he did. Okoboji's William Alexander, whose best throw was 153-8, finished second. Waukon's Lincoln Snitker placed fourth with a throw of 145-7.
Lienau knew as soon as he released the discus on his first throw it was going to be a tough one to beat.
"I knew just the way everything felt in the ring and the release," Lienau said. "I saw it go a little bit higher, so I knew it was going to be a good one."
Lienau's double put Jesup in fifth place after the second day with 21 team points.
Tipton is just ahead of Jesup with 22 team points. Tipton hasn't won an event but it has scored in a number of them, including one on Friday.
The Tigers' distance medley relay of Ezekiel Graves, Carter Hill, Cody Bohlmann and Caleb Shumaker finished in sixth in 3:40.02. Shumaker has been a part of three scoring events for the Tigers, including the 3,200-meter run and 3,200 meter relay on Thursday.
Underwood leads all 2A boys with 30 team points. Waukon is in 13th place with 11 points.
CLASS 2A BOYS TEAM SCORES
1. Underwood 30
2. Treynor 29
3. Bellevue 25
4. Tipton 22
5. Jesup 21
CLASS 2A BOYS HIGH JUMP
1. Isaac Jones (Clarinda), 6-6
2. Kaleb Scott (Southeast Valley), 6-5
3. Noah James (Treynor), 6-3
CLASS 2A BOYS DISCUS
1. Carson Lienau (Jesup), 165-5
2. William Alexander (Okoboji), 153-8
3. Austin Busch (South Hamilton), 153-7
CLASS 2A BOYS 4x200
1. Unity Christian, 1:28.58
2. Roland-Story, 1:30.95
3. Estherville Lincoln Central, 1:31.01
CLASS 2A BOYS 400 HURDLES
1. Sid Schaaf (Treynor), 54.30
2. Noah James (Treynor), 54.81
3. Braxton Stewart (Waukon), 54.83
CLASS 2A BOYS DISTANCE MEDLEY
1. Bellevue, 3:36.00
2. Underwood, 3:38.71
3. Forest City, 3:39.10
Comments: benv43@gmail.com