Home / Sports / Iowa Prep Sports / High School Track and Field
Iowa 3A girls' state track: Solon seniors get that elusive relay win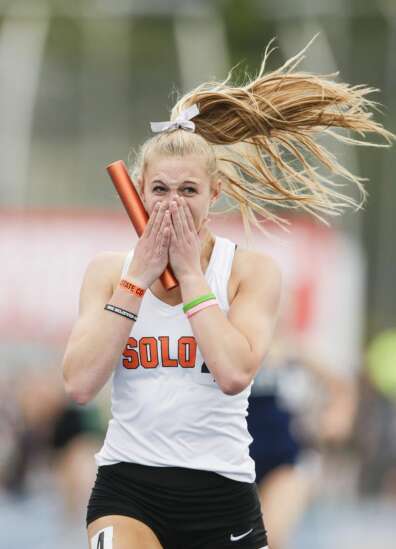 DES MOINES - Their last race coincided with their first win.
'It's amazing," Erin Kerkhoff said after Solon ran away with the Class 3A girls' 1,600-meter relay at the state track and field meet Saturday at Drake Stadium.
'To do it with these girls is special, amazing. I love them so much."
Taylor Ryan, Emma Bock, Abby Smith and Kerkhoff got the job done in 3 minutes, 54.99 seconds, nearly 4 seconds clear of the rest of the field.
Ryan, Smith and Kerkhoff are seniors who finally snagged that elusive title.
'It's all we've been wanting," Smith said. 'To race for four years and get it at the very end, it means so, so, so much."
Ryan, who will play softball at the University of Iowa next year, staked the Spartans to the lead, and none of her teammates came close to surrendering it.
'I told myself I was going to run the fastest I've ever run," Ryan said. 'Along the backstretch, I was telling myself, 'More, more, more.'"
Kerkhoff will run at the University of Northern Iowa next year. Smith will play volleyball and run track at the University of Dubuque. Bock is a talented freshman.
Glenwood edged Dubuque Wahlert, 65 points to 64.5, for the 3A girls' team title. It is the Rams' first crown. Davenport Assumption was third with 59 points. Solon tied for fifth with 40.
Benton Community's Grace Martensen will join Kerkhoff at UNI next season. Martensen earned her third consecutive title in the 100-meter hurdles, and did it convincingly.
In a race in which the top five all hailed from Eastern Iowa, Martensen was the best in 14.66 seconds.
'It hasn't hit me that this is the last time I'll run the hurdles in this (uniform)," Martensen said. 'It does feel amazing."
Martensen has battled a balky quadriceps muscle throughout the spring, but the wrap was off Saturday, and she had the look of a champ again.
'The quad felt fine, but my right calf was giving me a little trouble," Martensen said.
JoJo Tyynismaa of South Tama was second in 15.57 seconds, followed by Aubrey Jones of Cedar Rapids Xavier (15.66), Annie Leopold of Mount Vernon (15.72) and Brianna Yanga of Xavier (15.73).
'Second to Grace, that's really great," said Tyynismaa, a freshman. 'I didn't start hurdling until seventh and eighth grade. I'm going to work harder this summer."
Benton and Mount Vernon were 2-3 in the shuttle hurdle relay. Glenwood won it in 1:05.51, then it was the Bobcats in 1:05.87 and the Mustangs in 1:06.12.
Despite being a senior, this was the first year as a hurdler for Benton's Lauren Slouha.
'I was just kind of messing around with it before the season," she said. 'I was really nervous and scared, but I realized I had a shot to do this and help the team."
Decorah's Brooke Berns was third in the 200, and also ran on the Vikings' runner-up sprint medley relay and third-place 400-meter relay.
STATE TRACK & FIELD: CLASS 3A GIRLS
Saturday, At Des Moines (Drake Stadium)
Top-10 teams - 1. Glenwood 65, 2. Dubuque Wahlert 64.5, 3. Davenport Assumption 59, 4. Sioux City Heelan 41, 5. (tie) Solon and Pella 40, 7. (tie) Mount Vernon and Carlisle 29, 9. (tie) Decorah and Dallas Center-Grimes 27.
Sprint medley relay - 1. Davenport Assumption (Jackson, Moore, Nelson, King), 1:46.60; 2. Decorah, 1:49.82; 3. Solon, 1:50.23; 6. Marion, 1:52.46.
800 - 1. Janette Schraft (Glenwood), 2:12.28; 2. Ainsley Erzen (Carlisle), 2:13.00; 3. Megan Sterbenz (Dallas Center-Grimes), 2:15.27; 6. Emma Bock (Solon), 2:18.05; 8. Grace Horst (Vinton-Shellsburg), 2:19.95.
Shuttle hurdle relay - 1. Glenwood (Arnold, Ausdemore, Parr, Scarborough), 1:05.51; 2. Benton Community, 1:05.87; 3. Mount Vernon, 1:06.12; 7. Solon, 1:07.80; 8. South Tama, 1:08.01.
100 - 1. Carly King (Davenport Assumption), 12.42; 2. Libby Wedewer (Dubuque Wahlert), 12.60; 3. Miracle Ailes (Keokuk), 12.73; 5. Brielle Buresh (Decorah), 13.08.
100 hurdles - 1. Grace Martensen (Benton Community), 14.66; 2. JoJo Tyynismaa (South Tama), 15.57; 3. Aubrey Jones (Cedar Rapids Xavier), 15.66; 4. Annie Leopold (Mount Vernon), 15.72; 5. Brianna Yanga (Cedar Rapids Xavier), 15.73.
200 - 1. Libby Wedewer (Dubuque Wahlert), 24.74; 2. Carly King (Davenport Assumption), 24.87; 3. Brooke Berns (Decorah), 25.81; 6. Ella Wischmeyer (Mount Vernon), 26.23; 7. Grace Martensen (Benton Community), 26.41.
1,500 - 1. Janette Schraft (Glenwood), 4:41.53; 2. Ainsley Erzen (Carlisle), 4:43.35; 3. Amber Aesoph (Sioux City Heelan), 4:48.38.
400 relay - 1. Dubuque Wahlert (Yaklich, Carter, Wallace, Wedewer), 48.28; 2. Pella, 48.94; 3. Decorah, 49.48; 6. Marion, 50.17; 8. South Tama, 50.54.
1,600 relay - 1. Solon (Ryan, Bock, Smith, Kerkhoff), 3:54.99; 2. Sioux City Heelan, 3:58.59; 3. Pella, 4:01.90; 8. Independence, 4:03.96.
l Comments: (319) 368-8857; jeff.linder@thegazette.com