Home / Sports / Iowa Prep Sports / High School Track and Field
Former Iowa City High track coach John Raffensperger dies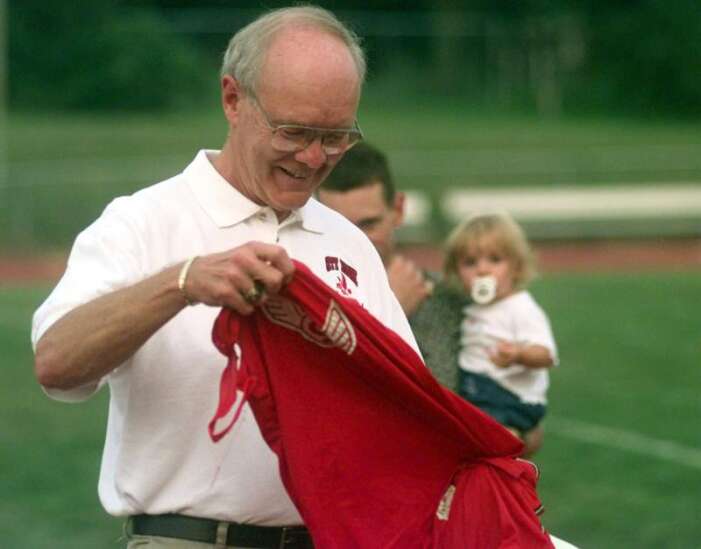 One of the greatest perks of this job is the people we meet.
The boys and girls at the high school level, the men and women who are lucky enough to compete collegiately.
And, of course, the coaches who mentor, mold and teach those aforementioned athletes.
Not every encounter is wonderful, but the vast - and I mean vast - majority of those athletes, coaches and administrators are good people.
Last week I found out one of those good ones was sick. Very sick.
On Monday, I learned John Raffensperger, or 'Raff" to his many friends, died at his home in Iowa City.
This one hits hard.
'I got a chance to see him last week" before leaving for Torrance, Calif., and the Mt. SAC Relays, Iowa track and field coach Joey Woody said later in the week. 'We had a good conversation.
'When he got back home, he was much more at peace."
Woody, who ran for Raffensperger at City High in the 1990s and is one of the state's all-time best, got another chance to visit his old coach Sunday.
'He's more than just a coach, not only to myself but to many others," Woody said. 'It's kind of surreal right now. He's always been that strong person in my life.
'He's definitely like a father figure to me."
Raff is survived by his wife of more than 50 year, Sharon, who was by his side for many, if not all, of those prep meets, keeping stats. They have two sons and three grandchildren. There will be a visitation Sunday at City High. Funeral services are Monday at 11 a.m. at First Presbyterian Church in Iowa City.
Raffensperger coached at City High, his alma mater, for 36 years, 34 as the head boys' track and field coach. Before retiring in 2004, he directed the Little Hawks to 17 Mississippi Valley Conference divisional titles, 11 MVC Super Meet crowns and 10 state titles. Fifty-six of his athletes won state titles, 36 were Drake Relay champions and, in 2001, the Little Hawk medley relay was declared national champion.
A two-sport standout as an athlete at Iowa State Teachers College (now Northern Iowa), he was named state coach of the year eight times, MVC coach of the year 15 times and national coach of the year in 2000. He's in the UNI, City High and Iowa track coaches halls of fame.
The track facility at City High was named in his honor in 2000.
But those are just the facts and figures - impressive numbers, for sure, that showcase that he truly was one of the greatest track coaches in state history. They tell you what he did, but are only part of who he was.
Raffensperger was, simply, one of the nicest people you'll ever meet. He was a good man,
The City High boys' track and field Twitter account posted this today:
'We are going to miss our mentor, our friend and our COACH! Rest in peace RAFF."
Randy Bates, who coached at Cedar Rapids Washington, commented on Facebook that he 'always admired him greatly while coaching against him."
Even my oldest son, Jack, who ran at Washington and UNI, noted in a text that Raff 'always was great to me every time I saw him, was always interested like I was one of his own athletes."
He always had a smile and, during those City High days, offered kind words for his athletes and competitors. He took time for interviews or just a quick 'hello." He not only answered a journalist's questions, but asked his own about you and your family.
And he loved track and field.
Woody said at a lot of high schools, track and field is 'spring training for football," but Raff made it 'an important sport" at City High. His teams not only were talented, they were large. Kids wanted to run, throw and jump for Raff.
After Woody was named head coach at Iowa, he brought Raffensperger out of retirement and hired him as a volunteer assistant.
'Fortunately for me, I've been able to see him every day for the last 13 years," Woody said. 'For me, having him around was huge.
'He understands how to work with 18-, 19-, 20-year olds."
And Raff loved it. Every time we talked, far too infrequently over the past 13 years, he lit up when asked about his role - which he downplayed, of course - and the fact he still is active in the sport.
'He's brought more to our program than we can ever bring to him," Woody said.
I might argue that point, but just a little. Raff loved working with Woody and the Hawks. He told me that many times.
But Raff also touched many during his lifetime, during his coaching career.
It's kind of fitting that the Drake Relays, one of Raff's favorite weekends, kicks off Wednesday. But there will be an empty seat at Drake Stadium this year. And that hits hard.
l Comments: (319) 368-8696; jr.ogden@thegazette.com