Home / Sports / Iowa Prep Sports / High School Track and Field
Cedar Rapids Xavier breaks 3A state track record in shuttle hurdle
Saints crossed second, but a Spirit Lake DQ gave them the title; Grayson Hartman adds gold in the 110 hurdles
DES MOINES — Sure, the Cedar Rapids Xavier boys' shuttle hurdle relay team would have preferred a different path to victory.
But, as Grayson Hartman said, "That's the way track goes."
Particularly, the danger-filled shuttle.
Quinn Oleson, Will Hacke, Coleton Beasler-Weber and Hartman were the second team to cross in the 3A boys' shuttle, but a Spirit Lake disqualification enabled the Saints to hoist the victory flag.
Xavier's foursome was clocked in 58.94 seconds, a 3A state-meet record.
"I'm just very grateful," Hacke said. "We didn't think Quinn would be coming back (from a sprained MCL), and we went out and ran a PR."
This was only the fourth time this season that Oleson was a part of the shuttle crew.
Hartman requested at the victory stand that most of the questions be pointed to the other three runners — "He's so humble that way," Hacke said — then came back an hour later to win the 110-meter hurdles.
His effort in the finals (14.16) wasn't as fast as his record-setter in the prelims Friday (13.96), but it was plenty good to win.
"I didn't have any nerves for the finals, and maybe that messed me up a little," he said.
Afterward, Hartman sat by the water cooler for a spell and reflected.
"I'm very thankful," he said. "A lot of people did a lot to help me get to this moment."
Pella captured the 3A boys' team championship with 73 points. Western Dubuque (63) was second, followed by Harlan (55).
Big day for Western Dubuque relays
Western Dubuque opened a big Saturday surge with a sprint medley relay title. Grant Glausser, Brock Carpenter, Dillon Aulwes and Ian Fagan ran in 1:32.31, answering a late challenge by DeWitt Central.
"I really like catching kids in the home stretch. I didn't want him passing me," Fagan said. "I knew I could outkick him.
"I was a runner-up with these fellows in the 4-by-2. I was fighting hard to get this one."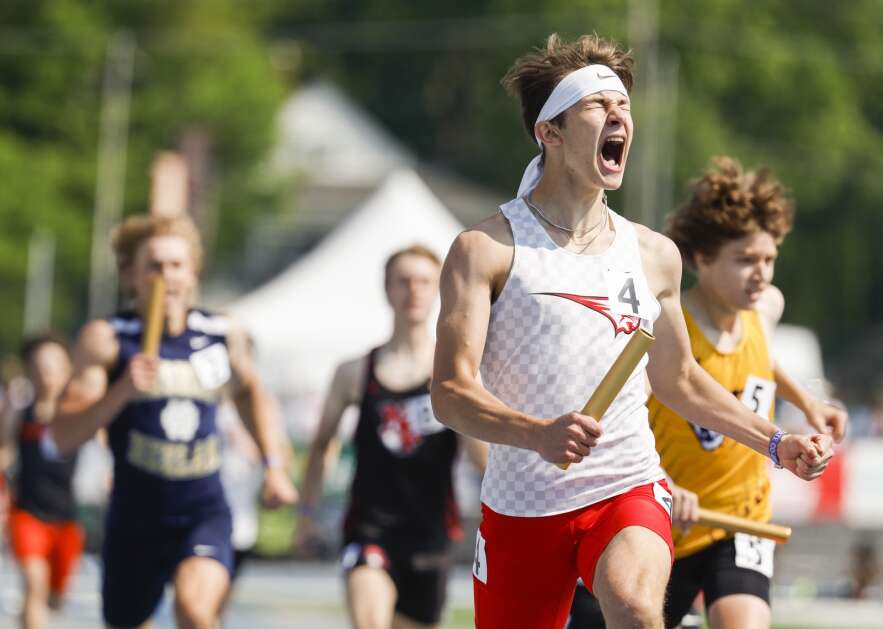 The Bobcats were second in the shuttle Saturday, third in the 400- and 1,600-meter relays. Freshman Quentin Nauman was third in the 800.
Mount Vernon was fifth in the team standings with 40 points.
The Mustangs closed with a title in the 1,600 relay: Caden Stimmel, Zach Fall, Brady Erickson and Jensen Meeker ran in 3:18.47.
"I wasn't sure if we would have competition, but we did," Meeker said. "Our goal was the state-meet record, and we were right there."
⧉ Related article: Photos: Day 3 of the 2023 Iowa high school state track and field meet
South Tama's Tommy Tyynismaa was the runner-up in the 800 and 1,600. Marion's Alex Mota was second in the 200, third in the 100.
Saturday results: Class 3A boys
Top 10 teams — 1. Pella 73, 2. Western Dubuque 63, 3. Harlan 55, 4. North Polk 47, 5. Mount Vernon 40, 6. DeWitt Central 35, 7. Lewis Central 31, 8. Cedar Rapids Xavier 27, 9. (tie) Solon and West Burlington-Notre Dame 25.
RESULTS (Top 3 and area placewinners)
Sprint medley relay — 1. Western Dubuque (Glausser, Carpenter, Aulwes, Fagan), 1:32.31; 2. DeWitt Central, 1:32.95; 3. Carlisle, 1:33.22; 4. Mount Vernon, 1:33.78; 7. Maquoketa, 1:34.36; 8. Solon, 1:34.41.
800 — 1. Chase Lauman (Pella), 1:52.61; 2. Tommy Tyynismaa (South Tama), 1:52.80; 3. Quentin Nauman (Western Dubuque), 1:54.50; 7. Eli Page (Vinton-Shellsburg), 1:57.40.
Shuttle hurdle relay — 1. Cedar Rapids Xavier (Oleson, Hacke, Beasler-Weber, Hartman), 58.94; 2. Western Dubuque, 59.85; 3. Pella, 1:00.89.
100 — 1. Will Neuharth (Harlan), 10.68; 2. Jack Riley (West Burlington-Notre Dame), 10.77; 3. Alex Mota (Marion), 10.81.
110 hurdles — 1. Grayson Hartman (Cedar Rapids Xavier), 14.16; 2. Will Davidson (Mount Pleasant), 14.33; 3. Carter Toews (Spirit Lake), 14.41; 8. Ashton Hogrefe (Western Dubuque), 14.90.
200 — 1. Will Neuharth (Harlan), 21.53; 2. Alex Mota (Marion), 21.99; Carter Toews (Spirit Lake), 22.09.
1,600 — 1. Chase Lauman (Pella), 4:16.90; 2. Tommy Tyynismaa (South Tama), 4:17.57; 3. Ethan Eichhorn (Lewis Central), 4:20.09; 7. James Brant (South Tama), 4:24.23; 8. Isaiah Hammerand (Western Dubuque), 4:24.64.
400 relay — 1. Harlan (Birch, Sears, Eggerss, Neuharth), 42.13; 2. West Burlington-Notre Dame, 42.21; 3. Western Dubuque, 42.65.
1,600 relay — 1. Mount Vernon (Stimmel, Fall, Erickson, Meeker), 3:18.47; 2. North Polk, 3:21.15; 3. Western Dubuque, 3:21.41; 6. Solon, 3:23.62.
Comments: jeff.linder@thegazette.com