Home / Arts & Entertainment / Things To Do
The Oscar Mayer Wienermobile is in Iowa. We went for a ride.
Oscar Mayer icon tours Iowa City, Cedar Rapids areas ahead of Halloween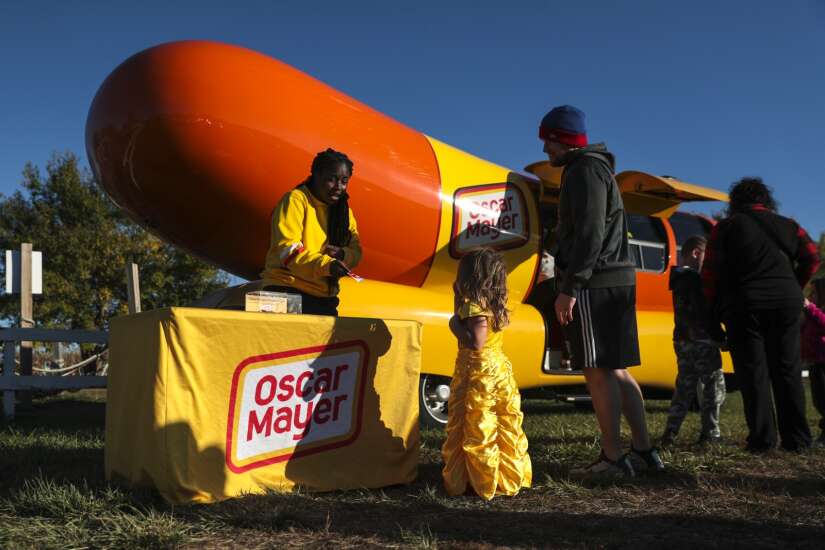 NORTH LIBERTY — Corridor residents are relishing the opportunity to link up with an intergenerational icon and get limited edition Weenie Whistles through Monday..
The Oscar Mayer Wienermobile is "meating" Corridor residents this week, reinforcing the brand's smile-triggering image across generations, one whistle at a time.
This week, the Wienermobile is distributing special glow-in-the-dark whistles, which are only available in the days leading up to Halloween.
Inside the vehicle, the puns never end with "hot-dogger" drivers, "Ketchup" Kingsley Pissang and "Mustard" Marcelo Nylund, who have been visiting local food banks, pumpkin patches, senior living homes and children's institutions.
Where to find the Wienermobile
Thursday, Oct. 28
• Tot Time Monster Mash, 9:30 to 11:30 a.m., 2701 Bradford Dr., Iowa City.
• Harvest Festival, 12:30 to 3:30 p.m., Bloomsbury Farm, 3260 69th St., Atkins.
• Haunted Happenings, 6:30 to 8 p.m., 520 W. Cherry St., North Liberty.
Friday, Oct. 29
• Trunk or Treat, 10 to 11:30 a.m., North Liberty Recreation Trail.
• Trick-or-treat, Main Street in West Branch, 3 to 4:30 p.m.
• Boo and Brew, 5 to 8 p.m., Lindale Mall, 4444 First Ave. NE, Cedar Rapids.
Monday, Nov. 1
• Reading with the Wienermobile, 4 to 5 p.m., Iowa City Public Library, 123 S. Linn St.
"Meatbelts on," Pissang says, never breaking character, save for a warning that the hot dog puns do not end.
This vehicle is one of six in the United States. Drivers are typically college seniors who take a year to tour the United States. Each driver takes two weeks of training with the Madison, Wis., Police Department — Hot Dog High — before touring nearly all year.
The Wienermobile visiting the Corridor has been as far south as Atlanta and as far west as Branson, Mo.
Before visiting Iowa this week, these two hot-doggers were in Louisville, Ky. Their next stops will be in Madison, Wis., and St. Louis, Mo.
"It's a modern icon for people to smile at and be happy at," said Nylund — necessary relief amid widespread social anxieties. "The goal is to make people smile. … It's a symbol of happiness, and it has been for so long — 85 years."
Length: 60 hot dogs (27 feet)
Width: 18 hot dogs (8 feet)
Height: 24 hot dogs (11 feet)
Weight: About 140,000 hot dogs (7 tons, or 14,000 pounds)
Fuel Economy: "Smiles per gallon," which is "comparable to an RV"
Built in: 2016 (no hot dog equivalent available)
For older folks who have been around as long as the Wienermobile has, many get as wide-eyed as the children seeing it for the first time. Others have the chance to relish in its presence once again.
"It feels like you're seeing the tooth fairy," Nylund said.
Both hot-doggers love going to schools, where children go "bonkers" with infectious reactions that spread like a wave across groups of kids.
About 60 percent of their events are retail events, in addition to special events, parties and parades — all free appearances considered upon request.
But it's not all fun and games. In between planning events, the two drivers have to worry about the things that come with driving a 7-ton vehicle around cities.
"I'm a 23-year-old, and here I am worrying about bridge clearances," Pissang said. Tickets for certain violations in the larger-than-life vehicle, she said, can be as hefty as $10,000.
Comments: (319) 398-8340; elijah.decious@thegazette.com