Home / Arts & Entertainment / Things To Do
Needle art showcase coming to Marion
Local embroiderers' guild chapter exhibiting 500 hand-stitched projects
CEDAR RAPIDS — Even though geographically separated, ancient Egyptians, Persians, Greeks, Chinese and others around the world had a common thread.
They were adorning garments and homes with various types of embroidery. The Encyclopaedia Britannica notes Persian warriors even wore quilted garments as armor in the Battle of Marathon in 490 B.C.
Needlework eventually crept through Europe and into America, where television viewers saw pioneer mothers and daughters, like the Ingalls ladies, creating samplers on "Little House on the Prairie" to practice various stitches.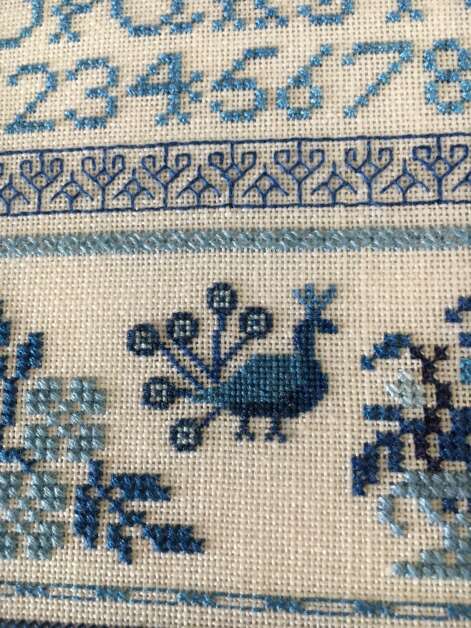 So many stitches. Counted cross stitch; silken metal; 3D stumpwork; French knots; hardanger; Japanese beading; blackwork, using black or red thread; needle painting, where each thread is like a brush stroke; and so many more.
Sheri Ekstrom of Cedar Rapids had no idea just how many types of stitches are under the needle arts umbrella until 25 years ago, when she was invited to an Embroiderers' Guild of America meeting in Des Moines, a two-hour drive from her home in Centerville.
She was hooked.
What: Showcase of Needle Arts: An exhibit of traditional and contemporary needlework
Presenter: Cedar Valley Chapter of the Embroiderers' Guild of America Inc.
Where: American Legion, 625 31st St., Marion
When: 10 a.m. to 6 p.m. Friday, April 28, 2023; 10 a.m. to 4 p.m. Saturday and Sunday, April 29 and 30; raffle drawings 3 p.m. Sunday
Admission: Adults $5 per day or $8 multiple days; $3 under age 12
Event details: sites.google.com/view/cvcega
Club details: sites.google.com/view/cvcega/home
She saw stitches she didn't even know existed.
"I thought you just did cross stitch and quilt," she said, "and that's not true. Some of the things they had for show-and-tell there were just stunning.
"I didn't know what they were, but I could learn — so I've spent the last 25 years learning," the retired elementary schoolteacher said.
And now her beautiful, sun-drenched home in northeast Cedar Rapids is filled with her needle-and-thread artistry, created in a bedroom workspace equipped with embroidery floss, a magnifier and a chair perched in front of a window where the sun can help light her way through the elaborate designs she creates.
"Sometimes I just stitch all day long," she said, noting that she has 100 projects in the works.
Ekstrom is one of about 107 members of the Cedar Valley Chapter of the Embroiderers' Guild of America, who will display 500 hand-stitched works in their Showcase of Needle Arts, from Friday through Sunday, April 28 to 30, at Marion's American Legion Hall.
Don't expect to be buying anything that strikes your fancy — Guild members aren't there to sell their wares.
"Contact us later if you really want to buy it," Ekstrom said. "Usually we just go ahead and give (pieces) to our family."
Members often keep relatives in stitches around Christmas, and Ekstrom makes ornaments for her three kids every year. The club also makes small door hangers for seniors in nursing homes, to make sure those residents have a gift to open, as well as a festive decoration for their room or their walker or wheelchair.
"So some person has something that has been given and stitched and made for them, and they aren't forgotten at Christmas," Ekstrom said.
The local chapter gives personalized needlework samplers to Habitat for Humanity's new homeowners, and conducts demonstrations from 1 to 3 p.m. the fourth Thursday of every month at the National Czech & Slovak Museum & Library in Cedar Rapids.
One chapter member heads up a bookmark project for local elementary schools, and encourages others in the group to stitch a keepsake bookmark for the cause.
The club was founded in 1976 as a nonprofit educational organization. One of the founding members is in her 90s.
As the membership grows older, with many being retirees, Ekstrom said they're always looking for ways to entice younger generations of needlework enthusiasts of all skill levels. They offer morning and evening meetings, conduct workshops and retreats, take online classes, and display their artistry to the public every other year.
They conducted Zoom meetings during the pandemic, and still offer those for members who aren't comfortable meeting in-person or driving at night.
"There's value in that," Ekstrom said, "except that we found during the pandemic that we missed being with other stitchers — with our friends. We just missed that. We're getting back into that now, so once a week we have in-person stitch-ins in somebody's house."
They all bring projects to these sessions — but nothing that requires a lot of concentration, since "we never shut up," Ekstrom said.
Comments: (319) 368-8508; diana.nollen@thegazette.com