Home / Arts & Entertainment / Things To Do
Kick off the holiday season with these events in Cedar Rapids, Iowa City areas
First public menorah lighting in Cedar Rapids planned for Monday night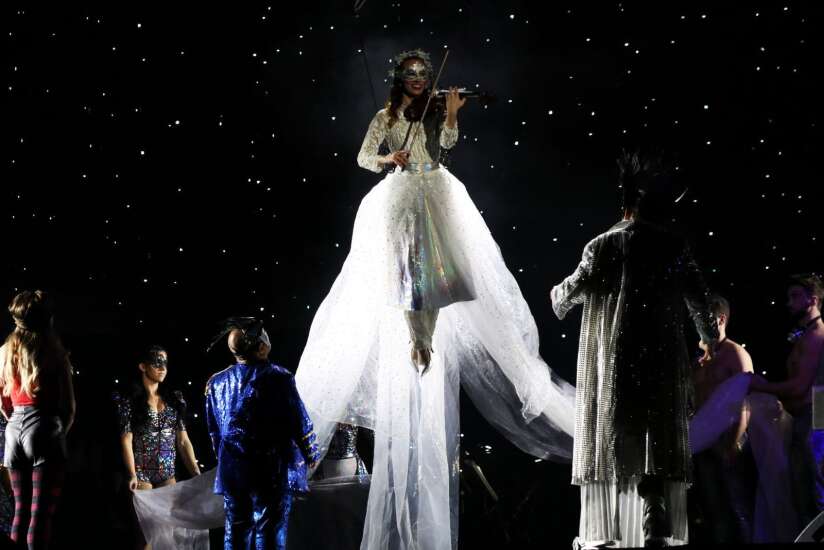 Seasonal celebrations will be in full swing around the Corridor. Here's a guide to some of the concerts and events happening this week, including the first public menorah lighting in Cedar Rapids.
Menorah Lighting Celebration
CEDAR RAPIDS — Chabad Lubavitch of Northeast Iowa will ignite a public 10-foot menorah erected in front of Ginsberg Jewelers, 4647 First Ave. SE, followed by a community-wide celebration Monday, Nov. 29, 2021, the second night of Hanukkah. The free event will be held from 5:30 to 6:30 p.m.
Rabbi Aron Schimmel will light the menorah and Mayor Brad G. Hart will deliver holiday greetings. Rabbi Schimmel, director of the Chabad Jewish Center of N.E. Iowa, said this is the first such event in Cedar Rapids.
"With the Cedar Rapids population growing, more and more people are requesting that we diversify our offerings. We are delighted to do this at Ginsberg Jewelers this year," he said.
The celebration also will feature singing, dancing, doughnuts and latkes (potato pancakes) a traditional Hanukkah food, as well as Hanukkah gelt, gifts and dreidels for the children.
Hanukkah is the Jewish eight-day, wintertime "festival of lights," celebrated with a nightly menorah lighting, special prayers and fried foods. To read more about it, go to chabad.org.
The menorah display at Ginsberg Jewelers is one of several in Iowa and one of thousands of large public menorahs sponsored by Chabad throughout the world, helping children and adults of all walks of life discover and enjoy the holiday message.
Holiday concerts coming to area venues Nov. 27-Dec. 5
Nov. 27: Cirque Musica Holiday Spectacular: 7 p.m., Paramount Theatre, 123 Third Ave. SE, Cedar Rapids. This new production features some of the greatest holiday songs of all time performed alongside Cirque Musica's acrobats and aerialists. Tickets: $35.75 to $185 VIP, creventslive.com/events/2021/cirque-musica-holiday-spectacular
Nov. 29: Big Bad Voodoo Daddy's Wild and Swingin' Holiday Party: 7:30 p.m., Paramount Theatre, 123 Third Ave. SE, Cedar Rapids. Drawing on a rich catalog of holiday classics and Christmas originals from the band's two full-length holiday albums, Big Bad Voodoo Daddy brings its world-renowned live show, and fun and quirky take on the holidays, to you. Tickets: $34 to $54, creventslive.com/events/2021/big-bad-voo-doo-daddy
Nov. 30: Coe College: 11 a.m. Christmas Convocation, 7 p.m. Christmas Vespers, Sinclair Auditorium, Coe College, 1220 First Ave. NE, Cedar Rapids. Admission: Free; coe.edu/why-coe/events/calendar
Dec. 1: UI Symphony Orchestra Holiday Pops Concert: 7:30 p.m., Hancher Auditorium, 141 E. Park Rd., Iowa City. The ensemble's first holiday pops celebration features symphonic holiday tunes, jazzy vocal selections, festive film music, and a collaboration with the Preucil School of Music. Admission: Free; hancher.uiowa.edu/2021-22/UISO-Holiday-Pops
Dec. 2: Amana Old Creamery presents Glen Campbell tribute: 2 p.m., Old Creamery Theatre, 39 38th Ave., Amana. Carl Acuff Jr. is bringing The Wichita Lineman tribute to the music of Glen Campbell to the Old Creamery Theatre on Dec. 2. The show covers Campbell's greatest hits, including "By The Time I Get To Phoenix," "Gentle On My Mind," "Rhinestone Cowboy," "Galveston" and more. Tickets: $32.50, oldcreamery.com/shows-and-tickets/2021-road-shows
Dec. 2-5: Christmas at Luther: Awake! And Greet the New Morn: 5:45 p.m. Thursday, 6:15 and 9:15 p.m. Friday, 7:30 p.m. Saturday, 2:30 p.m. Sunday, Main Hall, Center for Faith and Life, Luther College, 700 College Dr., Decorah; the Sunday concert also will be livestreamed. This year's theme, "Awake! And Greet the New Morn," comes from a hymn by Luther alum Marty Haugen '73. It is not only a celebration and anticipation of the birth of Christ, but also a hope to exit the 18-month pandemic slumber and begin to welcome a return to a familiarity of life. Tickets: $35 in-person, $20 livestream, tickets.luther.edu
Comments: (319) 368-8508; diana.nollen@thegazette.com