Home / Arts & Entertainment / Things To Do
Haunted houses, pumpkin patches and more Halloween fun in Eastern Iowa
With different COVID dynamics than last Halloween, attractions prepare for an influx of visitors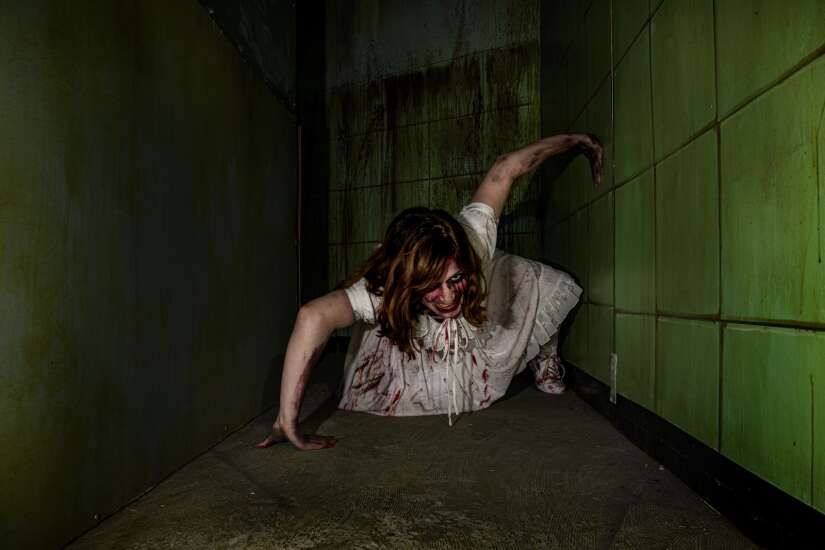 CEDAR RAPIDS — After a full 18 months of a pandemic that's scary in its own right, it seems some crowds are ready for haunting thrills of the more ordinary kind — the ones readily available in the month of October.
With a mix of adaptations carried over from 2020 and pre-pandemic norms, haunt seekers aren't the only ones experiencing a thrill this year.
Creeping up closer
At The 5th Realm in Lindale Mall, their biggest show yet has seen a considerable uptick in demand — their first opening weekend saw an attendance increase of 50 percent over 2020's opening weekend, and social media seems to be buzzing more than usual.
"People are hungry for entertainment and looking for things to do," said Chris Moore, owner and creative director of the haunted house now in its fourth year. "We're operating under a much more normal aspect than we did last year."
When the pandemic hit, The 5th Realm had to get more creative in how it scared people. Facial masks had to be incorporated into every costume, interactive sets that invited guests to pull levers or push buttons for hidden surprises had to be nixed and actors had to be more spread out than usual to mitigate close contact in the case of an infection.
"When you're only open five weeks, you can't have people out (quarantining) for two weeks," Moore said.
This year, with one set of 5,000 square feet instead of two or three smaller sets in their space, the theme is Cedar Hills Sanitorium.
"We're very much an interactive, immersive theatrical experience," he said. "It's by far our scariest and most intense show yet."
Though the pandemic lingering has meant they aren't able to do every interactive element they pride themselves on, they're comfortable enough to up the ante this year with a large percentage of staff fully vaccinated.
While actors and guests do not touch each other — a universal rule in haunted houses — actors may creep up closer to you again at The 5th Realm.
"Now you can have two or three actors in the same area hitting you from all sides," Moore said.
A hybrid of modifications remain from last year: masks are strongly encouraged, and entries will be timed to limit the total number of people inside like last year.
But despite the excitement, they're not completely back to normal, he said.
A full year after the derecho
With Bloomsbury Farm's recovery from the derecho right before Halloween last year, families are excited to see plenty of new additions on both the haunted Scream Acres Park and the non-haunted activities for all ages.
"Last year, we were hit pretty hard by the derecho," said Sammy Petersen, manager of the family-owned Atkins farm. "The Bloomsbury side of business was damaged pretty badly."
In addition to severe crop and grain storage damage, the haunted cornfield and all of its props were wiped out, prompting an entirely new set on display this year. With winding scenes, a swamp scene, a vortex spinning tunnel, insane asylum, church scene and Shack Alley, the cornfield is one of Scream Acres distinguishing elements among haunted attractions.
In addition to outdoor haunts, Scream Acres offers three indoor haunts: a slaughter house in a two-story corncrib, a sinister silo in 3D and the crown haunt in 3D.
Also setting them apart from other haunts is their use of professional makeup artists for the more than 100 actors, said Petersen.
"I'm certain we're the premiere haunted attraction in the Eastern Iowa area," she said.
On the Bloomsbury side, a new pumpkin house, giant swing the whole family can fit on and super slide have been added. If photo ops and giant playground equipment aren't your thing, try one of the new cider doughnuts or pet the baby goats.
Like some other attractions, Scream Acres will not be requiring face coverings this year. Timed tickets will remain in place, and those who want to wear masks are encouraged to do so.
"We're just allowing all comfort levels to do what they need to do to keep themselves safe," Petersen said.
"We're encouraged with the momentum so far," she said. "The goal every year for our family is to work all year long to provide a place for the community to come enjoy and build lasting memories and traditions."
New traditions improved
Some people assumed the traditions in 2019 would be back this year. While not every canceled event has returned, some of the ones that replaced them last year have been improved.
For Peter Durin, the Halloween parade last held in 2019 could not make a return in 2021, despite clear public sentiment wishing otherwise.
"I couldn't get enough volunteers," Durin said. "I put out three meetings. I got less than five volunteers at each meeting."
It takes about 50 volunteers and $18,000 — all raised for charity — to pull off the venture he someday hopes will make Cedar Rapids the Halloween capital of the Midwest. In a time of uncertainty, finding sponsors was another difficulty.
But the show must go on — and it is. This year, Frightening Fridays is returning as a new and improved iteration of last year's Haunting on Hawking Downs, both of which have been free.
Every Friday at dusk, a new movie is played for families on the lawn at NewBo City Market. And every Friday, the scary shenanigans will escalate. Those attending the last few evenings in October should brace themselves.
Durin said an extra movie on Oct. 23, will be the most fun night of all, with the showing of the original "Poltergeist" and a "Day of the Dead" all-out after-party at the Olympic South Side Theater across the street.
Actors make appearances in the crowds each night, the first 300 children receive a ghoul treat bag and costume contests offer three awards: best dressed family, scariest and weirdest. Vendors offer themed food and beverages according to the movie of the night.
As a child, Durin loved Halloween. He set out to do the one thing he saw missing from his favorite holiday: the gathering of all age groups.
"It's a way to get adults and kids in one place at one time for Halloween," said Durin. "The magic still is there. So that's what I do."
Looking for the Great Pumpkin? Check out these pumpkin patches
If you're looking more for gourds than ghouls, check out these local pumpkin patches.
Bart's Farm and Pumpkin Patch: 7307 Alburnett Rd., Marion; open 3 to 8 p.m. Monday to Friday, 9 a.m. to 8 p.m. Saturday and Sunday; pony rides noon to 4 p.m. Saturday and Sunday; free admission, $7 pony rides; (319) 373-2633; facebook.com/bartsfarmandpumpkinpatch.
Bass Farms: 840 Bass Lane, Mount Vernon; open 10 a.m. to 9 p.m. Tuesday to Sunday; free admission; (319) 895-6480, bassfarms.org.
Colony Pumpkin Patch and Corn Maze: 2780 Front St. NE, North Liberty; open 4 to 6 p.m. Monday to Friday, 10 a.m. to 6 p.m. Saturday and Sunday; flashlight maze 7 to 10 p.m. Friday and Saturday; $8 to $12 ($2 discount for online tickets); colonypumpkinpatch.com.
Kacena Pumpkin Farm: 2510 55th St., Vinton; open 3:30 to dusk weekdays, 9 a.m. to dusk weekends; (319) 210-2218; facebook.com/KacenaPumpkinFarm.
Kroul Farm and Gardens: 245 Highway 1 S., Mount Vernon; 11 a.m. to 5 p.m. Monday to Thursday, 11 a.m. to 4 p.m. Friday to Sunday; fall decorations, pumpkins, corn maze; (319) 895-8944; facebook.com/KroulFarms.
Pumpkin Fest at Sass Family Farm: 3060 160th St., Riverside; 11 a.m. to 6 p.m. Oct. 9 and 10; hayrack rides, straw and corn maze, haunted barn, corn jump, fresh baked goods, fright forest, petting zoo, crafts and antiques, games for kids, playground, live music and more; free; pumpkin patch also open 11 a.m. to 6 p.m. daily in October; free admission; (319) 648-3788; facebook.com/sassfamilyfarm/
Wilson's Orchard: 4823 Dingleberry Rd., Iowa City; 10 a.m. to 8 p.m. Wednesday to Sunday; free admission; (319) 354-5651; wilsonsorchard.com.
Comments: (319) 398-8340; elijah.decious@thegazette.com