Home / Arts & Entertainment / Things To Do
A Day Away: The other Amana Colonies offer glimpses into history, arts
Architectural gems, recreational opportunities, artisan shops await visitors to Iowa County's National Historic Landmark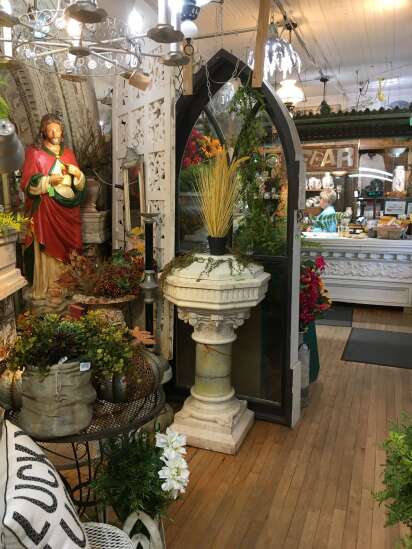 AMANA COLONIES — How many times have you said you were going to the Amanas, or the Amana Colonies? But did you really mean Amanas plural, or were you just going to the main colony that draws in visitors near and far for Old World-style shopping, artisan wares, dining and a calendar full of celebrations like Oktoberfest, rolling out a barrel of fun Oct. 1 to 3, 2021.
No matter what lures you into this National Historic Landmark about 20 miles southwest of Cedar Rapids and about 25 miles northwest of Iowa City, you owe it to yourself to stray from the beaten path.
The past
According to the history outlined in the Amana Tourism Guide, the early colonists were part of the Community of True Inspiration in Germany, which began meeting in 1714. Persecuted for their beliefs, the pacifists found shelter on estates in central Germany, including the 13th century Ronnenburg castle. (Today's Ronnenburg Restaurant in Amana is named for this site.)
Amid growing unrest and an economic depression, they left their homeland in 1843-44, seeking religious freedom in America. They bought 5,000 acres near Buffalo, N.Y., and established the Ebenezer Society, adopting a communal way of life.
After about a decade, they needed more land, and came to Iowa in 1855, calling their new home Amana, meaning "remain true." They created six villages a mile or two apart, spanning 26,000 acres in the Iowa River Valley, rich with the fertile soil, water, wood and stone needed to build and sustain their way of life.
Laid out in a 17-mile rectangular pattern are the villages of East Amana, Amana (which I grew up knowing as Main Amana, but I've been told locals may bristle at that), then Middle, High, West and South Amanas, ending with Homestead, a nearby village added in 1861 to give colonists access to the railroad.
Amid the economic strife of the Great Depression, the residents chose to end their communal system 1932, and formed the profit-sharing Amana Society Inc. to manage their land and businesses.
Amana Colonies Visitors Center: 622 46th Ave., Amana; (319) 622-7622
Information: For details on everything from places to dine and shop to nearly year-round festivals, go to amanacolonies.com/
Today
The Colonies survived and have retained their historic charm.
The main village has everything you need for a satisfying day trip, but there's so much more to discover.
The six other villages house a world full of historic architecture — from huge wooden barns to red brick-, stone- or clapboard houses. Many of the colonies' former schools, bakeries, communal kitchens, communal residences, stores and churches have been turned into private homes. They tend to be larger, sprawling structures, some of which look like two buildings combined into one site.
If you drive slowly and peer closely, you might see a plaque near a front door or in the yard, giving a bit of the building's history. For example, along Q Street in South Amana, before you get to the cemetery, lies the Village School, built in 1869. A plaque says it housed students in kindergarten through eighth grade until a larger school was built in 1879, and it's been a residence ever since. The school at the end of G Street in High Amana also has been turned into a beautiful home, with a schoolhouse bell tower over the garage, adding another ring of history.
You'll also find signs for artisans' shops and studios along streets and alleys in most of the villages; an amazing museum of miniatures in South Amana; Lily Lake, a golf course and a park that turns into a Renaissance fair every year in Middle Amana; hiking and biking trails; and my two favorite gift shopping spots, the High Amana General Store and South Amana's Fern Hill Gifts & Quilts.
First stop
Amana Heritage Museum, 705 44th Ave., Amana: Before you begin your explorations, do yourself a favor and stop at this museum to tour three communal-era buildings, stroll the grounds, see the indoor artifacts exhibits and watch a 20-minute film giving glimpses into the colonies' rich heritage. Hours: 10 a.m. to 4 p.m. Monday to Friday; 10 a.m. to 5 p.m. Saturday; 11 a.m. to 3 p.m. Sunday. amanaheritage.org/
Middle Amana
Head west on 220th Trail to explore popular recreational sites. Along the way, you'll pass the Whirlpool campus, where refrigerators are made. The plant is building on a tradition established by George Foerstner in 1934, when he founded The Electrical Equipment Co., and its signature Amana appliance brand.
Lily Lake: According to the National Park Service, this gorgeous 170-acre lake formed around 1880 when a break in the Mill Race canal's levee flooded the area. The new body of water was a source for ice for Amana and Middle Amana, as well as fishing and skating. Colonists also sold the lilies to tourists.
Today, visitors flock to see the lilies blooming mid-July to early August; walk or bike the trail around the lake, part of a 3.1-mile Kolonieweg Trail connecting Amana and Middle Amana; and see the herons, bald eagles and other wildlife that love the lake. Photographers and artists also gravitate to this place to capture its natural beauty.
Another popular hike is the Amana Nature Trail at the junctions of Highways 6 and 151 in Homestead, offering loops up to 3 miles.
Golf Course: For a panoramic view of the valley — and the chance to play an award-winning course — the Amana Colonies Golf Club lies just north of Middle Amana, at 451 27th Ave. I don't golf, but I never grow tired of driving up here for the sweeping vista. Nestled in the rolling hills and winding through 500 acres of white oak timber, the 18-hole course opened in 1989. Details: amanagolf.com/course-details/
Middle Amana Community Park: You'll pass this green space at 801 27th Ave. while driving to and from the golf course. But don't let the serenity fool you. It was buzzing with activity this past weekend (Sept. 18 and 19) for the annual Iowa BMW Motorcycle Rally, and has been the site for the orange tractor aficionados' Allis Chalmers Collectors Reunion.
But on Oct. 9 and 10, 2021, ye olde clock will wind all the way back to the close of the Middle Ages, for the Iowa Renaissance Festival & Gathering o' Celts. Visitors can stroll among costumed re-enactors in the merchant village, living history encampments and the royal food court, and revel in their entertainment. Then stake your perch on the hillside to cheer and boo the combatants in the rousing horseback jousts. Details: amanacolonies.com/venue/middle-amana-community-park/
High Amana
High Amana General Store: Put this historic general store on your must-see list. Established in 1857 and situated at 1308 G St., it's like stepping into Nels Oleson's mercantile on "Little House on the Prairie." I always find the most wonderful gifts among the Amana-made products, Christmas decorations, soaps, vintage-style toys and housewares. On a particularly hot afternoon, it was nice to dig into the old-fashioned cooler for an ice cream treat, too. Details: amanaheritage.org/amana-general-high-store/
West Amana
Michele Maring Miller Studio and Gallery: Tucked down a side street, the Old West Amana Church at 611 F St. provides living quarters for watercolor artist Michele Maring Miller and husband David Miller, as well as space for her artist's studio and gallery, and the couple's farmhouse antiques sales. The retired teachers are preservationists, and have made minimal upgrades beyond the electrical system in the 21 years they've lived there.
Maring Miller is a prolific artist, producing about 200 paintings a year, many of which focus on landscapes and buildings she passes by. "I just can't stop — I keep getting ideas," she said. Hours: 10 a.m. to 5 p.m. Saturday and Sunday, occasionally on Fridays and by appointment at (319) 777-8481. Details: maringmillergallery.com/
South Amana
Mini Americana Barn Museum: This gem, hiding in plain sight at 413 P St., just looks like a barn at first glance. Inside, however, are two floors with 200 miniature replicas offering windows to the past, from prehistory to rural farmsteads and villages, a logging camp, Lincoln's hometown, South Dakota sod houses and a typical Amana village.
All but four were made by woodcrafter Henry Moore from 1968 to 1983. His son, museum caretaker John Moore, made the others, also using a scale of 1 inch equals 1 foot. The younger Moore points with pride to his father's painstaking work and attention to detail, noting that for one Amana barn, he drilled holes for 9,897 nails, to keep the wood from splitting. He also recreated his own home farmstead in northwest Iowa. Hours: Open 9 a.m. to 5 p.m. daily, April 1 to Oct. 31. Details: barnmuseum.com/
Fern Hill Gifts & Quilts: The South Amana General Store, at the corner of Highways 6 and 220, has stocked a little bit of everything over the years, and that tradition has continued for the past 33 years. This is my shoppers paradise, with quirky home decorating items, floral accents, scarves, purses, fancy bath products, homemade fudge, architectural antiques, pottery and ceramics, quilts old and new, and upstairs, 5,000 bolts of quilting fabric. Hours: 9:30 a.m. to 4 p.m. Monday to Saturday, closed Sunday. Details: fernhill.net/
One piece of the building's history is as colorful as the quilt fabric. Owner Patti Walsh-Bailey found a vintage newspaper clipping taped to the wall, noting that Jesse James and his gang robbed the general store on April 27, 1877, and made off with $2,000. They also reportedly held up the hotel in Upper South Amana, leaving bullet holes in their wake.
Schanz Furniture & Refinishing: This showroom and workshop lies a short jaunt eastward along Highway 6. Several generations of the Schanz family have been designing and creating fine furniture, from rocking chairs to cutting boards, as well as brooms and baskets. They also re-cane and weave chair seats and repair and refinish older furniture pieces.
The inventory had been divided between three shops, but has now been consolidated under one roof, said owner Mike Schanz. On a recent Friday afternoon, his father, Norman Schanz, 82, was busy in the adjoining workshop, creating stacked Christmas trees made from hardwoods unique to the area. Those were destined for a Christmas market in Des Moines, but others are sold in the store. Hours: 9 a.m. to 5 p.m. Monday to Saturday. Details: schanzfurniture.com/
The landmark giant rocking chair, however, is in storage, for lack of display room.
Homestead
AJ's Copper Garden & Metal Art Gallery, 3146 Highway 6 Trail: Yard art rises to a whole other level with the locally handcrafted indoor/outdoor sculptures large and small, made from copper, brass and stainless steel. Details: ajscoppergarden.com/
Comments: (319) 368-8508; diana.nollen@thegazette.com