Home / Arts & Entertainment / Theater
MasterChef Live turns up the heat for Cedar Rapids show
From the TV screen to the stage, Cedar Rapids will be the last tour stop this year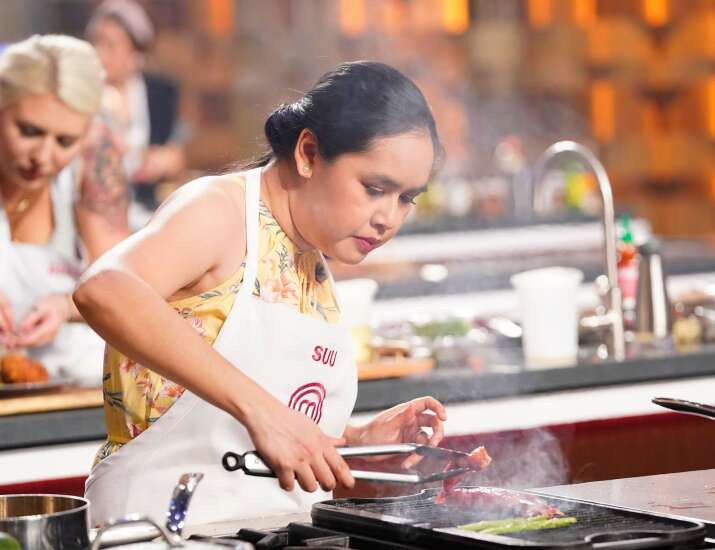 CEDAR RAPIDS — After cooking on TV for renowned chefs like Gordon Ramsay, Curtis Stone, Paula Deen and Aaron Sanchez, the cast of MasterChef's 11th season is turning to a new pressure cooker environment: the Paramount Theatre stage.
There, they'll have to impress up to 1,700 judging viewers seated in the audience for the high-energy, interactive show.
For cast members like Suu Khin, a runner-up on season 11, it's a chance to keep living the sensational experience that's the opportunity of a lifetime for those who love to work with food.
"It's such an intense cooking competition," said Khin, a Houston-based recipe developer, food stylist and photographer. "Fun, intense, challenging, but the opportunity of a lifetime."
What: MasterChef Live!
When: 7 p.m. Sunday, Nov. 21, 2021; doors open at 6 p.m.
Where: Paramount Theatre, 123 Third Ave. SE, Cedar Rapids
Tickets: $28 to $128 VIP, CREventsLive.com and $10 ages 2 to 12 in select zones, through the ticket office, (319) 366-8203
Working in front of a live audience adds a new ingredient to the mix.
"If something goes wrong, there's not going to be TV magic or editing involved," she said.
Every moment is seen in full detail for the audience through a camera that goes from station to station. This is where a sense of humor comes in handy. Their only saving grace, she said, is that elimination is not on the line.
After 18 episodes on screen came to a finish with a finale in September, Khin and the cast started touring the country Oct. 9. After dozens of tour dates, Cedar Rapids will be their closing show on Nov. 21.
Khin couldn't promise any surprises, but have you ever been to a tour's final show that didn't include something spontaneous?
"On the heels of a successful run of MasterChef Junior Live! with our partners TCG Entertainment, we are excited to provide an extra serving of fun, food and excitement to our fans and viewers with MasterChef Live!," said Amber Sheppo, senior vice president of licensing for Endemol Shine North America.
"With the addition of MasterChef contestants cooking alongside our junior chefs, the culinary chemistry is irresistible, and they can't wait to share more tips, recipes and behind-the-scenes stories with theater audiences live on stage across the country this fall."
The family-friendly show will feature head-to-head cooking demonstrations and challenges with past MasterChef and MasterChef Junior contestants — fun for all ages.
As the clock winds down on the tour, Cedar Rapids will get to see just how real the time constraints are on TV as contestants race against the clock to finish challenges.
"Do we conceptualize and finish everything in an hour? How much help do we get? Do we get to prep before? They'll find that out," Khin said. "MasterChef is known to have a lot of surprises — especially seasons 10 and 11. They threw curveballs at us every chance they got."
Some of those challenges will appear on the stage, like the mystery box challenge where chefs work with a box of unplanned ingredients. While contestants on the show typically complete one or two challenges in an episode, the live tour shows complete three challenges: an appetizer, entree and dessert.
Since the pandemic, the immersive part of the show, where sous chefs could be brought on stage from the audience, has been modified. Audiences still can expect an energy in participating.
"The most fun they have is counting down the time for us. That last 10 seconds (of a challenge) is the most essential part for us," Khin said. "I see people having a lot of fun shouting things at us, being part of the decision-making process."
During Khin's season, COVID-19 halted production altogether, sending contestants home for eight months before they were recalled to finish filming.
"The waiting game is the most difficult thing to play," she said. "I worried it wouldn't be picked up again, that it would be canceled. I Googled every single day, When is Hollywood reopening?'"
But the break gave her a chance to up her game, elevating her Burmese recipes using classic French techniques and fusions. She started experimenting with molecular gastronomy to make things like emulsifiers — something she never would have seen in Myanmar growing up.
There, residents rely heavily on electric hydropower, putting energy in limited supply and forcing them to make everything fresh. Every morning, her mother and grandmother still go to the wet market.
Her earliest memories include working with a large mortar and pestle to grind aromatic ingredients for curries and savory meals.
Since finding a voice through MasterChef, she has used her platform to bring Burmese cuisine to the masses not by watering down the tradition to make it easier on Western palates, but by infusing it with other traditions.
"Burmese cuisine is going along with feelings, touch, tasting," she said. "Whereas French cuisine involves a lot of science, things are precise — timing, temperature."
Smell what she's cooking next on stage at the Paramount.
"You're going to enjoy every second of the live show," she said.
Comments: (319) 398-8340; elijah.decious@thegazette.com