Home / Arts & Entertainment / Theater
John Waters bringing end of the world optimism to Iowa City show
Filmmaker, author, writer, director, bringing new show to Englert Theatre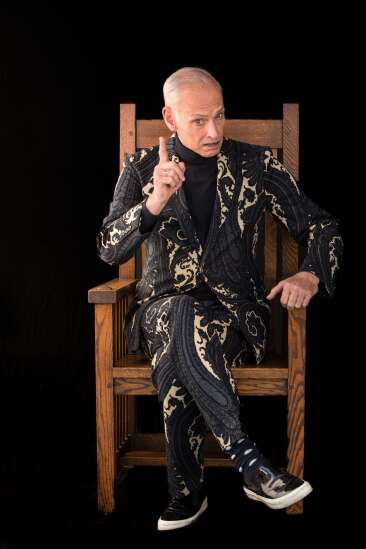 Since he said it feels like the end of the world, John Waters is ready to tell audiences how he's going to change it.
The filmmaker ("Hairspray," "Serial Mom"), writer, director, actor and artist the French press has dubbed "The Queer Confucius" is bringing his brand-new show to the Englert Theatre in Iowa City on Sunday night, Oct. 30.
And despite the fact that he never did get paid the other half of the money owed to him from the fraud-riddled "newbo evolve" festival in August 2018, he still spoke kindly to The Gazette by phone from his home in Baltimore on Oct. 18. Granted, Cedar Rapids wasn't mentioned until the end of the interview.
"Oh, THAT place?" he exclaimed. "No," he said when asked if he ever received his full payment. "And I just read an article that they went to jail or something."
What: John Waters: "End of the World"
Where: Englert Theatre, 221 E. Washington St., Iowa City
When: 7:30 p.m. Sunday, Oct. 30, 2022
Tickets: $23 to $55.50, englert.org/events/
When told that the organizers are facing jail time, he replied: "Good. I hope they get life. … I've only been ripped off twice in my entire life, and that's one of the places."
Still, he holds no animosity toward the people who live in Cedar Rapids — just toward "the people who lied" — adding that he and his assistant, who also didn't get paid, "are still bitter about it, but I don't hold it against the city at all."
So Cedar Rapidians shouldn't worry about showing their faces — or spending their money — at his upcoming Iowa City show.
On the road
Now 76, Waters is excited to be on the road, with 20 Christmas-themed shows nipping at the heels of his fall tour, estimating he does about 40 shows a year. And he writes a new show every year, bumping right up against his deadlines.
The Gazette interview marked the first time he's shared the official description of his "End of the World" show:
" 'False Negative' sure has changed, and so has John Waters' spoken-word show, now entitled 'End of the World.' This all new, fast-moving comic monologue about today's despair and diseases, desires and desperation, breaks through with an insane optimism that welcomes all audiences into a new dawn of depravity. How to reinvent the movie business, embrace stupidity in an intellectual way, even go beyond the limits of sexual transgression. John Waters — the man the presses called 'The People's Pervert' — will mutate your madness … and lead you to a joyous delirium ever after."
This new show is "much more current" than the previous "False Negative," which started out addressing COVID-19.
"How can you not do a show and not talk about COVID a year ago," he said. "But to me now, people are sick of talking about COVID. That's such a dreary disease.
"My take in this a show is that basically, it does seem like the end of the world," he said. "It seems like every single thing is broken."
But he's an optimist.
"I'm like Susan Hayward — I want to live. So I always come back and kind of figure a way to be optimistic about everything," he said. "And it's quite a challenge, because everything you do now is broken, it seems like. Every time you try to do something, there's some new problem.
"I think that's interesting, in a way, and that's what my show is about. That's what I want to challenge, because when everybody comes, they all feel a little bit like, 'What else could go wrong?' So I'm trying to say what's gonna go right, in a new perverted way."
As a purveyor of commentary on the state of affairs over the past 60 years, he's seen the country rise and fall through times of trial socially, racially, politically and economically. But things feel different right now.
"Everyone's so divided. And you know, I've always been against separatism," he said. "I think if you can make people laugh, they'll listen to you. The dumbest thing in the world is to try to make your enemy feel stupid. Then they go vote even more on the other side than you are. I think that's important. We have to listen to the smartest people that are against us and learn how to debate them."
Influences
The pandemic remained a creative time for the prolific writer. His latest book, "Liarmouth: A Feel-Bad Romance: A Novel," was published May 3. It's described on amazon.com as "A hilariously filthy tale of sex, crime, and family dysfunction from the brilliantly twisted mind of John Waters, the legendary filmmaker and bestselling author of 'Mr. Know-It-All.' "
"I write every day," he said, noting that he still writes all his books with a Bic pen on legal pads. "Every day I have to pick up somewhere in the morning from 8 to 12, and I sell in the afternoon. I didn't travel much, but some (during the pandemic). That's what I did every day, so it was not that different for me in some ways."
A native of Baltimore, his first Dreamland movie studio was his bedroom, when at age 16, he received an 8 mm camera from his grandma, and started filming his friends. Among those friends was his neighbor, the late Harris Glenn Milstead, who became his over-the-top collaborator, Divine, remembered for his star turn in the 1988 film "Hairspray."
Milstead died of heart attack at age 42, shortly after the film's release, but his legacy lives on, most recently through recreations of some of his scenes on season 7 of "RuPaul's Drag Race," now entering its 15th season.
"I give RuPaul great credit because RuPaul has been around as long as I have," Waters said. "I remember him in Atlanta starting out in the very beginning. So I give him great credit for bringing drag to Middle America — and I don't mean that as an insult at all.
"Divine changed drag for everybody, because every drag queen is edgy now. When I was young, they were so square. They wanted to be Miss America, but now they all have an edge. And I think RuPaul has helped that, I think Divine has helped that.
"So I think drag today — I think drag kings are more fascinating to me, because they're edgier and they make people even more nervous, because they relate so amazingly. But it's newer to me."
Even though Milstead is known for dressing in outrageous drag, he was not trans, and "had no desire to be a woman," Waters said.
"At the end of his life, he wore expensive men's suits. And he would love to play men's roles as much as women's — he wanted to play both. He would be, of course, supportive of anything — of all the movements today, even the ones that are humor-impaired. He would be for it, because he was a forerunner of it.
"But what I talk about on my show a lot, is why we used to be one happy family — gay, straight, bi, asexual, lesbian, trans. Now we fight with each other and we are weakening our brand. When did gay people ever be dreary? We gotta watch that," Waters said.
He is heartened to see a change in attitude about being gay.
"Young kids don't even think it's one big deal about being gay, and to me, it's so much healthier than when I grew up," said Waters, who hated high school. "But at the same time, it depends where you are in the country. There's bullying, there's still all the horrible stuff (going) on. But I'm against home schooling, because I believe you have to learn how to stick up for yourself and you have to learn high school was the worst battle you're gonna have. And usually, the kids that don't fit in high school become the real leaders in the arts, and the ones are football stars and cheerleaders, their life goes downhill the minute they graduate."
Pollock effect
Speaking of art, Waters also has had his photo-based artwork exhibited coast to coast. He is represented by Baltimore's C. Grimaldis Gallery, and its website notes that his work is in the collections in New York's Museum of Modern Art, Metropolitan Museum of Art, New Museum of Contemporary Art, and the Baltimore Museum of Art.
He said he keeps his art and filmmaking sides separate, "because the art world hates anybody coming in from show business. They distrust it, as they should."
His ears perked up, however, at the thought of seeing Jackson Pollock's "Mural" on view in the University of Iowa's new Stanley Museum of Art.
"Jackson Pollock was the first thing I wanted to be when I read (about "Mural") in LIFE Magazine," he said. "Everybody, of course, was horrified by that painting when it came out, and I just loved it.
"It made me love art from then on, because I saw the power of art --- that it could make people go crazy."
Comments: (319) 368-8508; diana.nollen@thegazette.com