Home / News / Government & Politics / State Government
Reynolds, calling for new law, decries 'indoctrination' at school
Lawmaker: More public members should be allowed on disciplinary board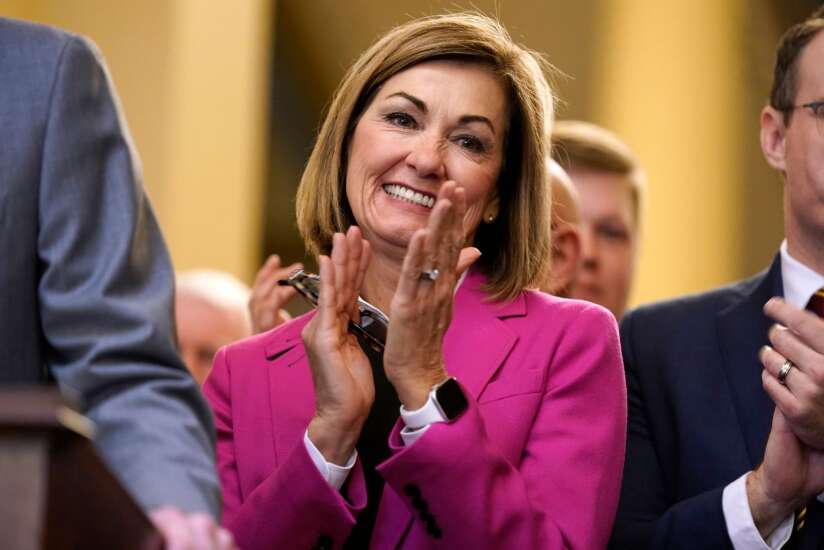 DES MOINES — If one Iowa school decides to remove a book from its library, all Iowa schools would be required to do the same under a proposal floated this week by Gov. Kim Reynolds at an event hosted by a national group that advocates for parents' rights in public education.
At the Thursday night event hosted by the group Moms for Liberty, Reynolds said under her proposal, educational material removed by any Iowa school district would be required to be removed by every district in the state.
The governor's office said Monday that under the proposed policy, any books removed by a school would remain available to students at other schools, but only with written permission from students' parents.
Groups like Moms for Liberty and its advocate members are pushing for public schools to not only be more transparent with curriculum and library materials, but for schools to remove library books and classroom materials that they find objectionable. Almost exclusively, the subject matter of the materials that are challenged have to deal with LGBTQ people or issues, or discussions of race.
During her remarks, Reynolds said there is a need "to restore sanity, to make sure our schools are a place of learning and not indoctrination."
"It's sad that any of this actually needs to be written into law," Reynolds said.
Reynolds accused "the radical left" of treating students like "their personal property," and asserted some educators believe patriotism is racist and that pornographic books are education.
Reynolds was greeted with loud applause and multiple standing ovations by most of the roughly 200 people who attended. But her remarks also were interrupted at least a half-dozen times by protesters who shouted while she was speaking. Each protester was escorted out of the auditorium by law enforcement officials.
"It is my job to keep your children safe," one protester yelled while being escorted out. Another, who on her way out of the auditorium toward the end of the event, sarcastically assured the audience that there are no litter boxes in Iowa schools.
The comment was a reference to the widely debunked Internet rumor that some schools have been placing litter boxes in bathrooms to accommodate students who wish to identify as cats. No actual evidence of this has ever been found in any schools.
During a panel discussion and a question-and-answer session that featured seven Republican state lawmakers, two legislators said they would like to move legislation that would create more spots for members of the public to serve on the state board that licenses and disciplines Iowa teachers and other educators.
Currently, the Iowa Board of Educational Examiners is required by state law to include 12 members: two from the public, the state education department director, and nine licensed practitioners. The public members and professionals are appointed by the governor and confirmed by the Iowa Senate.
Rep. Steve Holt, a Republican from Denison who has been active in advancing bills regarding public education transparency and curriculum requirements, pledged legislation to change how the education oversight board is populated.
"We're going to put parents on the board of examiners," Holt said. "We're going to change that system."
Moms for Liberty is a national nonprofit issue advocacy organization that was founded in Florida. It mobilizes individuals around parents' rights in educations, and trains candidates for political office, including local school boards.
During the event, Reynolds and multiple state legislators highlighted the new, $345 million state-funded private school financial aid package that Reynolds recently signed into law. Reynolds and other Republicans said the new state funding will help families find the Iowa school that they feel is best for their children.
Comments: (515) 355-1300, erin.murphy@thegazette.com