Home / News / Government & Politics / State Government
Regents scold University of Iowa president Mason for poor communication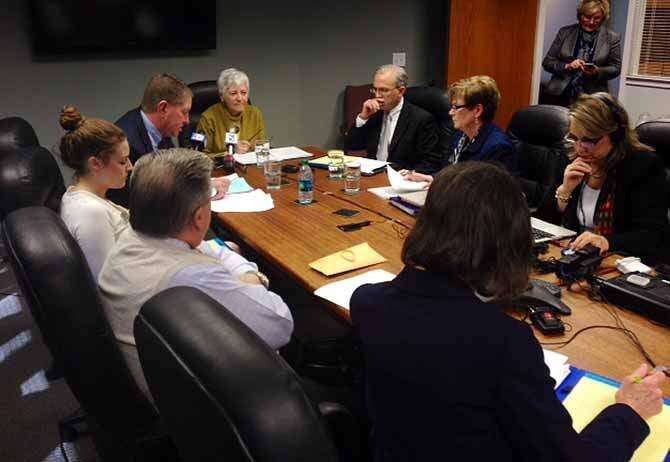 Concerns over University of Iowa President Sally Mason's communication with the Iowa Board of Regents come as a caution, one legislator said Friday after Mason was reproved for – most recently – "failing" to effectively correspond with the board about issues of sexual assault on campus.
"One of the most important responsibilities we entrust to you is that you are open and transparent to the board and to the community," Regent President Pro-tem Katie Mulholland told Mason during a special meeting Friday. "By failing to respond to us, we were forced to come to you. And this board has gone through communication challenges with you in the past."
Mulholland said the regents and Mason agreed long ago that communication was an area she needed to develop "strongly," and they reprioritized Mason's goals to support that.
The regents called Friday's special meeting to "receive an explanation" from Mason regarding recent comments she made about sexual violence on campus this academic year. During the meeting, Mason apologized again for telling The Daily Iowa that ending sexual violence on campus is "probably not a realistic goal, just given human nature," and she laid out a six-point plan to combat sexual assault.
Mulholland briefly addressed Mason's comments, calling them "inappropriate." And, she said, the board "continues to be very concerned" that student protestors characterize Mason's comments as hurtful and some on campus feel unsafe.
"But the larger issue is not keeping the board apprised of such issues," Mulholland said. "Our question is this, should something as public as the events of last week warrant a board consultation and discussion?"
Yes, Mason said.
"Absolutely," she said.
Following the public portion of the meeting, Sen. Bob Dvorksy, D-Coralville, told The Gazette that he believes Mason has done well at communicating with legislators and the community. But, he said, the regents have indicated she has work to do from their perspective.
"There are some things she needs to address," Dvorsky said. "If I were on the board and had these concerns, I would wait to see how she reacts."
Dvorsky said he's not privy to Mason's correspondence with regents, but he questioned whether some of the regents' comments Friday were more a demonstration of power and control.
"I do think maybe a little bit of this is to show that they're in charge," he said. "We are going through this process of doing the budget for the regents … and if they show the house that the regents are in charge and they are making sure the university is operating effectively, that's a good theme for them."
[naviga:ul]
[naviga:li]Timeline: University of Iowa President Sally Mason[/naviga:li]
[/naviga:ul]
In a back-and-forth exchange during Friday's meeting regarding the regents' communication concerns, Mason said she tried to reach out to the board this week and was told not to. When pressed on who told her not to contact the board, Mason said Robert Donley, executive director of the board, at "President Rastetter's request."
Mason was corrected that the suggestion was not Rastetter's request and that the board had already decided to hold the Friday meeting where she would be given a chance to speak.
"What I would like to do is work closely with this board to figure out the best way to communicate," Mason said.
When communication concerns between Mason and the board first surfaced in 2012 – Mason said the plan was to share everything between her office and the board's office. More recently, Mason said, she had planned to meet regularly with Bruce Rastetter and Mulholland.
"That didn't happen," she said. "And it has been a frustration. Schedules have been busy. But I had hoped that would improve communications."
Going forward, Mason said, she'd like to request permission to call the regents every week "just to check in."
"I have tried to be respectful of their schedules and not do that," she said. "But, given the circumstances … please let me know how often you would like me to do that."
Regarding concerns over the UI's handling of sexual assaults on campus, Mason on Friday outlined a six-point plan to combat violence. The plan includes efforts to crack down on offenders – and expel students in severe cases – increase support for survivors, upgrade prevention and education, improve communication, increase funding and do better at listening and reporting back on progress.
Mason told regents Friday that her team already has implemented several changes, including making the UI's sexual misconduct website more clear and revising language in warning emails it sends out following reports of sexual assault.
The actions come after a week of student protests and discussion around the UI's handling of sexual violence. University officials have sent out eight warning emails so far this academic year, and students launched a website earlier this week listing several demands, including that Mason apologize for her comments to the student newspaper.
Mason has repeatedly apologized, and she held a "listening post" Thursday, during which she shared that she was sexually assaulted as an undergraduate student at the University of Kentucky.
During that event, students shared personal stories of the UI's response to sexual assault allegations – including one student who said she was asked by a UI official what she was wearing at the time she was assaulted.
Mason, who became the UI's 20th president in 2007, admitted that the UI has work to do even after making efforts earlier in her career to crack down on sexual violence, including in 2008 and again in 2012.
Rep. Mary Mascher, D-Iowa City, said she thinks Mason has responded well to the community's concerns this week, and she also praised Mason's communication efforts with lawmakers.
"Sally has been extremely vigilant about not only meeting with local legislators but with representatives across the state," Mascher said. "Her goal is to meet with every single legislator during the two-year cycle, and she has been doing that and has been very effective."
Mascher said Mason doesn't often boast of her accomplishments.
"But she has raised more than a billion dollars for the university since she's come," Mascher said. "She certainly is an effective administrator and has made some really great strides here."
Regents and Mason met in closed session at Mason's request Friday following the public portion of the meeting. Details of what was discussed were not disclosed.
Six-Point Plan to Combat Sexual Assault
Point 1: Crack down on offenders
[naviga:ul]
[naviga:li]Hold all offenders responsible for their actions.[/naviga:li]
[naviga:li]Develop more, and more effective, sanctions.[/naviga:li]
[naviga:li]Expel offenders in the most severe cases.[/naviga:li]
[naviga:li]Request Board of Regents support to assess system-wide policies and procedures.[/naviga:li]
[/naviga:ul]
Point 2: Increase support for survivors
[naviga:ul]
[naviga:li]Expand long-term support services.[/naviga:li]
[naviga:li]Train every staff member who comes in contact with survivors.[/naviga:li]
[naviga:li]Advocate continued federal funding for nurse examiners.[/naviga:li]
[/naviga:ul]
Point 3: Improve prevention and education
[naviga:ul]
[naviga:li]Add staff for in-person training, workshops, and dialogues.[/naviga:li]
[naviga:li]Implement regular campus safety walks to improve lighting and other conditions.[/naviga:li]
[naviga:li]Authorize funding to expand Night Ride.[/naviga:li]
[/naviga:ul]
Point 4: Improve communication
[naviga:ul]
[naviga:li]Make resource and support information easier to find.[/naviga:li]
[naviga:li]Improve information on key web pages.[/naviga:li]
[naviga:li]Improve language of our Timely Warning emails.[/naviga:li]
[/naviga:ul]
Point 5: Add funding
[naviga:ul]
[naviga:li]Seek every source of dollars to support this plan, including savings from the efficiency projects the board's consultants will be assisting with, and other areas.[/naviga:li]
[naviga:li]Expand overall resources to address the problem of sexual assault.[/naviga:li]
[/naviga:ul]
Point 6: Listen more and report back
[naviga:ul]
[naviga:li]Form a student advisory group to meet regularly with the president and senior staff.[/naviga:li]
[naviga:li]Use the president's website to provide updates on this plan.[/naviga:li]
[/naviga:ul]