Home / News / Government & Politics / State Government
Last lap coming for Iowa greyhound racing
Final race at Dubuque track expected in May 2022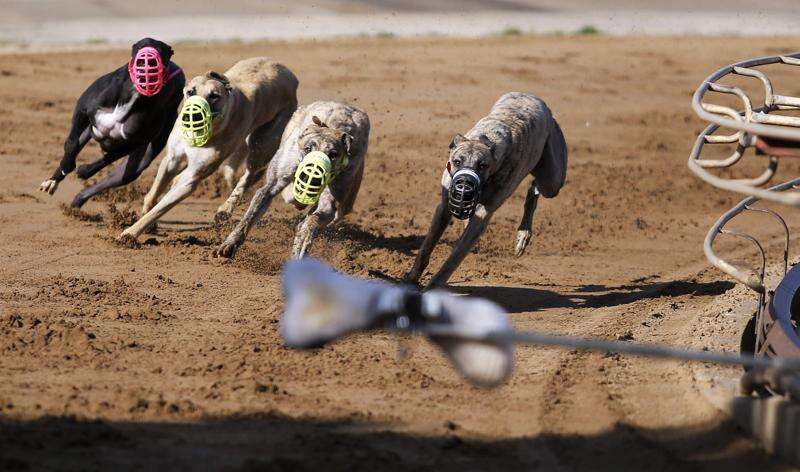 DES MOINES — Next year will end a chapter in the state's gambling history when an Iowa dog track hosts the last live greyhound race in Dubuque.
The dwindling number of greyhounds bred for racing, along with the slow demise of the once-thriving industry, forced the operator of the Iowa Greyhound Park in Dubuque to request a scaled-back, 18-day race meet for 2022 with the last live race expected to occur in May, according to the state Racing & Gaming Commission.
"Everybody's sad to see it go, but there's not much you can do about it," said Iowa Greyhound Park General Manager Brian Carpenter, who recalled when there were 49 dog tracks operating around the country after Iowa got involved in the mid-1980s.
"Greyhound racing is coming to an end around the country. When Florida closed, it kind of hurt us all. It was a dagger in the heart. There was only four tracks left and two of us are closing next year and then there will be only two left in West Virginia after that," he added. "I have a feeling in about five years we don't see any more greyhound racing in the United States."
The association has leased facilities at the Q Casino under an arrangement forged years ago to continue dog racing after track operators in Council Bluffs and Dubuque phased out operations.
But a 2018 vote in Florida to ban live greyhound racing effective in 2021, supported by animal welfare advocates, spelled the beginning of the end for live competition at the Dubuque oval as simulcasts, trainers, kennels and dogs dwindled.
During greyhound racing's heyday, Carpenter said there were "a lot of dog breeders and dog farms in Iowa" that gave the state an economic bump. According to the state Department of Agriculture and Land Stewardship, Iowa now has 17 licensed greyhound breeders.
"A lot of the breeders have stopped breeding because they see that the end is coming," Carpenter noted.
The eventual demise of the greyhound racing industry seemed headed toward an inevitable end in 2014 when Iowa legislators approved and then-Gov. Terry Branstad signed compromise legislation reached among casino owners in Council Bluffs and Dubuque, Iowa Greyhound Association members and others that would end greyhound racing in Council Bluffs by the end of 2015.
Dog racing continued at the track in Dubuque, but it was operated by the greyhound industry under a lease arrangement rather than being bankrolled by the casino. Under the so-called "soft-landing" arrangement, the state-licensed casinos that had financed dog races in Iowa agreed to pay $72 million over the next seven years to "sunset" their role, with half going to pay greyhound owners and breeders who intend to get out of the business and the other $36 million to assist efforts to continue racing in Dubuque.
At the time, track officials said combined betting on greyhound races in Dubuque and Council Bluffs had dropped from $186 million in 1986 to $5.9 million in 2012 — a 97 percent decline. According to commission data, live racing at Dubuque topped $1.5 million in 2021 while imported and exported horse and dog racing pushed totals to about $22 million.
Iowa's only other greyhound track, which operated in Waterloo, closed in 1994 and the dilapidated facility was torn down in 2018.
State commission administrator Brian Ohorilko said Iowa regulators approved at their October meeting a 2022 race meet of 18 performances at the Dubuque track from April 16 to May 15, "which is significantly fewer dates than they have ever raced before."
"Effectively, this will be their final year," said Ohorilko, who noted the final payment from the multi-year cessation agreement will take place in January.
By mid-May, an activity launched in the mid-1980s to help Iowa climb out of a devastating farm credit crisis will disappear.
"It's a sad day, but good things come to an end I guess," said Carpenter.
Comments: (515) 243-7220; rod.boshart@thegazette.com