Home / News / Government & Politics / State Government
'Bathroom bill' advanced by Republican state lawmakers
Republicans also expected to move a ban on gender-affirming health care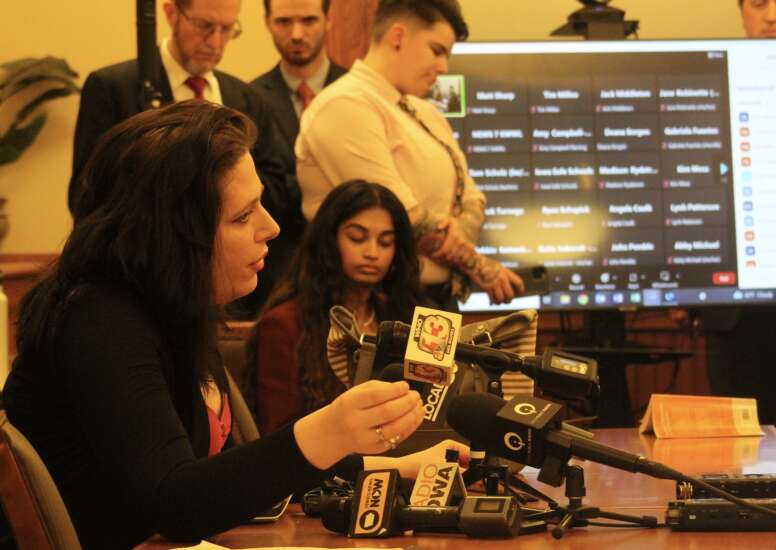 DES MOINES — Lily Bjorklund looked directly at state lawmakers and made her plea.
Lily, a 7-year-old transgender girl from Ankeny, testified Tuesday at the Iowa Capitol in a legislative hearing on a proposal from Republican legislators to bar transgender students from using school restrooms for the gender with which they identify.
While supporters of the proposal expressed concern — despite a preponderance of evidence to the contrary — that allowing transgender students to use bathrooms that align with their gender identity puts non-transgender students in harm's way, Lily attempted to assure lawmakers that she is just like any other second-grader in Iowa.
"Banning me from the bathroom I have already been using for years would be so humiliating and make more bullies come after me," Lily said. "I thought adults like you were supposed to protect kids like me and to solve problems. But this bill is solving no problem."
Lily's mother, Jill Bjorklund, followed with her own plea to lawmakers.
"This girl poses no threat in her bathrooms," Jill said. "And I want you to look in her face. I want you to look at her face and tell her she is a danger. Because she will remember your faces when she is walking across the entire school (to go to another bathroom). She will remember your faces when her friends ridicule her."
Throughout two legislative hearings on the proposal Tuesday, students' safety in bathrooms was the reason most cited by its supporters. However, data clearly and overwhelmingly shows that incidents of sexual assault in school bathrooms are rare, but that transgender individuals are far more likely to be victims of sexual assault than non-transgender people, including at schools with prescriptive bathroom policies.
Transgender and gender-nonbinary teens face greater risk of sexual assault in schools that prevent them from using bathrooms or locker rooms consistent with their gender identity, according to a 2019 study by the Harvard T.H. Chan School of Public Health.
Reports of privacy and safety violations in public restrooms, locker rooms and changing rooms are rare, and evidence that fears of increased safety and privacy violations as a result of non-discrimination laws are not grounded in data, according to a 2018 study from the University of California, Los Angeles School of Law.
And in 2016, more than 300 national, state and local organizations that advocate for victims of sexual assault signed a letter that stated it is a myth that prescriptive bathroom and locker room policies protect non-transgender people from sexual assault.
"Transgender people already experience unconscionably high rates of sexual assault, and forcing them out of facilities consistent with the gender they live every day makes them vulnerable to assault," the coalition's letter said. "As advocates committed to ending sexual assault and domestic violence of every kind, we will never support any law or policy that could put anyone at greater risk for assault or harassment."
The Iowa Coalition Against Sexual Assault and the Iowa Coalition Against Domestic Violence both are registered in opposition to the proposed Iowa legislation, according to state lobbying records.
"There is absolutely no evidence that letting transgender people use public facilities that align with their gender identity decreases safety," Elizabeth Barnhill, executive director for the Iowa Coalition Against Sexual Assault, said in a statement. "Schools have done great work in making accommodations for people, and balancing everyone's safety. They have done that with greater supervision or more often more privacy options."
Critics of the proposal also noted potential legal issues: that it would violate the Iowa Civil Rights Act and be at odds with federal protections against discrimination in education.
The sole Iowa organization registered in support of the bill is the Christian conservative advocacy organization The Family Leader.
Even more studies show that transgender people are more than four times more likely than cisgender people to experience violent victimization, and roughly half of transgender individuals are sexually abused or assaulted at some point in their lives.
Despite that data, multiple speakers warned that allowing transgender students in bathrooms with which they identify will lead to the danger of sexual assault, men posing as transgender women in order to commit sexual assault and students having intercourse in the bathroom. A woman who spoke in favor of the bill, saying she is a retired teacher, described a movement that is feeding nihilism, narcissism and a social contagion.
Roger George, school board president for the Albia Community School District, expressed a common sentiment from supporters of the proposal.
"I am not opposed to transgender kids. I'm just opposed to males entering female bathrooms," George said during the hearing via video call.
Republican lawmakers in both the House and Senate advanced the proposals Tuesday through the first step of the lawmaking process. House Study Bill 208 and Senate File 335 are now eligible for consideration by the House and Senate's judiciary committees.
Later Tuesday, Republican lawmakers gave their initial legislative blessing to bills that would bar physicians from providing gender-affirming health care to Iowans under age 18. The bills would prohibit puberty blockers, the administering of testosterone or estrogen and gender-affirming surgeries.
Republicans argued the proposals are needed because children are too young to make life-altering decisions like gender transition care. Opponents of the proposal, including health care professionals and parents of transgender children, testified that transgender youth take months and often years before reaching a decision to transition, and that once they do, they receive gender-affirming care only with their parents' blessing and physician's input.
Aime Wichtendahl, a transgender woman from Hiawatha and a City Council member there, called the proposal "big government overreach" during a legislative hearing.
"This is the government interfering in private medical decisions," Wichtendahl said. "This is not your place to tell us what we can have for care."
Republican lawmakers advanced the twin bills, Senate Study Bill 1197 and House Study Bill 214, making them eligible for consideration by the full judiciary committees.
Also Tuesday, Republican lawmakers introduced legislation that would propose an amendment to the Iowa Constitution that would ban same-sex marriages. The Iowa Supreme Court cleared the way for same-sex marriage in the state in 2009, and the U.S. Supreme Court followed that nationwide on 2015.
The proposal, House Joint Resolution 8, was introduced Tuesday. It has not yet been scheduled for a subcommittee hearing, the first step in the legislative process. Bills like it must be passed out of a subcommittee and a full committee by the end of this week in order to remain eligible for consideration for the rest of this year's session.
Comments: (515) 355-1300, erin.murphy@thegazette.com