Home / News / Government & Politics / State Government
As Iowa City Rep. Mary Mascher looks to final year as lawmaker, her fire still burns
Iowa City Democrat retiring after almost 30 years in Iowa House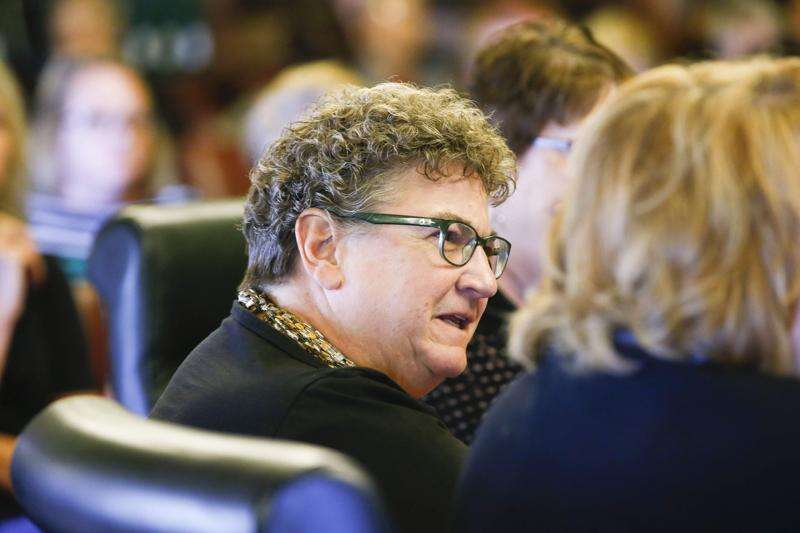 IOWA CITY — As she prepares for her final year in the Iowa Legislature, Rep. Mary Mascher plans to end her legislative career as she started it.
"I'll go out passionate," the Iowa City Democrat said recently while enjoying a coffee between meetings with various interest groups hoping to get her support for their priorities in the session that will commence Jan. 10. "I think I'm always passionate about the things I care about, and I'm not going to change that."
It's not because the fire has burned out that Mascher announced she will not seek re-election in 2022.
"I always knew I would know when it was time," Mascher, 69, said. After spending about half of each year in Des Moines since 1995, she wants to spend more time "doing things locally," spending time with her grandchildren and reading.
"There are so many books to read," Mascher said during the interview in a coffee shop bookstore.
The books will have to wait until she completes her 28th year, which makes her second in legislative seniority to fellow Democratic Rep. Dennis Cohoon of Burlington.
Mascher readily acknowledges her longevity is due in large part to representing a safe Democratic district where she hasn't faced an opponent in decades.
Mascher grew up west of Iowa City near Cosgrove on a farm that her brother still operates. She visits to "get my regeneration of energy in terms of knowing that farm has been farmed for almost 150 years by people in our family."
After high school, she attended Ottumwa Heights, now Indian Hills Community College, where she worked at the college switchboard plugging and unplugging cords to connect calls. After her freshman year, Mascher transferred to the University of Iowa, where she completed bachelor's and master's degrees in education and counseling, respectively.
Education still a priority
While teaching, Mascher became involved in the local education association, serving as president and participating in contract negotiations. It was that taste of union politics, lobbying and advocating for adequate funding that drove her to run for a seat in the Iowa House.
"That's what motivated me — good public education … and just the importance of giving kids a firm foundation, and why that was so critical in helping them be successful in whatever they did in life," Mascher said.
Over the years, issues have changed from session to session, but her priorities haven't.
For example, early childhood has become more of a focus because, Mascher said, "I think people are starting to realize there's a connection between people being able to work and having quality early childhood education."
She champions universal pre-K "to help not only families, but also our businesses that can't find workers" because many people left the workforce earlier in the coronavirus pandemic.
Like her fellow Democrats, Mascher is concerned that the Legislature is not providing enough funding for public education. One result is an "enormous shortage" of teachers, counselors and school health care professionals including nurses, psychiatrists, psychologists, social workers — "all of those people who provide those one-to-one and family support in terms of kids who are in difficult situations or families that are struggling."
Mascher's proudest accomplishments
She's scored some victories over the years. Perhaps, the accomplishment Mascher is proudest of is the early childhood education program for 4-year-olds.
"It has made an enormous difference in the lives of so many children," she said of the partnership between schools and child care providers. "It helps bolster not only what the children are able to attain and, basically, come to kindergarten with, but also it's helping keep those providers in business, and they need that support too."
It's one of a number of changes Democrats were able to make before Republicans gained the trifecta — control of the governor's office and both chambers of the Legislature. Democrats had their own trifecta a decade ago, and Mascher believes they took big steps forward for the state.
"It allowed us to do a lot of things that we wouldn't have done otherwise," she said about education and environmental measures enacted. Among measures approved were raising the minimum wage, adopting a smoke-free workplace law and putting LGBTQ rights into the state civil rights code.
When she sees Republican attempts to roll back those measures, "it hurts in light of the fact that we fought so hard to be able to get those things."
Again in the minority, Mascher vowed to continue fighting hard for her priorities.
"I'm going to go out and continue to be as passionate about those issues that are important to me whether it's women's choice issues or whether it's school issues with censorship of LGBTQ books or whether it's education issues and how we invest our monies in our public schools," she said. "Those are things that have always been important to me, and I'll continue to be as passionate about those as I've been in the past."
Comments: (319) 398-8375; james.lynch@thegazette.com