Home / Opinion / Staff Editorials
15 of The Gazette's most popular opinions of 2019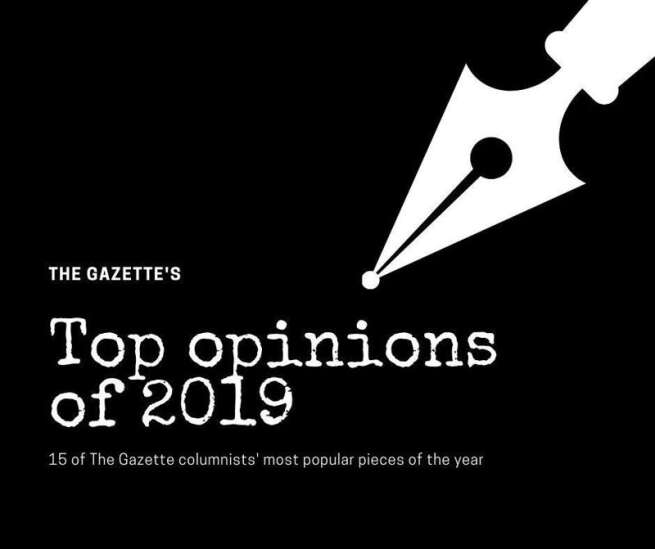 From trouble at the University of Iowa to misogyny and racism, these are the 15 of the most popular opinions published by The Gazette in 2019.
1. 'Iowa, you are racist" by Lyz Lenz
In one of her first columns for The Gazette, Lyz Lenz pointed out the systemic racism that is still part of Iowa. Many people reached out afterwards to insist they were not, nor have ever been racist. But even more Iowans reached out to say how they had seen and felt the quiet systemic racism that all of America still struggles with and bringing it to light, gives us a chance to talk about it. Read it.
2. 'An education storm is on its way, Iowa" by Bruce Lear
When a guest columnist, Bruce Lear, warned an educational storm was coming, people paid attention. In May, Lear, a former Sioux City school teacher and regional director for the Iowa State Education Association for 27 years, wrote about the lack of teacher pay and loss of collective bargaining rights. Those issues are still hanging over Iowa's educational system and with teacher contracts up for renegotiation in 2020, Lear's warning is still relevant. Read it.
3. 'A quiet crisis at Iowa's flagship hospital" By Coen Olson
Coen Olson's guest column about the low wages at the University of Iowa Hospitals and Clinics struck a nerve. Olson, who works as a medical lab scientist, talks about how he had to take a second job making pizza just to make ends meet. Olson wrote his column in January of 2019 and now at the end of the year, those problems still remain as you can see by our fourth most popular column. But first, read Olson's column.
4. 'We can see what is important to the University of Iowa" by Randy Evans
This column, by Randy Evans, a former Des Moines Register editor, took the UIHC to task for delaying overtime wages for nurses. The nurses' union filed a lawsuit over this issue and the litigation is ongoing. Read it.
5. 'What's going on at the University of Iowa?" by The Gazette's Editorial Board
In November, the Editorial Board took a look at the high staff turnover at the University of Iowa and asked, 'what's going on?" The cost of the job searches is mounting and staff are leaving and the university has offered little clarity to answer the question. Read it.
6. 'Ignoring the rot" By Lyz Lenz
After impeachment proceedings were announced, columnist Lyz Lenz call out Sen. Ernst and Grassley for ignoring the stink of the Trump administration. As impeachment proceedings continue into 2020, you can bet, whether you like it or not, Lyz will keep holding them accountable. Read it.
7. 'Iowa's biggest credit union should start apologizing" by John Sorensen
President and CEO of the Iowa Banker's association John Sorensen pointed out the disconcerting fact that Iowa's two largest credit unions pay no state or federal income tax. 'They made more money than the rest of Iowa's credit unions combined. Both have now opened offices in surrounding states, so the taxpayer subsidy provided by Iowans is being shared with consumers and businesses in Nebraska and Illinois. But, they're not sorry about this," wrote Sorensen. Read it.
8. 'Marion library pride event stirs debate" by Todd Dorman
In June, Todd Dormann wrote about the criticism the Marion library received from it's pride celebration, and he was not having it. 'The tiresome, threadbare criticisms being leveled at this event are the same ones we've heard over and over again as LGBTQ Iowans have demanded and won civil rights protections, marriage equality and other remarkable victories. Each time, the merchants of fear insist it will be bad for families, bad for children, bad for marriage and bad for Iowa. Civilization will be brought to the brink." Phew. Read it.
9. 'Hanging up on robocalls" By Ken Rozenboom and Dean Fisher
One of the few things we can agree on in America right now is how annoying robocalls are. State Sen. Ken Rozenboom and State Rep. Dean Fisher wrote this popular column about how Iowa needs to crack down on these manipulative and predatory calls. Read it.
10. 'Iowans encouraged to upgrade to 'Real ID,' which is real dumb" by Adam Sullivan
Columnist Adam Sullivan does not like the Real ID laws. He pointed out that the laws raise privacy concerns, expense for citizens, heavier workloads for state workers, and paperwork all around. He concluded, '…Real ID remains a solution in search of a problem. Rather than stopping criminals, it will make suspects out of all Americans." Read it.
10. 'A powerful letter to the church from a minister accused of being an 'avowed homosexual'" by Anna Blaedel
Rev. Anna Blaedel's open letter to her church and congregation after being forced to step down from her position as minister because she is queer is a beautiful honest, and raw look at homophobia and hate in the religious community. The letter was part of a press release sent to the paper. We got permission from Blaedel to publish it online and put it up within hours after reading it. It's an important marker of how far America still has to go when it comes to inclusion and acceptance. <URL destination="https://www.thegazette.com/subject/opinion/a-powerful-letter-to-the-church-from-a-minister-accused-of-being-an-avowed-homosexual-20191114">Read it.
11. 'Men, are you okay?" by Lyz Lenz
Lyz Lenz took a swing at men and toxic masculinity in this column from September. And it landed a punch. She writes, 'So no, men are not okay. There is no cure for this. It's terminal. The screams of a patient being operated on with only the anesthesia of patriarchy for comfort. And I'm not sure how to solve it except that I know the silence of the filthy-mouthed wives, ex-wives and humans isn't the answer." Read it.
12. 'What makes someone change their mind?" by Lyz Lenz
Lyz sat down with Elizabeth Warren to talk about how the Democratic senator, who is running for president used to be a Republican and why she changed. Warrens open and honest answer about politics and privildge and power resonated. Read it.
13. 'New Iowa DNR chief can't fix lack of leadership at the top" by Todd Dorman
No one knows the ins and outs of Iowa politics better than Todd Dormann, who wrote a column in July about Kayla Lyon, the Director of the Department of Natural Resources. Todd argued that no matter who chairs the DNR, if Gov. Reynolds isn't interested in addressing environmental concerns, they won't get addressed. Read it.
14. 'Delayed pay may be legal, but it's unfair to UIHC nurses" by The Gazette's Editorial Board
In August, our Editorial Board came out strongly against the UIHC's move to delay pay for nurses. The board noted, 'Refusing to pay nurses on time is another way of taking advantage of the overworked and underpaid women of the state, who are the primary point of care for patients." Read it.
15. 'Greta Thunberg and all our rage" by Lyz Lenz
In October, a Waterloo high school teacher threatened to shoot climate activist Greta Thunberg during her visit to Iowa City. Lyz used that incident to point out the violent rhetoric that male critics use against young female activists, noting, 'The status quo has expectations on how young women ought to live, speak and look. These expectations are designed to keep women trapped in a system that demands they look pleasing and speak 'appropriately." Yes, you can be in power, but only as long as the lips are lined, the legs crossed, and the smile ever fixed like the permafrost on the tundra of the arctic of patriarchal hearts." Read it.