Home / Opinion / Staff Columnists
This is the summer of the never-ending scream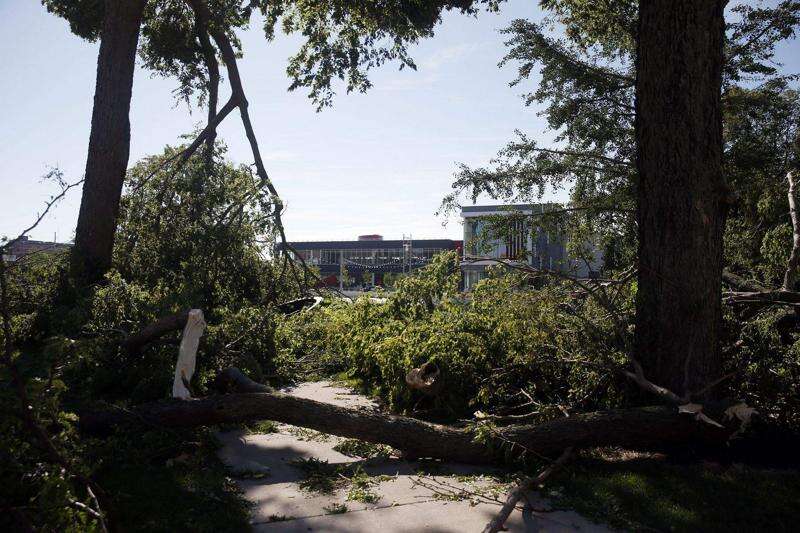 I am sitting in a hotel with two children and a dog. We've been driven from our home in Cedar Rapids because of the apocalyptic storm that blew through Iowa on Monday, left us with part of a tree on our house, parts of the fence destroyed, power lines in the backyard, and power and internet out for days.
As a single mom with two small kids and pets and a job to do and my book comes out this week, I didn't know what else to do.
Driving through Cedar Rapids on our way out of town. We saw a billboard bent in half, buildings collapsed, trees uprooted, homes destroyed. I reminded the kids that we are OK, how lucky we are to have gas in the car and options, reminding them of all the neighbors, who just hours before were in the streets with chainsaws, clearing the roads of fallen trees, drinking beer and laughing because that's what we do instead of crying.
After my 9-year-old daughter and I cleared the driveway with some help from neighbors and surveyed the damage, we came back inside our house. She handed me a pillow. 'If you need to scream, scream into this,' she said.
We laughed, because again the only other option was the scream.
The summer of 2020 has been the summer of the primal and never ending scream. In April, early on in the lockdown, author Meg Ellison tweeted that her neighbor had come outside and screamed a swear word so loud it startled the birds. The tweet went viral, with many people declaring they felt the same way.
Protesters have taken to the street to scream about the racial injustice in this country.
Others have been robbed of their ability to scream by a novel respiratory virus that has run nearly unchecked in our state.
In July, when a Japanese amusement park reopened, it encouraged visitors to 'scream inside your heart' instead of out loud to prevent the spread of COVID-19. The request became an internet meme, with people declaring that to 'scream inside your heart' is an eternal 2020 mood.
Everything that has gone wrong has gone wrong. And if something hasn't gone wrong, then just wait for it. Our country's mishandling of a global pandemic has killed over 150,000 people. Our president has been lying to us. So has our governor. The wide-ranging economic effects still have yet to be seen. Meanwhile our elected officials are fighting over giving unemployed Americans enhanced unemployment as if anyone besides Amazon is profiting off this mess.
In Iowa, as the virus surges, the governor is forcing schools to return to in-person teaching. Teachers are concerned, parents are concerned, there is no mask mandate, no widespread effective testing, and still it's back to school.
Now, a natural disaster, whose devastation is still being understood, will be compounded by the effects of the virus. Each making the other worse.
So many are homeless, so many without power and employment, and the worst could be still to come. So many of us haven't survived this summer of terror. Over 900 in Iowa haven't. And as we clean and muddle forward, laughing and crying, please never stop screaming that it didn't have to be this way.