Home / Opinion / Staff Columnists
Stop the madness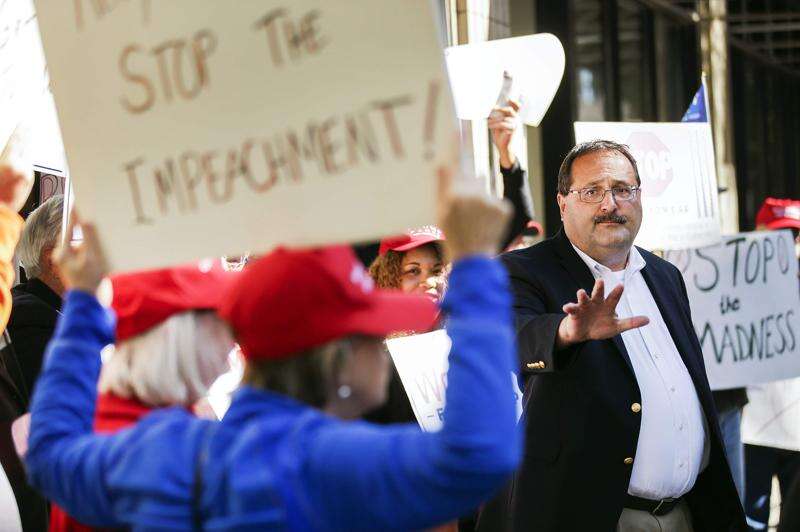 On Monday, a group of 15 protesters stood outside Congresswoman Abby Finkenauer's office in Cedar Rapids protesting the impeachment. The protesters are part of a Republican-led movement called 'Stop the Madness" - a targeted effort to hold Democrats in the House accountable for the impeachment investigation, which is itself a targeted effort to keep the president accountable for actually violating the Constitution.
'We are going to hold Democrats accountable for their ridiculous charade," RNC chairwoman Ronna McDaniel said in an interview with Fox News announcing the campaign. In sum, the Republicans are holding a ridiculous charade to protest a ridiculous charade, but no mention of the actual charade in the White House. And OK fine, Kaufmann admitted in a speech at the protest, maybe some of the questions about the president are legitimate. 'But what about Hunter Biden?" He demanded. But comparing Hunter Biden, who was appointed to the board of an oil and gas company in Ukraine, to the actual president asking foreign officials to investigate domestic rivals, isn't a both sides issue. It's a deflection. Hunter Biden, isn't an elected official, he's not the president. Focusing on Hunter Biden is like trying to lay rat traps in a burning building - you miss the real problem and now you are actually on fire.
Kaufmann attacked Abby Finkenauer, stating she gets money from 'out of state." But what it means specifically is anyone's guess. Is it someone's aunt in Illinois, tossing Abby a couple of dollars or dark money coming from Ukrainian operatives? And it's not the kind of a moral high ground Republicans want to take right now. This week, two of Rudy Giuliani's associates were arrested trying to leave the country and indicted on criminal charges for allegedly funneling foreign money into US elections. A Republican attacking Finkenauer over '"out of state money" is like Ted Bundy filing charges because someone gave him a paper cut.
'Abby's constituents don't want this," yelled Kaufmann. Meanwhile, across the street over 70 of Abby's constituents held up signs saying 'Impeach Trump!" It was a five to one ratio.
A protester who didn't want to be identified told me she's just upset that everyone else is upset. She's mad the Democrats are mad. 'But are you mad the president violated the constitution?" I asked. 'You are missing the point," she told me. She gestured to the protesters protesting her protest. 'They are full of hate," she said. 'In Minneapolis protesters burned hats, in Des Moines a protester shouted over an elected official. It's madness." But what about Giuliani, I asked. What about the president? She turned to walk away. 'You're fake news," she told me.
It's the collapse of a dying star - logic folding in on itself. Anger over anger. Outrage over outrage. A demand to impeach over impeachment. Madness over madness. No mention of the thing itself.
Comments: (319) 368-8513;
lyz.lenz@thegazette.com